All Assignment Help Review
AllAssignmentHelp.com
is a reliable and trustworthy paper writing service? Fear not, for we've got you covered! Wave goodbye to scam concerns, as we have cracked the case wide open. We've delved deep into the heart of this writing service, gathering student insights and conducting a thorough investigation to bring you the ultimate All Assignment Help Review. In this article, you can learn about the benefits and disadvantages of this service and decide whether it is worth using. We hope our All Assignment Help review will help you make the right choice.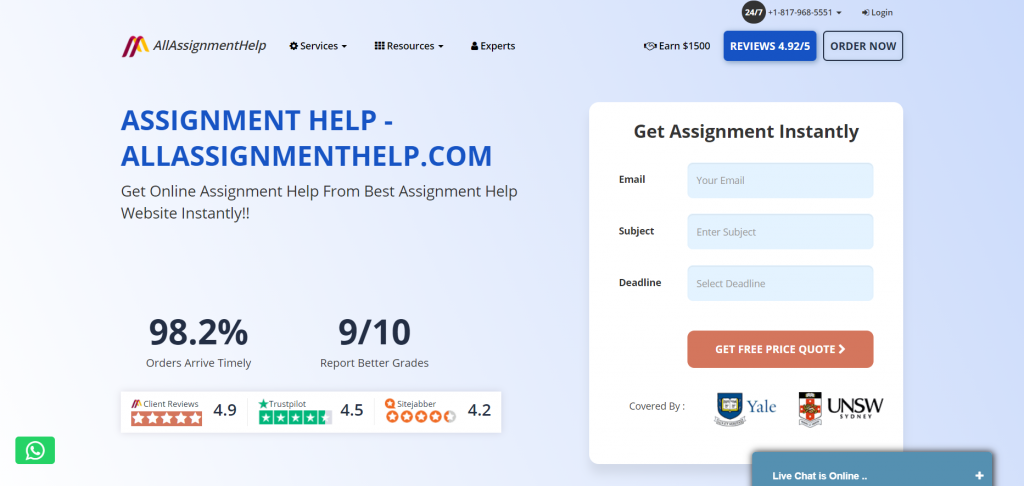 AllAssignmentHelp services and special features
Let's start with the positives. Allassignmenthelp offers nine types of writing services, plus you can
get help with programming assignment
, and it's a pretty exhaustive list that covers popular writing requests.
Assignment
Essay
Dissertation
Programming database and IT
Homework
Case Study
Business writing
Proofreading and editing
Online coursework
Moreover, there is no set list of disciplines. Instead, users fill whichever subject they want in the order form. This service guarantees originality and zero plagiarism, which is customary in this industry. The website is mobile-friendly, meaning that students can place orders from anywhere as long as there's an internet connection. In our opinion, this service's most attractive feature is that it allows you to choose your own expert. Allassignmenthelp is quite transparent, providing many details about its writers such as their names, the discipline in which they specialize, and where they come from. You can even see how many orders they have in progress and how many orders they have completed.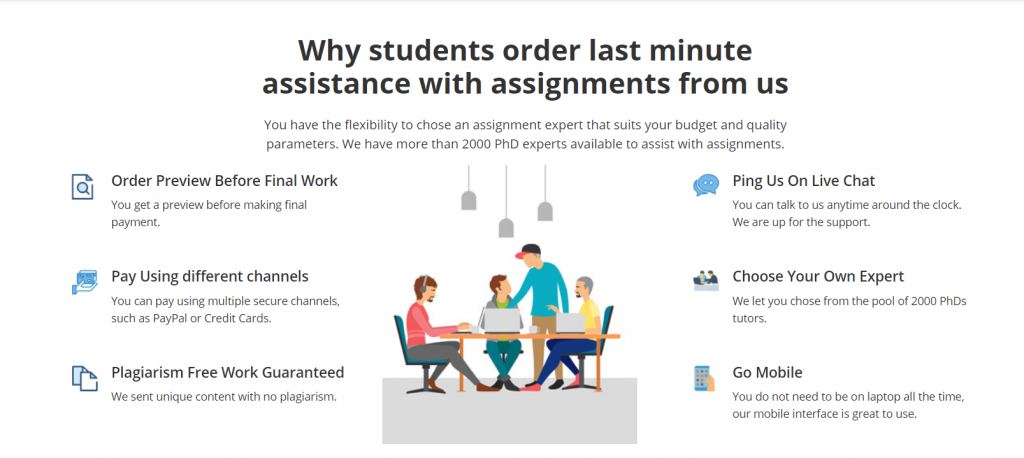 Another great advantage of this website is the question bank, where students can buy the answers to popular assignment questions for a low price. They can also browse through a collection of samples to get an impression of what this service can deliver. Other interesting tools include free plagiarism detection, grammar check, a word-counting tool, and a reference generator. The one thing that's a little baffling to us is the fact that Allassignmenthelp offers users two online games. We assume the goal is to help them kill time while they wait for the order, but we do not see how this is relevant to the writing services they provide.
What customers say about All Assignment Help
Our team has read and analyzed hundreds of customer reviews in order to write an unbiased assessment and get an accurate picture of this academic help website. Overall, AllAssignmentHelp scores high in terms of customer satisfaction, and their clients seem to be quite pleased with the quality of their papers. Nevertheless, we can't look past reviews that show the other side of this website. For one, there are frequent complaints about customer service. Some clients complain that the support team takes days to respond, and others say it is unhelpful. This may be a problem if you're a person who values prompt and effective communication. Secondly, we have found several cases in which customers complained that their works weren't original. Accusations of plagiarism are a serious problem and are not to be taken lightly. These reviews were few and far between, which means that these incidents are very rare, but we still advise students to be careful.

On a positive note, we can report that AllAssignmentHelp sticks to its word when it comes to deadlines. According to our estimate, their papers are delivered on time in 97% of cases. This is a pretty good result for a writing service, and it means that customers can be almost entirely confident that they will get their work in a timely manner.
Prices and Discounts
We decided to dedicate a separate section to AllAssignmentHelp's pricing policy because it really drew our attention. The moment you visit the website, you see a colorful pop-up offering you a 25% discount on your order. You need to give your phone number, after which the service will send you a discount code via WhatsApp. As you browse the site, you see many more of these offers. Our impression is that AllAssignmentHelp is quite aggressive with its discount marketing, which may scare off potential
customers
. The prices are quite appealing and reasonable, however. They start at $9 per page ($25 if the deadline is 12 hours or less). For more complex disciplines, the service charges a higher price. A Finance or Accounting question can be anywhere between $15 and $60, while Programming problems start at $20 and can cost as much as $400 apiece. That's a pretty drastic difference, but it shows that this company takes the difficulty of the assignment into account. AllAssignmentHelp accepts payments via credit cards and PayPal, which is a great benefit. It also offers a money-back guarantee if something goes wrong with the order.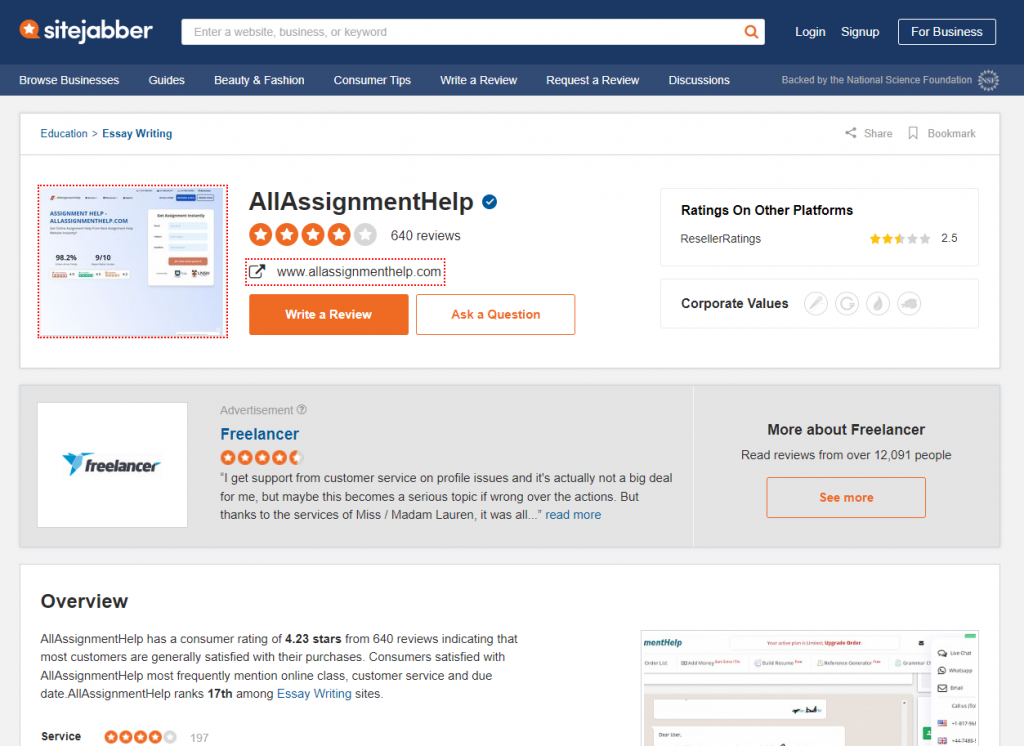 Is AllAssignmentHelp legit?
Absolutely! Many AllAssignmentHelp reviews show it is a legitimate writing service. Online testimonials and customer reviews are exhibits of an undeniable beacon of legitimacy in the realm of online assignment assistance. With its experienced writers, the site consistently delivers top-notch, tailor-made solutions that empower students to conquer their educational hurdles with utmost confidence. We can confirm that they're legitimate and reliable, with countless glowing testimonials as proof of there unwavering commitment to student success. So, say goodbye to your academic anxieties, and trust in the prowess of AllAssignmentHelp.
Is AllAssignmentHelp a scam?
Rest assured, AllAssignmentHelp is far from being a scam. In fact, it's a reputable platform committed to providing students with high-quality academic support. This trusted service has built a solid reputation by helping countless students overcome their academic challenges through professional guidance and expertly crafted assignments. With a robust framework of experienced subject specialists, the company is dedicated to delivering authentic, plagiarism-free solutions that meet and exceed the expectations of students worldwide.
Is AllAssignmentHelp reliable?
Undoubtedly, AllAssignmentHelp is a reliable academic partner that has garnered the trust of students across the globe. Their commitment to maintaining high-quality standards and delivering assignments on time makes them a go-to resource for academic assistance. They have a remarkable team of professional experts who consistently produce well-researched, subject-specific, and original content personalized to meet your specific requirements. Furthermore, we found their attentive customer support keen to ensuring a seamless experience throughout your collaboration. Therefore, they are an invaluable resource for students seeking reliable academic support.
Is AllAssignmentHelp safe?
It is wise that you want to only deal with a company that is safe. You will be pleased that AllAssignmentsHelp is committed to providing a safe experience for clients at all times. This company implements a strict privacy policy in order to ensure the safety of the clients, which is one of the key reasons why many clients enjoy their experience with this company.
Is AllAssignmentHelp trustworthy?
It is understandable that you want to only deal with a company that is trustworthy when you are seeking help with your assignment, dissertation or essay. This company has many ultra satisfied clients who are delighted that they earned high grades on their essays, dissertations and assignments. The staff members of this company are responsive to the clients and they answer all the questions of the clients in a courteous and professional manner.
Our Verdict
Overall, we think AllAssignmentHelp is a pretty legit writing service. There's no doubt it goes to great lengths to satisfy its customers, offering various additional features and tools. At the same time, students interested in this website should be ready for less than perfect customer service and pretty aggressive marketing tactics. Based on our assessment, AllAssignmentHelp gets a strong 7 out of 10. We hope our review helps you choose a writing service that satisfies your needs.
Are you wondering if