Grade Miners Overview 2023: Customer Claims, Complaints and Latest Updates
GradeMiners Highlights
This review is based on a mystery order. However, I must state that my preliminary investigations of the company involved reading their writers' samples and customers' online testimonials. Additionally, I checked their ratings on Google, specifically focusing on poor ones. While the 360 degrees approach gave me a holistic view of their service, the most important takeaways came from the mystery order.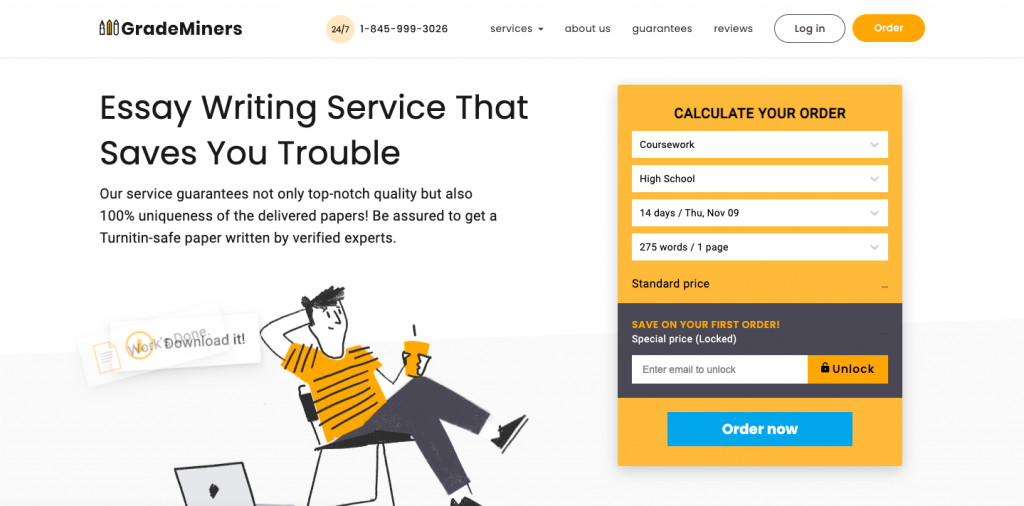 Pros and Cons of the Service
| | |
| --- | --- |
| Highly experienced and competent writers in over 70 disciplines. | You can only qualify for their first discount by providing your email. |
| Their revision policy allows you to request adjustments up to 30 days after accepting your order, unlike other services that allow only 14 days. | While their anonymous communication channel is good for protecting your identity when communicating with a writer, it can be slow since they screen all messages. |
| A rigorous quality assurance process that eliminates errors, ensuring timely delivery of top-notch papers. | If you provide your email, be ready for promo messages and offers. |
| Excellent customer service with a reputation for going above and beyond for customers. | They will charge you for text message notifications. |
| The company provides value for money. | |
| Have zero tolerance for plagiarism, providing only original content written from scratch. | |
Grade Miners Review
GradeMiners website explains the company's services, commitments, and operations. Apart from affirming their legitimacy, they make several claims, including:
Delivering top-notch papers following your instructions to the dot.
They guarantee 100% uniqueness.
They deliver papers on time, with over 70% sent before the deadline.
They'll provide a paper that meets and exceeds your expectations or you get your money back.
They have over 12 years' experience in the writing industry, attracting some of the best writers in their pool.
They have over 3675 experts drawn from different fields and disciplines, ensuring all your papers are handled professionally.
Approximately 9/10 of their clients report a significant improvement in their GPA scores.
They provide absolute privacy and don't share your data with anyone.
They also offer a free plagiarism check on request.
Most claims made by GradeMiners are not unique, as their competitors also make them. As a student, this presents a significant challenge when choosing a service. So, whose word do you trust? This is where honest reviewers like me come in. We probe the claims and separate the wheat from the chaff. I spent over 40 hours scanning the internet for any information relating to "GradeMiners" and found rich and vast data to work with. Most search results were from the company's current and past customers weighing in on their services. While some of the comments were negative, I was overwhelmed by the positive responses. Most importantly, none of the GradeMiners review indicated an injustice. They were cases of a legit company occasionally failing to meet customers' expectations.
The mystery order I placed provided more insights. To begin with, the order placement process was quick and hustle-free. Secondly, while they allow you to select your own writer, they help new clients like me to get the best experts in their fields. Their prices are quite fair as well. My two-page paper cost only $26.56. Most importantly, the writer delivered it within 40 hours despite indicating a 10 days deadline during the ordering process. While I have learned this isn't always the case, I was impressed with the quick turnaround. The paper was beyond my expectations. It was well-researched, properly cited, and formatted in full compliance with APA7.
How I Evaluated Grade Miners
You might be wondering the criteria I used to achieve such a high score. Some of the reviews I have seen focus on specific service factors, e.g., customers' feedback, paper scores, or timeliness, among other factors. However, I decided to go for multiple variables, each assigned specific weights. For example, paper quality had the greatest weight 40%, while range of services had the lowest at 10%. My final grading included the following critical factors:
The quality of papers delivered
The pricing
The company's reputation
Customers feedback
Timeliness
Writers' qualifications
Customer service staff's professionalism
Variety of services offered at the highest level
How Does This Service Work?
Many online writing services are either bidding or auto-assign based. Bidding based services allow customers to place their orders then wait for writers to submit their bids. The clients then choose the expert they consider most suitable for their work. The auto-assign feature, on the other hand, takes away the responsibility from the customer, assigning the paper to the most qualified writer in the subject. GradeMiners is a mix of both systems. When you place an order with them, you're free to select a writer you want. However, if unsure, the company does it for you. The system has made the ordering process fast and convenient for new customers.
Compliance With Order Instructions
This is one of the most important factors to consider when rating an online writing company. While I got an amazing paper from GradeMiners, my experience isn't enough to make a blanket judgment on their ability to follow instructions. However, adding many voices to the debate certainly does. Since 84.5% of the company's papers are accepted on delivery, we can assume that they often follow instructions. Furthermore, "following instructions" is GradeMiners' highest rated factor on Sitejabber. This evidence only proves that my papers' adherence to all instructions wasn't a fluke.
Meet the Deadline
The company claims that it sends over 70% of its orders to customers before the deadline. This is a huge claim. However, it seems that they have been upholding it, as complaints about missed deadlines are almost unavailable online. However, one customer indicated on Reddit that she almost had a mental breakdown as her writer, who was revising her paper, failed to respond with only an hour left to the deadline. She went ahead to upload the first draft to beat the college deadline only for the writer to send the work with a few minutes to spare. It was such a relief. Another customer indicated that her thesis was delayed by two days, even though it was the last phase of a three-months' project.
Paper Quality
The general quality of papers from grademiners.com is great. The internet has given too much power to students. If any of them felt duped or received a shoddy paper from the service, they wouldn't keep quiet about it. While I can't claim I have read all reviews out there, my research was quite comprehensive. Since 9/10 of GradeMiners' clients report a significant improvement in their GPA scores, perhaps it's our turn to trust them.
Worth the Money
I have had a widely varied experience with online writing companies. While some companies have been an absolute failure, others have turned out fine. For a long time, I believed that costs dictate the quality of service you get, because only companies charging prime rates wrote for me winning papers. I once used a service that charged $2 per page and regretted the work I got. GradeMiners was just the second company to provide me with value for money. I got a well-researched paper at an affordable price! It's amazing that you can win a promo code and get further discounts on your papers, if you participate in their promotions.
Writers' Competence
A quick scan of sample papers provided by grade miners show their writers' competence and quality. Even though some of their experts aren't native speakers of English, you can't doubt their knowledge and organization. I chose to work with a native speaker, an option all their customers have, and truly enjoyed the experience. My paper was solid and well-formatted.
Customer Support
A friendly support can win you many customers. This is especially relevant in a highly competitive industry like this one. I had an awesome customer experience, primarily because of the support staff. My order placement and delivery process were a breeze. However, I received the document in. doc format. As a Linux user, it was distorted when I viewed it via AbiWord. I reached out to the team and they conveniently changed the format, even making a follow-up call to determine if everything was all right.
Payment Process
You work so hard to make your money, so spending it shouldn't be a hustle. I must admit that most online writing companies use the latest payment platforms to make the process seamless for customers, and GradeMiners is no exception. You can use any credit, Master, or VISA card to pay. They also accept direct bank transfer, Apple pay, PayPal, and Google wallet.
Types of Services
| | |
| --- | --- |
| Service | Description |
| Essay writing | The company provides general writing services that cover all types of essays, including argumentative, persuasive, narrative, descriptive, expository, analytical, compare and contrast, cause and effect, process, definition, classification, and personal essays. |
| Research paper writing | This involves conducting in-depth research, analyzing findings, and presenting them in a structured and academic manner. These tasks are common in college and postgraduate studies. |
| Copywriting | They also provide writing assistance that helps online businesses create persuasive and engaging content to attract and engage their target audience. Furthermore, their content is SEO-optimized, improving the impact of your message significantly. |
| Proofreading and editing | Grademiners.com ensures your written content is error-free, polished, and ready to make a strong impression. |
| Thesis and dissertation writing | They provide expert assistance and guidance to students in crafting high-quality theses, dissertations, projects, and proposals for academic success. |
| Resume and cover letter writing | Are you interested in crafting a concise, well-structured document that highlights your skills, qualifications, and experiences, while highlighting your enthusiasm and suitability for a specific job opportunity? Don't panic. These guys have you covered. They'll help you put your best foot forward, by drafting a winning CV for you. |
| Creative writing | They can also create customized and personalized writings to your needs, especially fictional stories, and poems. |
| Business and technical writing | Lastly, they are available to provide your business writing needs, e.g., placards, end-user instructions, manuals, public announcements, etc. |
Discounts and Features
Despite providing affordable prices, the company still offers amazing discounts. First time customers get at least 20% off their total order costs, while returning customers can get up to 30%. Additionally, struggling students can participate in the company's raffles and win grademiners coupons for free services.
Guarantees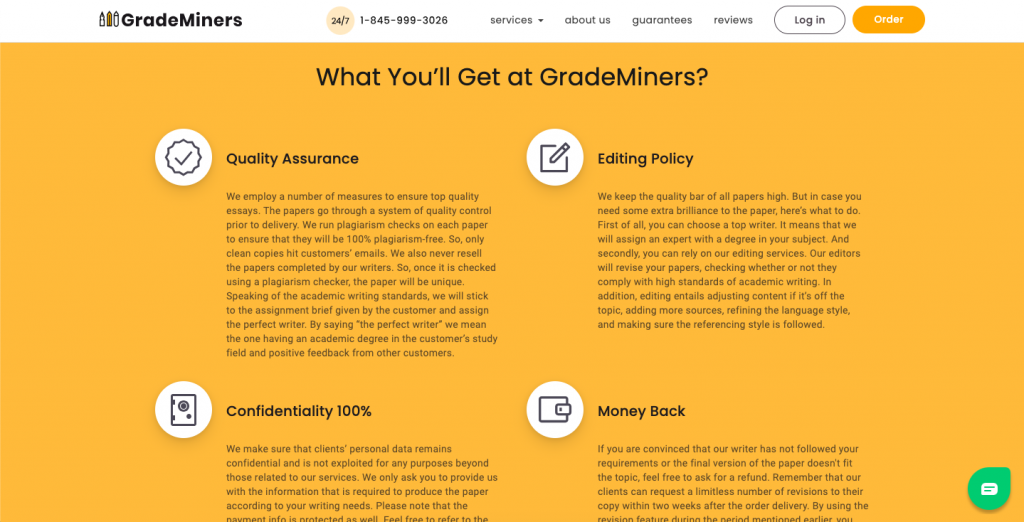 Like many other online companies, GradeMiners provide money-back, confidentiality, and zero-plagiarism guarantees. However, unlike the rest, they mean what they say. They are bold enough to offer a quality assurance, meaning they stand by the works delivered by their writers. Most importantly, their revision policy is clear, leaving no room for manipulations and confusion.
Who Is the Service For?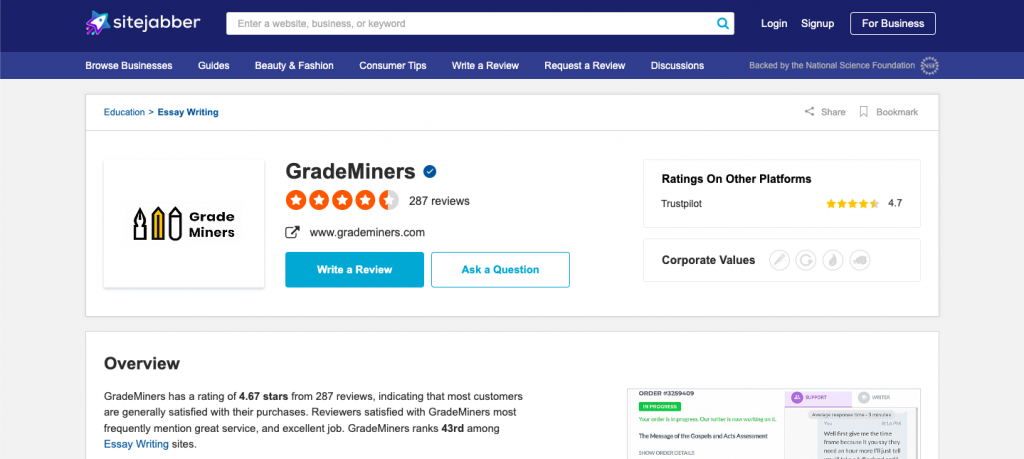 GradeMiners serve customers from all walks of life. While most of their clients are students, making over 90% of total purchases, organizations, businesses, and non-affiliated individuals also order from them. If you need writing services, you're their potential customer. Students in all disciplines including STEM, business, history, music, and arts can all get assistance from the company. That's why, this website has got 4.67 stars from 287 reviews on Sitejabber and, it explains why grademiners review are so diverse.
Verdict
I don't consider myself a mean marker. However, I haven't scored a writing service above 7.5/10. This is the first time I am impressed with a company's reputation, service quality, customers' reviews and testimonials, system functionality, customer support, and pricing to warrant an 8.5/10 rating. GradeMiners, isn't perfect as stated in the cons, but it comes ever so close. I would recommend their services above anyone else.
| | |
| --- | --- |
| Service Criteria | Score |
| Сompliance With Order Instructions | 8 |
| Meet The Deadline | 8 |
| Paper Quality | 9 |
| Pricing | 8 |
| Writers Competence | 8 |
| Customer Support | 9 |
| Payment Process | 9 |
| Types of Services | 10 |
| Guarantees | 9.5 |
| SCORE | 8.5 |
FAQs
What Is the Rating of Grade Miners?
I have seen higher ratings for this company online. However, I strongly believe it's an 8/10 service. They are solid, reliable, and reputable.
Is Grademiners.com Legit?
Yes. I can't deny the fact that the online writing industry is awash with swindlers. However, GradeMiners is not a scam. It's a real business with thousands of satisfied customers.
What Is the Alternative to Grademiners?
There are many alternatives to GradeMiners. However, at their price point and service quality, you'd struggle to get one.
Does Turnitin detect Grademiners?
No. The writings provided by the service are original and created from scratch. As such, they will pass any plagiarism and AI checkers.
How Good Is Grade Miners?
Does it get any better? I doubt it. These guys are good at their work. They make everything look easy. Trust them and you'll never be disappointed.