PapersOwl.com Review [Score: 6.7/10]
Compare with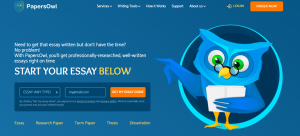 What are the peculiarities of Papers Owl?
If you're not new to academic writing services, you will immediately notice that PapersOwl is a clone of EduBirdie, a platform that is well known to the public by its advertising scandal in 2018. PapersOwl is a bidding website that has gathered freelance writers who can offer their help to students with their homework. Bidding platforms are not that easy to work with, and here is why:
There might be no bids from writers. No manager assigns experts to clients which means that if you have a complex paper that requires a lot of time and specific knowledge, chances are high that no one will want (or be able) to help you with it.
You cannot be sure that those writers applying for your order are good enough to complete it. This is what happened to our friend and she will describe her experience in the next section.
There are no set prices per page and the only way to get the price is by placing an order.
Bidding platforms have a limited number of obligations towards their clients. This gives them the right to state that they are not responsible if something goes wrong with your paper and reject your claims for a refund.
It takes time to choose a writer. You should opt for a bidding platform only if you have enough time to search for an expert who offers good service at an affordable price.
Papers Owl reviews: What have we found out?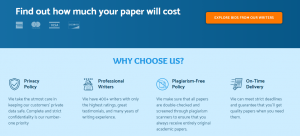 Looks like the service works with diligent writers, as an overall rate of PapersOwl on independent platforms is quite high with 4.5 at TrustPilot according to 22 reviews and 4.2 at SiteJabber according to 12 reviews. We decided to place several orders to make sure that the service is worthy.
True testimonials from our friend
To evaluate the quality of PapersOwl writing, I ordered three different papers. I asked for an English 101 essay, a research paper on biology, and a dissertation chapter in neurosciences. There were more than 20 bids in less than 20 minutes for my essay and it took me almost an hour to check out the profiles of all writers and to choose the one with the best ratio between a level of proficiency and a bid. In the end, this essay cost me $18 (I chose the cheapest writer) and was delivered to me the next day. The paper was well-written and looked well.
My verdict: 10/10 for easy and cheap papers.
There were six bids during the first 30 minutes when I put an order for a research paper on biology. When I checked the writers who applied for this paper it turned out that not all of them were experts in biology. However, they stated that the paper was easy to do even without specific knowledge in science. Of course, I ignored them. I chose the one who said that this is a complex assignment and will take several days to accomplish. The price for this 4-page research composed $110 which is not that cheap at all. It took the writer three days to finish it. The final result was quite good, though there were some grammatical and stylistic mistakes.
My verdict: 8/10 for a research paper. Too expensive, plus there were several minor mistakes.
The most hilarious thing happened with a dissertation chapter. There were no bids during the first hour. I called customer support for help. I thought, maybe the writers couldn't see my order, but it turned out that nobody wanted to take it. Finally, I got a bid 2h 37m after I posted an order. He asked $280 for five pages of the dissertation. The credentials of the writer stated that he was just a master's degree holder and I can barely imagine how he would do this job. But he was the only one who offered his help, so I had to take it. The final result wasn't that good, though I should mention that the writer tried hard and asked many questions.
My verdict: 4/10 for a dissertation. Low quality, high price, only one bid.
What about the price and refunds?
On their website, PapersOwl says that their prices start at $18 per page and indeed, this is the lowest price you will find. The average price for something more complex than an English 101 essay is $23-$26 for a page. PapersOwl isn't the most affordable writing service, that is for sure. What is more, they have no discount programs and the only way how you can get some bonuses from the company is by inviting a friend. By referring a friend, you get $35 on your account, and your friend gets -10% on his or her first order. We didn't manage to get a refund though we tried to get at least some money back when we received a "dissertation." The website states that every claim for refund is analyzed by managers. We haven't found direct information on the cases when a customer can get full reimbursement.
Is PapersOwl legit?
PapersOwl is a popular bidding platform and it has a warning in the footer explaining how exactly their service can be used. This disclaimer makes them 100% legitimate. There was only one thing we seriously didn't like about the website and find inappropriate. They have "free tools" and one of them is plagiarism-checker. And it lies as it finds "plagiarism" in absolutely unique pieces of text and, surprise-surprise, it immediately offers you to use their service to fix it. PapersOwl, if you're reading this review, please, fix your plagiarism-checker: this is offensive to think that your clients are that stupid. All in all, though the service has some weak points, it's quite legit and can be used now and then. You will like it if you prefer to have full control over your writer and choose your helper by yourself.
In this article, we put together all the PapersOwl testimonials left on independent platforms. We have also ordered some papers by ourselves to evaluate the quality of their services. We hope that our research will help you to choose whether to entrust your homework to this website or not.