MyEssayWriter.net Review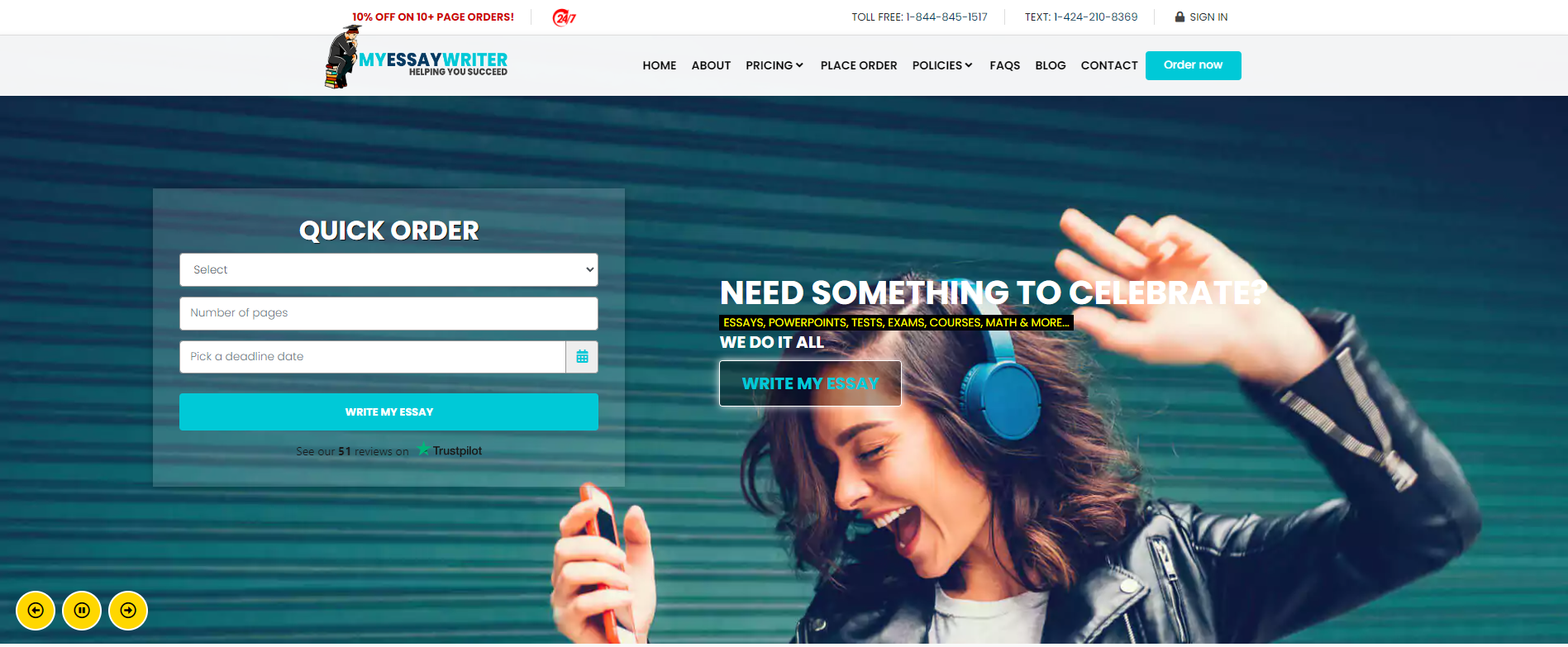 If you have any doubts left at the end, be sure to check out other reviews to ensure that your opinion remains unbiased.
My Essay Writer—the first impression and the ordering process
Starting with the website itself, it's quite simple to navigate, and if you're ready to make an order, you'll definitely find the relevant form easily enough. But if you take a closer look, you might come across some strange features that don't seem entirely legitimate. Here are some of them: The policies are written as one-line statements, so we couldn't gather much information from them. That's kind of strange. Typically, these sections are extremely important for companies on this market, as they describe exactly how the service provider conducts their business, what each party's obligations are, and what the client gets as a result. Finding MyEssayWriter's full-fledged privacy policy takes a few minutes of scanning the footer and other pages of the website. Maybe it's not a big deal and is only an issue because the website is quite old. The company keeps making promises on every single page, and the effect of all these unsubstantiated claims is more disturbing than encouraging. For example, they say that if you don't get an "A" on an essay completed by their writers, then you'll get your money back. In two weeks. Unless that essay receives a passing grade anyway, in which case you won't get a refund at all. We also don't know if it's legit to promise to "make your life a lot easier" or "secure an excellent grade", but it's also up to you to think over such statements and how reliable they might be.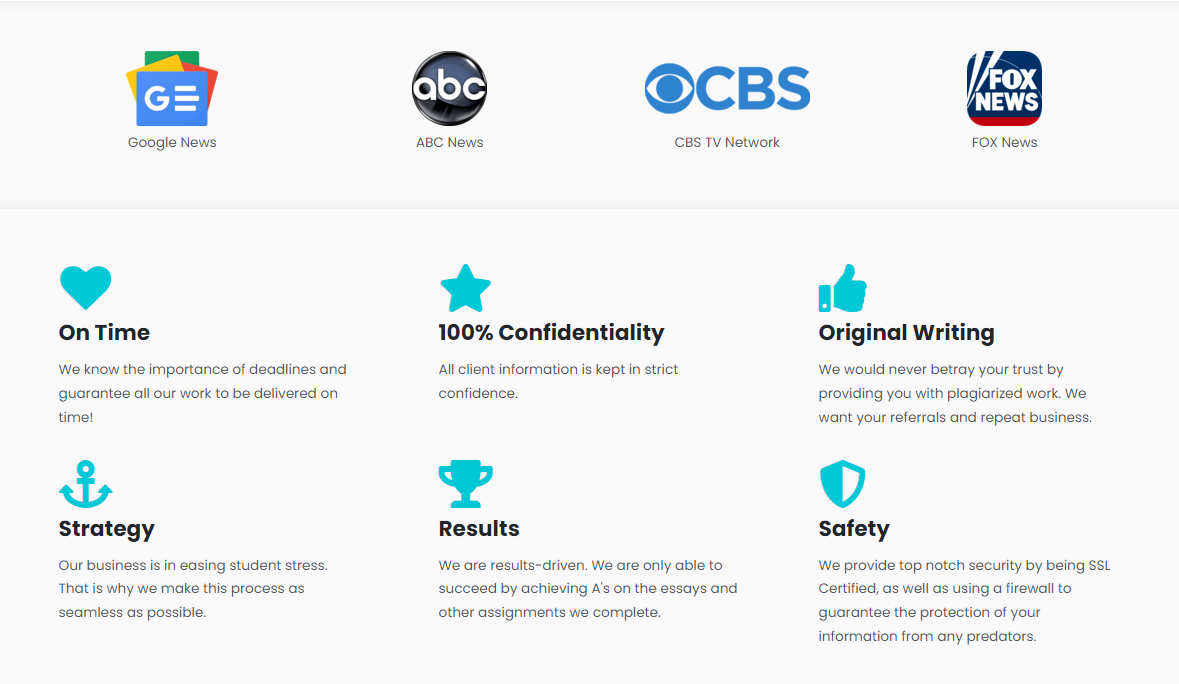 There are no samples of the writer's previous works, as well as strange and suspicious testimonials. You can see on the website that this service was founded in 2012, and therefore would have had thousands of opportunities to collect essay samples and thank-you posts from real people who hired them. Instead, their testimonials section is made up of simple texts with names attached, without any guarantees that these texts were written by real clients. Of course, it's naive to think that all the reviews on other websites are 100% genuine too, but even so, it's really hard to believe testimonials that look fake. See more about our
personal statement writing service
list.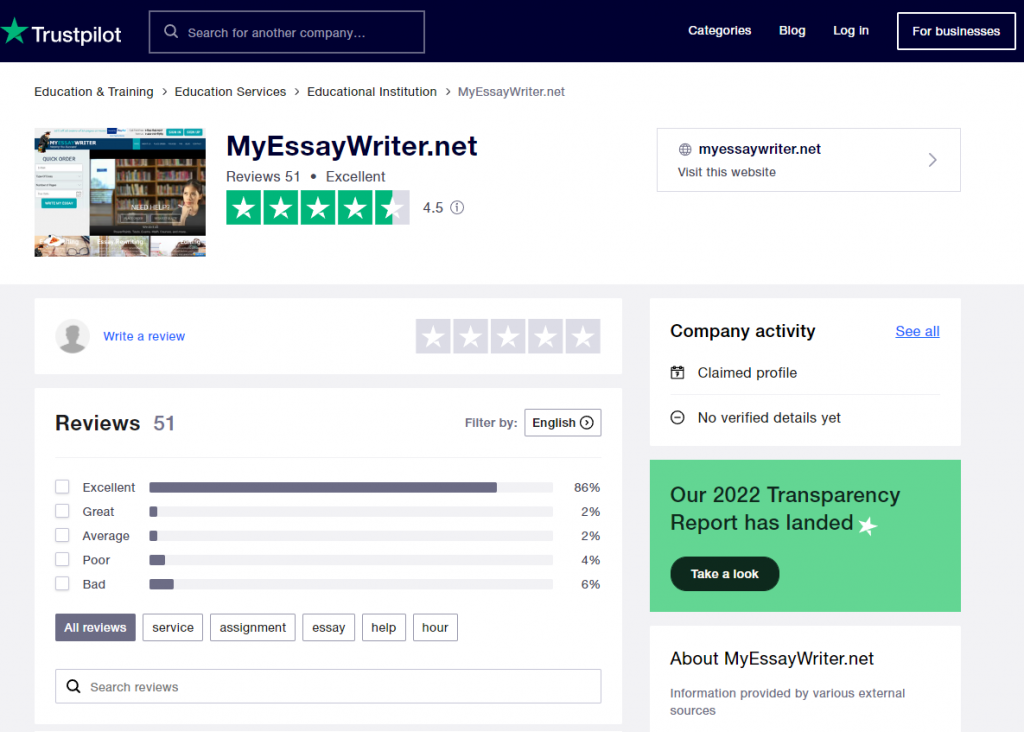 There's no explanation of the so-called "Premium service". The costs listed on the pricing page are not especially low, but that's really our subjective opinion. More importantly, however, we couldn't find anything about the Premium service that they charge +20% for, And it would be much better to get some indication of what it might be. You can find a lot of
other MyEssayWriter.net reviews
that mention similarly strange features, but again, the ordering process is pretty much the same as everywhere else, and the service is, likewise, normal. But it seems that even after receiving your requirements, the service might charge an additional fee for reading more than 10 pages or watching a video. Still, it doesn't mean that it's a scam, just that you should stay attentive at every step of communication with this company, for sure.
A few things about MyEssayWriter on the bright side
After the previous section, you might think that this review is just gloomy and extremely critical, but we are here to tell you about some of the positive aspects of this service as well: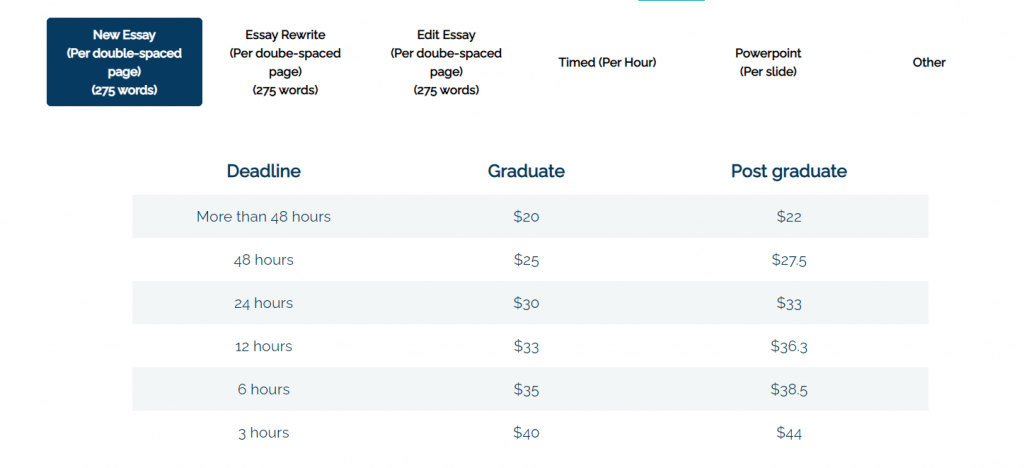 You can use a discount code while checking out. Also, the more pages you order, the higher the percent off of the total price you get.
All the writers have apparently mastered English as a first language.
All the essays are written from scratch.
The safe data transfer on the website is handled by means of an SSL-certified process.
The service has a Trustpilot account with dozens of reviews. Decide for yourself if they are worthy of your personal trust.
All in all, the prices are affordable, especially for high school. The academic texts seem to be more expensive. You can chat with support representatives on the website. If you like, you can also make a call or use messengers to get in touch with client managers.
The service has native-speaking writers and specializes in different formatting and styling requirements: APA, MLS, Chicago, Turabian, Vancouver, etc.
The company has a payment-per-hour service where students can deal with math, chemistry tasks, or question-answer homework that is more useful than paying per page.
In the end, there will be some questions you want to clarify after accessing the main page of this service, but if you're ready to give it a try, you can use the Comments form to ask all of them. The adequacy of the answers will give you the final and most important piece of information about how they do their job. Our total score for the company is 6 out of 10, based on the aforementioned promises, the general tone of the website, and the service's unclear communication with potential
customers
.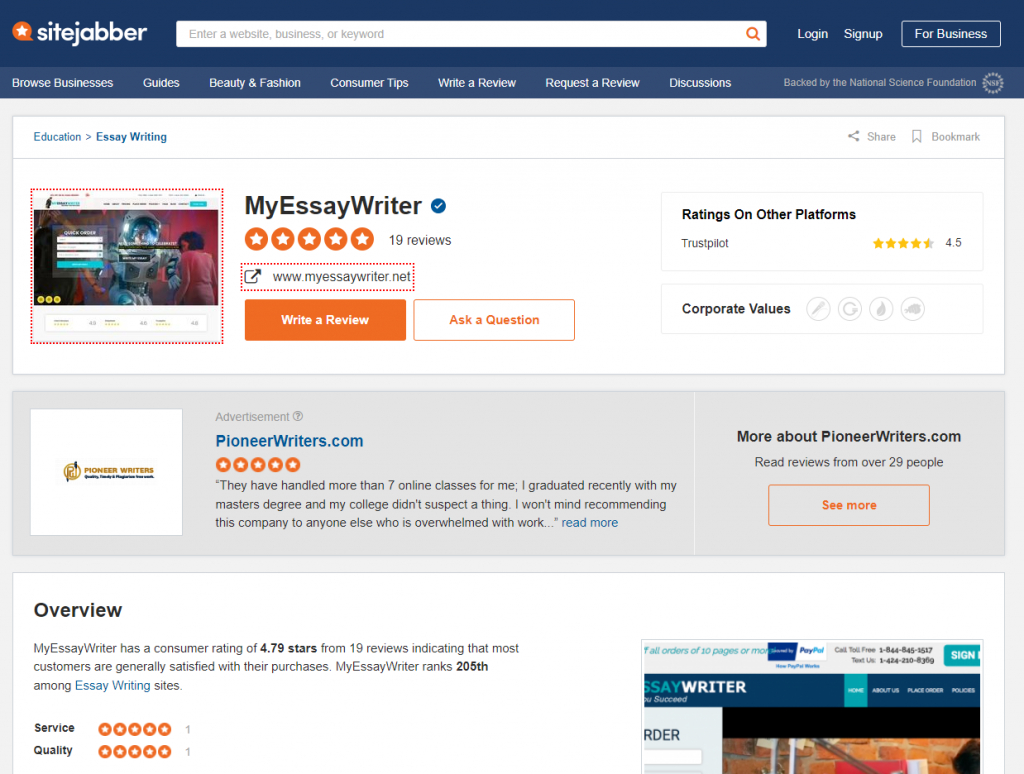 Academic writing services are quite popular among students these days, but not all of these companies are the same. This review will give you a general idea of myessaywriter.net, including its prices, writers, variety of services, guarantees, and the overall quality of what they provide. With this knowledge, you'll be sure about whether or not you want to buy essays or other writing homework from them. Additionally, we'll take a quick look at their blog, FAQ, and policies to ensure the safety and reliability of their services.