Bid4Papers Overview 2023: Is This Service Effective?
Whether you've purchased academic help from Bid4Papers or not, take a look at this comprehensive review to understand what type of value you're or you'll be getting.
Bid4Papers Highlights
With the continued rise of online academic assistance companies to promote education, every key player in the industry is striving to innovate the best way possible to help students. For instance, Bid4Papers is capitalizing on its auction system to foster transparency in the pricing of orders and offer individualized assistance to customers who need academic assistance. However, at OmniPapers.com, we opted to take a different approach.
Rather than betting with your money and academic success on companies you don't have first-hand experience with or trusting their services based on ready paper examples only, we took the initiative of reviewing their ability to follow instructions and knowledge on different topics.
As an expert at OmniPapers.com, I got a chance to evaluate the professional help that you can receive from Bid4Papers. I got the necessary support to place an order and review the result instead of looking for testimonials from online platforms such as Reddit and Sitejabber, among others.

Why You Can Trust Us
Even though I had received a green light to purchase academic help from Bid4Papers, I needed to do some preliminary research. In particular, I wanted to know the level of satisfaction among the customers. A quick Internet search revealed that about 172 clients left an average of 4.86 rating stars on Sitejabber. Another interesting thing I noticed was that there are more than 50 essay-writing websites with reviews on Sitejabber. Although this information won't influence my final evaluation, it will act as my benchmark.
Whereas many online Bid4Papers reviews were from customers who ordered essays, research papers, and discussion posts, I decided to order something different. In particular, I wanted assistance with writing a 4-page literature review on "Social and Legislative Roles of Curbing Pediatric Obesity among African Americans." What's more, my inquiry was that the writer who will complete my paper must include a direct quote from a book titled "Longest's Health Policymaking in the United States."
I intentionally omitted the edition to see if the expert would ask for the edition and probably the author(s). The underlying rationale for this strategy was to test the writer's keenness. As you can see, this Bid4Papers review will unveil crucial information such as accessibility to online books.
How We Evaluated Bid4papers
Since we endeavor to provide a review that objectively reflects referencing materials that can help you achieve academic excellence, every expert at our company must set a rubric similar to the one a student might provide. As such, I established some of the key criteria with scores of 0, 1, and 2 for unmet, partially met, and met, respectively.
A table with criteria for Bid4Papers Review and Score
| | |
| --- | --- |
| Criteria | Score as unmet (0), partially met (1), or met (2) |
| Delivered on time (lateness scores 0, request for extension scores 1, and got the literature review scores 2) | 2 |
| Need for revision (require major revision scores 0, require minor revision scores 1, and no need for revision scores 2). | 2 |
| Use of scholarly sources (No use of scholarly sources scores 0, partially use scholarly sources scores 1, and fully use scholarly and peer-reviewed sources in addition to the book scores 2) | 2 |
| Ask for clarification (didn't ask for more information about the book scores 0, used the latest edition without asking scores 1, asked and used the book scores 2) | 2 |
| Mastery of knowledge of writing a literature review (didn't follow the required structure scores 0, followed the structured but partially presented contradicting and converging ideas, research gaps, and own opinion scores 1, followed the structured but partially presented contradicting and converging ideas, research gaps, and own opinion scores 2 | 2 |
| Subtotal | 10/10 |
Even though I arrived at a score of 10/10, I decided to rate the overall quality at 9.5. The reason for me deducting 0.5 was to leave a tally with a marginal error of plus or minus 0.5 for anyone who might want to replicate my research. In other words, I expect the experience of students letting writers at Bid4Papers to be between 9 and 10 out of 10.
With this appraisal, you can be sure that we really know how to do our work and everything is legit.
How Does This Service Work?
Even with the auction system at bid4papers.com, it took me less than 10 minutes to find a writer who could handle my literature review.
Here are the steps I used to purchase the service:
I provided the instructions for my literature review. Thanks to the integrated order form, it took me less than 2 minutes to submit the instructions. All I needed to do was to specify the APA edition as 7, select the type of service as sample writing, academic level as master's, and describe my instructions.
I selected the best writer. I only waited for a minute to pick an expert. From the first three bids, I chose the one with more completed orders than the others. I didn't go into much detail as I only paid after selecting the writer.
I released the fund as a way of approving the order. I previewed the work and noticed that everything was as per my expectations. So, I approved the order. What's more, I left a 10-star rating for the writer who completed my literature review.
Despite getting different offers from writers, I opted to choose the one who had placed their bids first. My underlying reason was to see if the auction system was superb for urgent orders. Without a doubt, you can bet on Bid4Papers if you've a few hours to miss the deadline, as you'll get help within no time.
Compliance With Order Instructions
Whereas I didn't have a complicated guideline for completing my literature review, I had a set of expectations. To begin with, I wanted to see how the writer adhered to word count. Although many published pieces of information on the Internet recommended a +/- 10% word count as meeting instructions, I didn't find it realistic, especially when you want to get value for the money.
According to me, if I ordered an 1100 literature review, it's logical that it should be below 1100 or go beyond 1150 words. As expected, the work I received from Bid4Papers was 1125 words.
Moreover, since it was a literature review on a contemporary issue, I anticipated that the writer would use only peer-reviewed sources in addition to the book. Guess what? The completed work was according to my expectations.
Generally speaking, the writer fully adhered to the order instructions.
Meet the Deadline
When placing an order for the literature review, I wanted to know how reliable Bid4Papers can be. As such, I gave a deadline of 24 hours. Even though I could have offered more hours to complete my literature review, I waited to see when the writer would deliver my paper. Within 15 hours, I received the work.
I believe an allowance of 8 hours was sufficient for me to order free edits if the expert failed or only partially met the instructions. Another interesting thing I learned was that the writer probably embarked on working on my literature review immediately. On meeting the deadline, Bid4Papers deserve a pat on the back!
Paper Quality
The literature review I received didn't contain only a summary of evidence. It incorporated exhaustive evaluation and synthesis of information. In the introduction, the writer clearly highlighted the issue under scientific exploration and offered the rationale for conducting the literature review.
In body paragraphs, the writer compiled sources supporting or refuting a specific claim under a single theme. This strategy was crucial to highlighting possible gaps in the existing literature. The literature review ended with a conclusion reflecting and harmonizing the findings and offered a roadmap for further scientific explorations.
Based on the work I received, you can purchase a similar paper or an essay from the website in question without searching for more Bid4Papers reviews on the Internet.
Worth the Money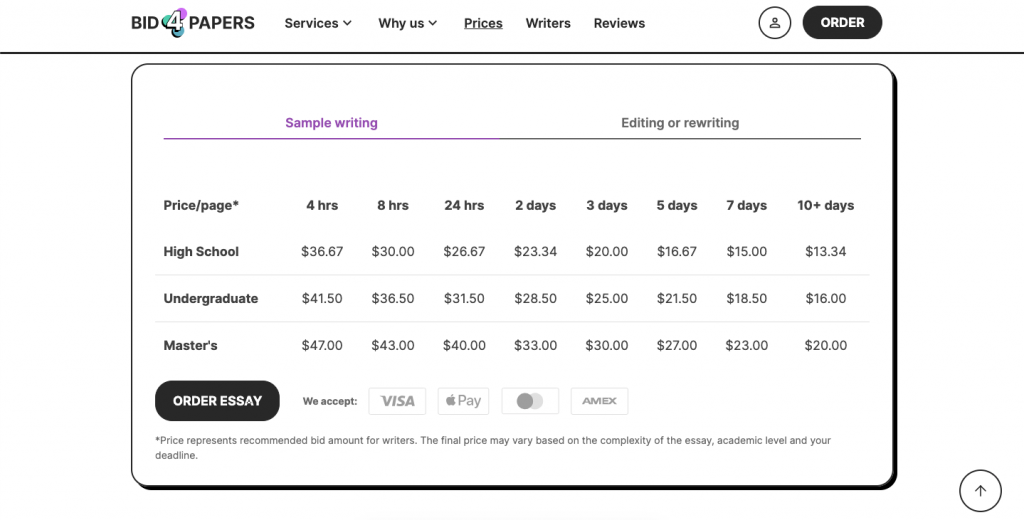 Considering that I didn't rewrite the entire or parts of the sample I received from Bid4Papers before using it for referencing, I can generally say that I got value for my money. What's more, I save a lot of time doing other important things rather than researching the topic on the Internet.
Writers' Competence
"Experience is the teacher of all things" or, more generally, "experience is the best teacher" by Julius Caesar reflects a lot about the proficiency of writers working at Bid4Papers. Since its establishment in 2014, this website has recruited, trained, and retained more than 300 writers with 2,299,530+ pages written. It means, on average, every expert has completed more than 2,000 pages.
What does this mean to the writers' proficiency, every expert who bid4paper has mastered the art of writing.
I used my VISA to purchase the literature review from Bid4Papers without any problems. The fact that the writer who handled my work asked for more information about the book – showed commitment to understanding the instructions. In other words, the experts at Bid4Papers clarify everything with the customers within a short period before embarking on writing.
Due to the writer's keenness in the instructions, no changes were necessary.
Customer Support
Since Bid4Papers uses a free market working model to connect students and writers, the latter often offers "support team" services to some extent. As such, you'll pay only after reviewing bids from different writers who have diligently examined your instructions. What's more, you can directly communicate with the expert who will handle your work at any time of the day a week. In case of any issue that might need the support team's intervention, you can contact them via the email on Bid4Papers' website. You can get it by clicking contact us at the bottom of Bid4Papers' site.
Payment Process
Once you place your order on Bid4papers, you'll receive multiple bids. Afterward, you'll pay on the basis of the offer you've accepted using a payment method of your choice.
Types of Services
The two categories of professional help you can get from Bid4papers are sample writing and Editing/rewriting. Under these types, you can receive assistance with writing your essays, dissertations, personal statements, and literature reviews, among many others.
Discounts and Features
Considering that Bid4Papers wants its auction system to resemble a regulated free market, it doesn't offer specific criteria for discounts. However, you're welcome to tip writers if their cheap services exceed your expectations. It's important to understand that most Bid4Papers reviews on the Internet have highlighted that many clients don't even need discounts as prices for orders are very affordable.
Guarantees
Some of the assurance I ascertained after ordering my literature review was receiving plagiarism-free paper and having a chance to request a refund in case of lateness or skipping of instructions.
What Users Say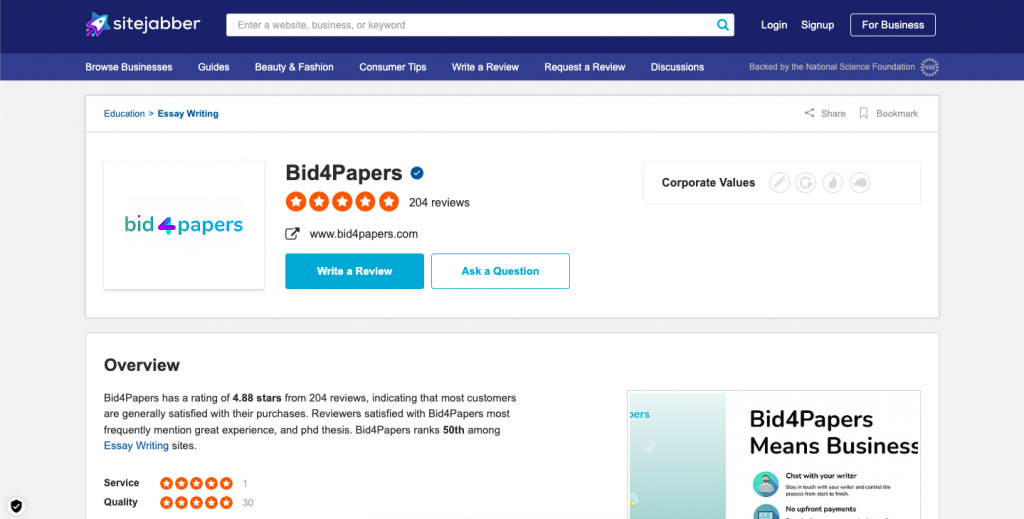 You'll notice that this Bid4Papers review reflects many online testimonials.
Examples of these testimonials from Sitejabber include:
"Great communication" from Jessica A.
"Great experience" from Stephen P.
"I have used this site several times!" from the anonymous user, who is finishing an MBA.
Overall, Bid4Papers paper writing service has 4.88 stars out of 204 reviews on Sitejabber.
Considering the site has a returning customer, it lacks hidden or additional charges once you accept the bid. From the testimonials, you can't even question the communication between the customer and the writer.
Who Is The Service For?
Regardless of your degree program, academic level, and school, you can order a reference material for your assignment at bid4papers.com. For example, an MBA or law student can order a sample paper for their literature review from the website as I did.
Verdict
Considering that a bid4paper expert followed my literature review instructions and met the deadline, you should consider purchasing their services. Even though you get to enjoy free market perks on the website, there are regulations to balance between affordability and fairness of the price, so, we are giving this website the score 9.5/10.
| | |
| --- | --- |
| Service Criteria | Score |
| Сompliance With Order Instructions | 9 |
| Meet The Deadline | 10 |
| Paper Quality | 9 |
| Pricing | 9.5 |
| Writers Competence | 9 |
| Customer Support | 10 |
| Payment Process | 10 |
| Types of Services | 9 |
| Guarantees | 10 |
| SCORE | 9.5 |
FAQs
How Much does Bid4Papers Cost?
Even though you can enjoy affordable rates at Bid4Papers, it's worth knowing that the number of pages, deadline, type of paper, and order complexity influence the cost of your order.
Is Bid4Papers.com a Legal Service?
Yes, it's legal, as you should use materials you've purchased as a sample or source of inspiration only.
Is Bid4Papers a Good Writing Service?
Since you can select a suitable offer from different bids, you can work with your budget.
Does Turnitin detect Bid4Papers.com?
Considering that writers complete every paper from scratch, any anti-plagiarism checker, including Turnitin, will mark your paper with a low similarity score.