Rush Essay Review
This review will give information about their services, prices, special offers, and customer support. RushEssay.com has been working since 1997, being one of the oldest and most experienced services on the market. When it comes to essay writing services, this company and its professional academic writers are ready to help customers with a wide variety of academic assignments. Check our review to learn more.
Rush Essay Services
As well as many other custom essay writing services, RushEssay is ready to offer you academic works of all kinds. These works include all types of essays, coursework, case studies, term papers, dissertations. Plus, you are welcome to order the package of editing services: they include proofreading and formatting. Their professional editors can also help you with choosing the right writing style for your academic paper.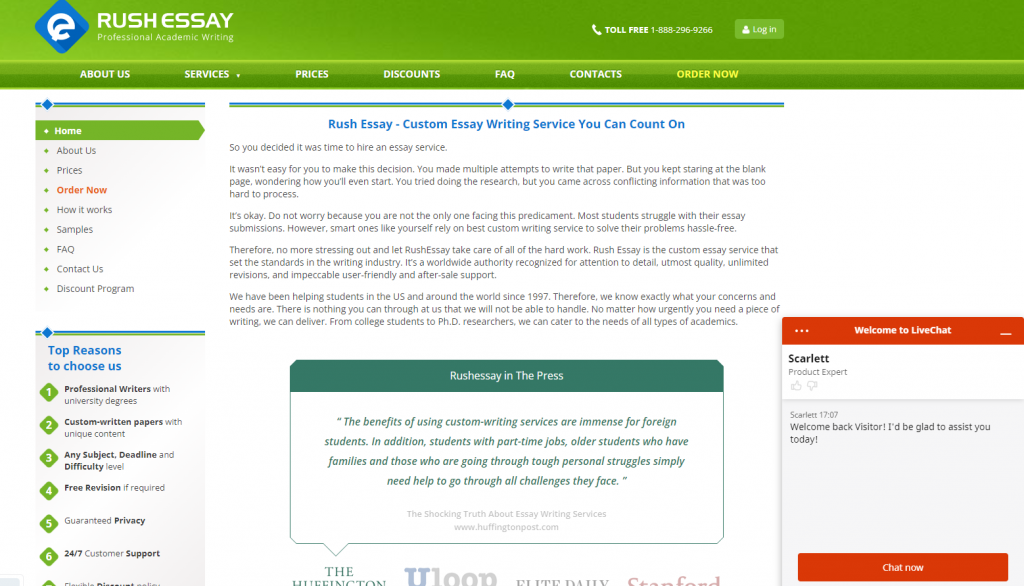 Please, visit RushEssay.com to see the full list of their services and all the details you need to know to order them. The service's team assures they work with native English speakers who have educational degrees in particular fields and are certified, professionals. This fact makes them believe you will find their academic writers professional enough to order services from them.
Prices
Our review of the essay writing company would not be good enough if we did not mention anything about prices. They are not unique here, and they have the same payment system as their competitors: the price will depend on such factors as a type of service, an academic level of the work you need, a number of pages, and a deadline. The prices start from (with a 10 days deadline):
Standard Level work – $20.95
Advanced Level work – $22.95
Premium Quality service – $24.95
If you need your work done for 48 hours, the prices will differ a bit:
Standard Level work – $30.95
Advanced Level work – $33.95
Premium Quality service – $37.95
The shortest deadline RushEssay admits is 3 hours, and your work will cost you $44.95, $46.95, and $50.95 respectively. What is the difference between these three levels of services? It is all about a writer who will write your essay or other academic paper: MA holders work with Standard Level, Ph.D. holders work with Advanced and Premium Quality levels.
Special Offers
Every custom essay writing service tries to provide some special offers to attract new customers and hold regular ones. RushEssay is not an exception here: you have an opportunity to order a writing service and pay for the text-only (you get a title, outline, bibliography, APA/MLA formatting for free). You can save up to $65 with each order in such a way.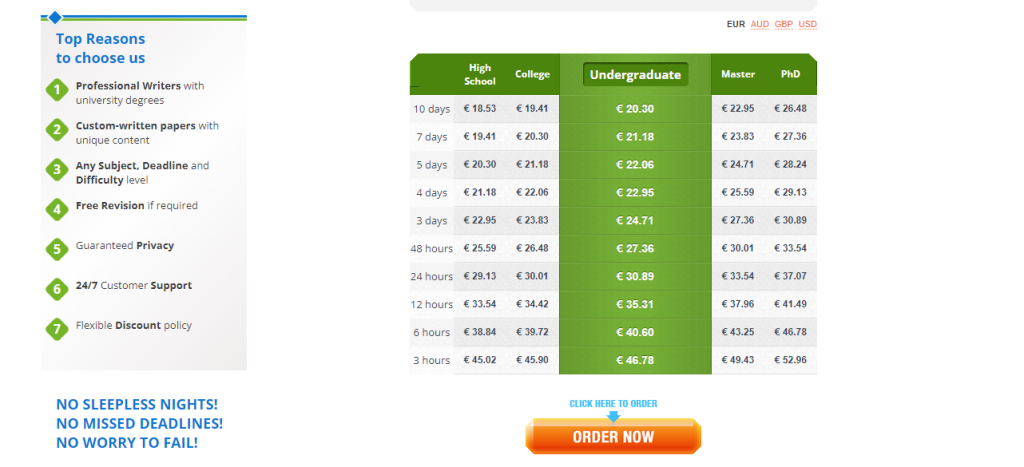 The discounts offered by Rush Essay are gradual. They increase the more work a client has. Its structure starts at a flat 5%. It then increased merely to 7%. The next step up is the 13% discount. At 17%, users get at the highest discount they can count on at the essay writing service. However, most students won't be able to reach the 17% discount easily. A short essay doesn't even qualify for a 5% discount. It would take one or more complete dissertations to see the best discount rates applied. This is why the rates have to be taken as they are and
clients
need to budget without getting discounted rates.
Pros and Cons of the Rushessay
RushEssay has earned a good reputation for fast delivery, friendly customer team, impressive discounts, and easy-to-access features. However, it will have some downsides, including price. You can make the right decision once you know both the positives and negatives.
Pros:
FREE REVISIONS: We all have specific requirements when it comes to essay writing. Sometimes, we want improvements after going through the paper, but the service does not consider a free version. However, you will not experience this issue while using RushEssay. It offers high-quality writing and helps with revisions to ensure that you can add all the necessary changes to improve the readability and relevance of your essay. Once you receive your paper, you can check it and ask for a free revision if you do not find it up to mark. The result will be satisfactory, and you can impress your professors with quality and original writing.
FAST DELIVERY: You can consider RushEssay when you have to meet urgent deadlines. Yes, skilled and experienced writers can deliver your essay within three hours without compromising the quality and originality of the writing. You can know more about the timely delivery if you go through the RushEssay review. Many users find this essay writing service worth considering for the fastest delivery. Hence, you can meet your deadlines without any exception. But you might not get enough time to revise and improve your content. You can place your order before the due date when quality is our objective.
MORE FREEDOM: RushEssay offers more freedom to its users. You will have the option to choose your writer based on your writing needs. You might not get such benefits while considering its competitors. Also, its privacy policy ensures data safety.
IMPRESSIVE DISCOUNTS: The discounts of RushEssay are worth mentioning. You can get discounts on all papers, including high school essays. You can expect up to 17% discounts, but it will start at 5% and increase gradually. You can expect more benefits with consistency. It offers more discounts to regular users.
FRIENDLY CUSTOMER SUPPORT: The customer support team is approachable and friendly. You can access customer service 24/7 through live chats and voice mails. Whenever you experience any problem, you can get help from the customer team and navigate easily.
EASY TO ACCESS: The RushEssay service is easy to access and user-friendly. You will find everything transparent and hassle-free. Visit the website, place your order, make the payment, and get your delivery on time. You can ask for free revisions and use customer support whenever needed.
Cons:
LACKS REAL-TIME SUPPORT: You might not get the best support from the customer team of RushEssay. The team is easily accessible and can answer your queries. However, it might not offer you the best possible solution, as revealed by some users.
A BIT EXPENSIVE: You might find RushEssay a bit expensive compared to its competitors. The service can help with the fastest delivery, but you might find the cost a bit more. Also, some have expressed doubts about originality.
Guarantees
RushEssay might not guarantee the originality and quality of its writing services. However, it offers a wide range of writing services, including writing, formatting, editing, and proofreading. The service claims to deliver original and plagiarism-free essays, but you might find the cancellations and refunds a bit complex. You can use the Order Messaging System, contact the Support Team, and cancel your order. However, you can get a full refund only when the writer has not started writing. Once the assignment goes to a writer, you cannot expect a full refund. Hence, you can cancel your order at the earliest possible to get a full refund. You can also request a refund for the poor quality. However, you will have to show evidence to prove poor quality. Once you receive your paper, you can review it and give enough relevant reasons within seventy-two hours to ask for a refund. You can provide a list of reasons to the quality Assurance Department, and it can approve a refund on justified grounds. However, the department has the right to deny your request.
How to make a order
You will find the process easy and less time-consuming. First, you can place your order on the dedicated order page. It will ask you to enter some data, and you can fill all the sections to help writers know your requirements. Place your order, make the payment, and then the service will start the writing process. It will assign your paper to a writer based on your preference. You can communicate with your writer and know the progress. Also, you can request a draft and make changes to meet your writing needs. The writer will deliver the paper within the deadline, but you can ask for free revisions until you do not find it up to mark.
Customer Support
24/7 customer support is ready to help you through Skype, email, online chat, or mobile. You can also get all RushEssay updates via SMS. You are welcome to contact them to make the right choice concerning the services you need most. The numbers to contact customer support are:
US#: 1-888-296-9266
AU# 61-38-807-0919
NZL# 64-92-804744

Conclusion
Those happy to see case studies and editing services offered by Rush Essay need to know things have changed dramatically in terms of quality, at least for now. In the old days, students were coming to rush essays with trust. An old Rushessay review even pointed out the company delivered original text which needed no revisions. Since then, students and pupils complain about the quality and unreliability of the service. On occasion, some essays are passable. But this has become the exception. What's even worse is that this shift seems to be caused by the company, with its poor selection of writers. Without a solid base of native English speakers, the company can't keep up with the competition and we can't call it a
reliable essay writing service
. It either needs to pay more to get better writers or it needs to be transparent and lower the prices for the questionable essays it offers. Either way, customers are not coming back for now. So, as far as you can see from our short review of RushEssay.com, this custom essay writing service does not differ much from others on the market. They have a standard package of services, their prices are quite competitive but still not the best ones in the essay niche, and their special offers are also the same as ones other writing companies have for their customers. You can find many companies that will provide better offers, prices, and support, and you are welcome to read their reviews on our blog.
TL;DR Version of Rush Essay Review:
When a student looks for a good custom essay writing service RushEssay.com might become one of the first online companies that come to his mind. Our RushEssay.com review will help you understand all principles and details of RushEssay work and decide whether it is worth trying when you need essay help and good grades for your assignments.