Edusson Review
help with homework websites
opened their doors. They offer help with writing papers, researching topics, and a lot more. But, which service should you choose? Which platform should you trust? What do they offer? Today we'll take a look at Edusson. We hope that you'll find this Edusson review valuable and that it'll help you decide if edusson.com is the right website for you. Shall we begin?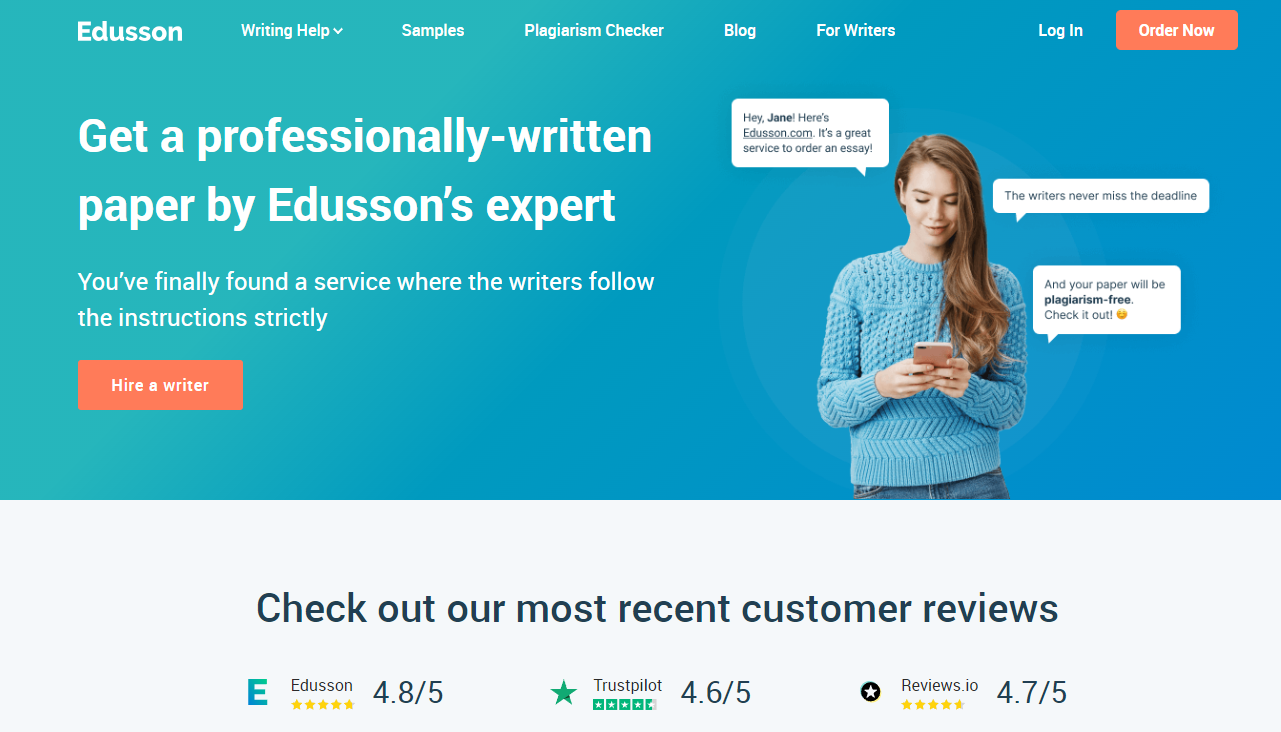 What does Edusson.com offer?
On Edusson.com you can order a variety of different papers. Unlike other essay writing services, Edusson does not only provide you with finished essays or dissertations but also with other types of written assignments. Check it out:
Essays and Papers (argumentative essay, admission essay, scholarship essay, case study, coursework, term paper, thesis, research paper, proposal, and summary),
Dissertations (also, annotated bibliography),
Reviews (articles, books, movies),
Articles,
Business Plans,
Projects (Capstone Project, Statistic Project),
Lab Reports,
Creative Writing and Critical Thinking,
Speeches,
Presentations.

Writing quality
Taking into account the cost of their papers, Edusson's quality can be better. This website provides all kinds of assignments, but no one can tell how good your paper will be. For small assignments, like essays and
reviews
, a client may find minor mistakes and stylistic flaws. In large papers like dissertations or theses, you may come across improper structuring or missed references. When ordering a small assignment, you can get lucky and not need to chase your writer and support service, demanding to improve your writing. In any case, be ready to ask for a revision and to beg the writer to do some corrections. Even ordering a short essay, make sure you give detailed instructions about what you expect. Otherwise, you may get something totally different from what you need. Do the same thing for reviews, articles, lab reports, and presentations. When ordering larger papers, better leave instructions for every section. If you don't give specifics, Edusson writers may use their own structure, which can be very different from what your teacher wants. On this website, writers often confuse instructions or misinterpret topics, which ruins the quality of the content. The Edusson paper writing service checks clients' papers for plagiarism, so you do not have to be afraid of being accused of cheating. Still, the papers do not look unique. By ordering an essay from this website, you are going to get a paper without any innovative solutions or original ideas. The proficiency of their expert writers is unknown. They are most likely college students.
Prices
Edusson.com is a bidding website, so you can't possibly estimate how much you'll pay for your paper. Bidding starts with $10 and can go up as soon as someone places a bid. However, if you have an urgent order, then, depending on the status of the writer you choose (Edusson top writers are more expensive than standard), you'll pay:
Urgent (standard) – $42-48,
Urgent (premium) – $49-57,
Urgent (platinum) – $58-65.
How Does Edusson Work? Edusson's essay paper service works just like other legitimate essay paper platforms. First, you register and then place an order, with details such as the number of pages or words, topics, and the deadline you want to get it by. Then, you choose from a list of writers- they have a name, the number of completed orders, and a profile photo, as well as a 'chat' and 'hire' button. After reading through the essay, you can then release the funds or make a deposit if you're satisfied. Last but not least, you can ask for a revision or leave a review to let others know how the writer or essay platform did.
Edusson Pros and Cons
Pros:
Free Features. You'd normally have to pay for running head, reference page, title page, and originality checks, but you won't when you have your paper done on Edusson.
100% Original Paper. You get a plagiarism-free paper, which eliminates the risk of being caught having others do your homework or assignment.
Legitimate Website. Edusson has a privacy policy page, as well as FAQs and other things that make the platform legit.
Cons:
Not Too Much Online Reviews. Edusson has been around for a while, but on the internet, there are very few writing services reviews about the platform. As such, you'll probably have to risk making a deposit to try out the platform's writing quality and if they would turn in a good paper.
Moneyback Guarantee. Few essay service sites have a moneyback guarantee, but as it turns out Edusson is one of them. Placing an order is free, and you're only required to make a deposit if you want to get the paper submitted by the writer.
Does this company has any discounts or a loyalty program?
No, it doesn't.
Is there anything special to be found on the website?
Yes, indeed, there is. Edusson offers free self-help resources as well as essay samples. It's also got a mobile application.
Can you contact it for more details?
Yes, you can. If you have any questions about their services, your order or if you'd like to learn more about how to place a bid, you can always contact Edusson on chat on their website or send them an email. The choice is yours.
Is Edusson.com Reliable?
When it comes to getting your essay paper done on time the platform is a bit of a hit-or-miss, depending on the writer you've chosen. In some cases, you'll get an essay done before the deadline, while others will seemingly ignore you until the last minute. It's recommended that you try several writers until you find one that produces quality work at a reasonable time.
What is Edusson.com Rating?
In the end, Edusson has a slightly good rating due to several reasons. One, there's a money-back guarantee and you get a wealth of free tools to go with your order. Second, you'll get an original paper you won't have any trouble submitting to your professor or teacher.
Is it Legit, Good or Scam?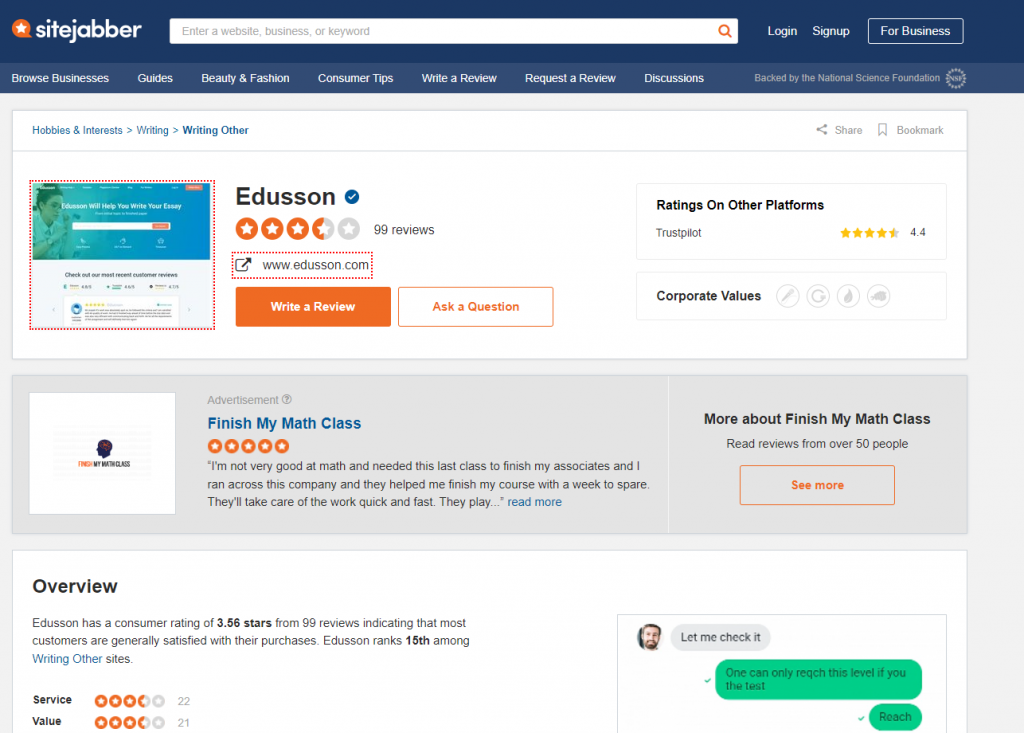 Edusson provides nice services provided by college students. Be sure to give specific instructions as to what you would want to happen or else they would assume what the project is all about. That is never good news because if the format is all wrong then you would have no choice but to request a revision. When that happens, you know you are going to waste time but they will do it in a fast manner anyway. Don't expect a perfect paper coming from them though as there will be a few mistakes scattered all over the paper. When you can't really stand those minor mistakes then it would be better to look elsewhere although we can say they are only human so they can make mistakes. However, they are providing an essay writing service so you should get more out of them. Thus, you better not expect that much when you hire them. They're definitely not a scam but they are not the best out there. They are going to give it their best shot but it is apparent there are a lot better writers who can give you your money's worth. The truth is their service is something that you would desire when you like their essay samples. It is also nice how they have a mobile app so it would be easy to know the status of your order. It would also not be that hard to order from them no matter where you are thanks in large part to their mobile app. In order to know what to expect from them then you can always ask them about it by chatting them up on their website. It is no secret you are going to get the answers you are looking for when you do that.
Final thoughts
Is Edusson.com a scam website? It doesn't seem to be. It offers a variety of great services,
customer
support, and some special features. However, the lack of discounts and a loyalty program can be a big disadvantage. Also, the fact that it's a bidding website makes prices unpredictable. You might pay very little for your essay as well as quite a lot. It all depends on the bidding. On the other hand, you know perfectly well how much you'll pay if you have an urgent order. But, the prices might not be affordable to many students.
TL;DR Version of Edusson Review:

Do you find yourself barely managing to write all your papers? Studying is a hard job. Not only do you have to stay up half a night in order to finish some of your essays, but also spend numerous hours in libraries doing research for your term papers. Sometimes it even happens that you don't understand the topic or can't figure out how to approach it, and so, you either pull your hair out from frustration or get depressed. Did you also experience that? For those who did, various