Grab My Essay Review Overview 2023: Legit, Safe or Scam?
college paper writing service reviews.
This essay writing company also offers copywriting services. This includes all types of non-academic writing which work similarly. All clients can have an entire text written for them uniquely. As the academic services, these can also be paid using VISA, Mastercard, and PayPal transfers. A money-back policy is in place regardless of the payment method. But the service's customers should know they won't receive all the money back if the writer has started working on the essay. This is only the case when an order is canceled and there has been no assigned writer on the task at the moment of cancelation.
First look
The main issue with how Grabmyessay looks is its cluttered appearance. Those not used to older-generation websites might not be able to navigate all of its information. Price tools, testimonials, discounts, login tools, payment options, and other information is cluttered on the homepage.

It's quite difficult to navigate around all this information, and many users are left without any real method of understanding where to start as a new customer. Most other writing services offer much simpler websites that are designed more intuitively to help users find important information.
Website testimonials
A widget for website testimonials is included on the homepage. All of these reviews are very positive, but they don't reflect the experience of all users. It's impossible for all users to be completely satisfied. Furthermore, on some level, they should have at least a few ideas on edits or text improvements. These are not shared in the testimonials section, which raises authenticity concerns. Grab My Essay testimonials are far from realistic. Simply browsing through them, students find they can't be trusted. The writing service only has positive and extremely positive reviews. Furthermore, it has a feature that shows the location of the reviewer. Supposed clients from non-English speaking countries such as Qatar and Hungary write in perfect English, which raises the question of why they'd need essay writing help in the first place. Some of the fake reviews even go further than expected and they describe things like customer service as impeccable. But this department doesn't write the essays and it only deals with client requests in case something goes wrong, which is not specified in the fake reviews.
Prices and customer support
The prices are not as low as they are advertised on the homepage. Not only that, when compared to other academic-level writing prices, the $29.99 price per page seems high. Furthermore, the service is not as reliable as many might believe, based on what these prices offer in terms of actual writing quality.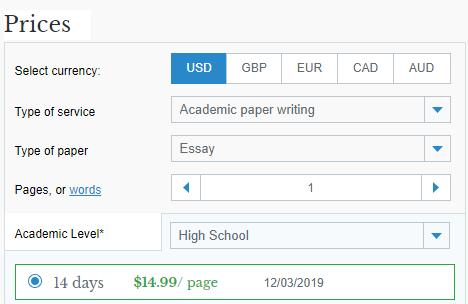 The lowest rates are offered with a 14-day delivery time. At $14.99 per page, this means pages might cost half as much under certain circumstances. As many students know, longer delivery times are usually associated with lower writing quality; however, many writers don't actually allocate the time needed for research or they completely forget about the timeline, which leads to further delivery delays and poorer quality of writing.
The Grabmyessay discount code
Promo codes are advertised with separate widgets on the website, depending on the day and the week. A Grabmyessay discount code varies in discounts of 10% and 15%. As applied to the high prices above, these don't mean too much in reference to the final price. Even with the applied discounts, the prices remain high compared to other similar services.
Grabmyessay review – We ordered a test essay
All roads lead to a test essay to establish writing quality. For example, we placed a rewriting order for a research paper. It needed to meet Harvard writing standards, and the citations needed to be specific for admission to a research journal.
What we received
The received text was inconsistent in meeting all standards. For instance, it lacked the uniformity needed to achieve a high research standard. While some citations were properly implemented, others weren't. It's known that even a single formatting mistake can keep research papers from being accepted by busy research journals. Capitalization was also inconsistent, together with the abbreviation of research writers' names, with only their last name and the first letter of their first names needed, followed by a full stop. As other Grabmyessay reviews have already shown, these types of details are not taken into consideration by the company's writers. Even so, most still hope higher prices, as well as the advertised quality control department, can somehow fix these issues. Further edits were needed to make the text better. Unfortunately, there was no point in asking for the revisions as the deadline had expired and there were simply too many errors to revise as they weren't revised on the original text in the first place.
Is Grabmyessay legit?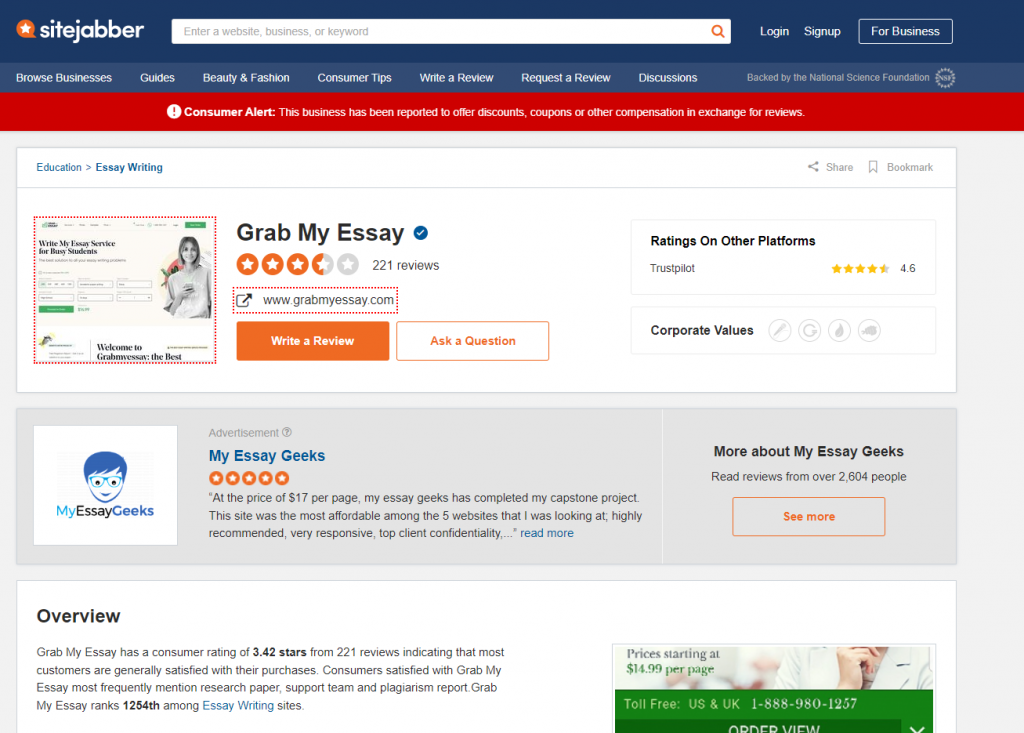 Grabmyessay is a genuine scam. Too many similar stories are shared by their other clients. Many even go on to show how they got scammed into losing an original piece of text due to plagiarism and not being able to get a full refund.
A customer recalls
such an instance when the text was both late and plagiarized. The company refused a full refund and offered the same value in credit purchases instead. This is against the so-called money-back guarantee advertised on the homepage. In deceiving its customers, the company fails to offer real progress and improved services when it comes to major issues such as plagiarism and avoiding monetary refunds. Another problem comes with Asian-based writers pretending to be native-level English speakers. Prices are astonishingly high and for these problems, it is a company that needs to close its doors. Is Grabmyessay worth your time and money? Certainly not.
Verdict
Grabmysessay reviews
confirm that these poor results are not an exception. It's not acceptable to have sub-par work delivered at such high costs. It's not acceptable to have the company refuse to provide a refund when it advertises full money-back guarantees. This is why it's crucial to say upfront that actual refunds are rare. This would be a better interpretation of the company's policies. While many customers like that they can pay using various currencies, they should also know they won't see the money back in case the delivered essays are of poor quality. Another disheartening issue comes with fake testimonials. Many potential customers read them believing they are written by customers. This is not the case. None of the testimonials published on the company's website looks into any of the problems mentioned above. Everything seems fine at first glance. However, online forums show a different experience. Asking if they'd recommend the service to a friend often leaves to negative responses from previous Grabmyessay customers. This says a lot about how the texts were delivered. Even those not plagiarized weren't good enough to get a passing grade, let alone a good grade. Students willing to spend so much on an essay have better options elsewhere.
Grabmyessay.com offers writing services. It covers academic writing, copywriting, statistics, and editing. Those new to writing services find them appealing, but those who've already worked with a few essay-writing companies know it's unlikely for a company to offer quality results with such a wide range of services. The company's advertised quality control department is nonexistent. While it could work with text outlines, presentations and grammar, this department can't deal with the actual information in the essays. This is something only writers can be responsible for as they do the actual research for the essays. This is why the advertisement regarding this department on the service's homepage is deceptive. Grab My Essay aims to cover the major parts of writing a student might need. This includes academic writing such as admission requests, dissertation writing, and statistics' writing. Editing services are also marketed strongly by the company. Rewriting and proofreading are a big deal for students as essays always need to be on point. See also: