SmartWritingService Overview 2023: Is it a Legit Place to Find Writers?
SmartWritingService Highlights
I can't remember the last time I reviewed a website due to students' requests. It seems SmartWritingService is attracting more attention recently. In this industry, such trends often point to a scandal or increased customer traffic. Whatever the reason, I took the challenge on and created this unbiased review of the company and its services. I explored independent sites such as TrustPilot, Sitejabber, YouTube, and Reddit to get direct and unadulterated feedback from its past customers.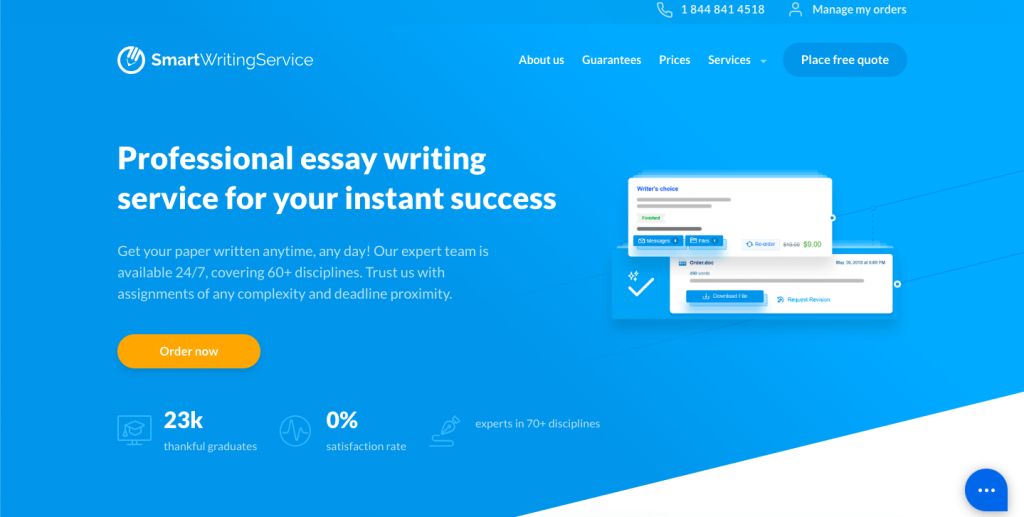 I firmly believe that a balanced smart writing service review must investigate the company's claims and compare them to customers' feedback to determine if they're true to their word. As such, I started off by reviewing the company's offerings, then placed two orders to test their quality, and later concluded by exploring online testimonials.
I've used the structure below to present my review. I hope this makes it easier for you to follow and understand. I've based the scores on my personal experience with the company, its rating on official review sites, and customers' online sentiments.
First Impression
SmartWritingService has one of the best web designs you'll ever see. Apart from its simplicity, the choice of colors on its front page is mesmerizing. A soft touch of blue in its various shades. It's also organized with only critical information displayed. My first impression of the website and its design was nothing short of marvelous. And with only four pages, it's nothing short of a minimalist approach that exploits the convenience of interface usage. Most importantly, its compatible with mobile devices such as smartphones, iPads, and tablets, displaying every content as it should be.
Service Review
SmartWritingService is one of the most robust companies you'll find out there. They don't just claim to provide all types of writing services, they do it. The company assists students struggling with their class assignments, homework, research papers, and dissertations, among other works. It also helps businesses with formal writings, including proposals, manuals, instructions sheets, public notices, etc. Furthermore, it works with marketers to create SEO optimized contents.
How Does this Service Work
The service provides a positive and enjoyable experience to customers. Even people who aren't tech savvy can order a paper in minutes. Their simple interface makes the ordering process easy to follow, especially on smart devices. Some reviews about smart writing service also assert its visual appeal, making customers want to stay longer on the company's web pages.
Types of Services
| | |
| --- | --- |
| Service | Description |
| Essay writing | SmartWritingService provides professional assistance in crafting high-quality essays on various topics. Their work extends to all types of essays, including descriptive, expository, argumentative, and persuasive essays among others. |
| Research paper writing | The company can write all your research papers, which involves conducting extensive research, analyzing data, formulating a thesis statement, organizing information, crafting a coherent argument, and presenting findings in a well-structured and academically rigorous manner. |
| Thesis writing | Writing a thesis or dissertation is one of the most demanding tasks a student can embark on. The company offers help with such projects, ensuring that your final document is original, well-structured, meets all scholarly demands, demonstrating proficiency in the subject and critical thinking skills. |
| Proofreading and editing | This service is available to students with drafts that need reinforcements and perfecting. It also comes handy to integrational ESL students who're still struggling to master English. The company's experts help them to correct their papers' grammatical, structural, stylistic, and factual mistakes. |
| Copywriting | This service targets businesses and SEO experts. It entails crafting persuasive and compelling written content used for engaging and influencing the target audience online, ultimately driving them to buy or subscribe to products and services. |
| Resume and cover letter writing | This is one of the most sought-after services by final year students and graduates. Jobseekers can get help with their CVs, cover letters, or personal statements. The company can draft a compelling and concise document for you, displaying your skills, qualifications, and experiences. |
| Business and technical writing | Are you a businessperson or a decisionmaker in an SME? The company can fulfill all your formal writing needs, e.g., proposals, end-user instructions, manuals, feasibility studies, etc. They can customize the documents to suit your audience, while maintaining a professional and persuasive tone. |
Paper Quality
Having accessed two samples from the company's past clients, I can say that their writers provide solid materials. The two papers I ordered from them were quite solid as well. They were well-written and formatted. I was especially impressed by the research put into my English literature paper. I only required two references, but the writer provided five high quality and relevant journals. She knew what she was doing and was more than competent. Both papers were free of grammatical mistakes and structural issues.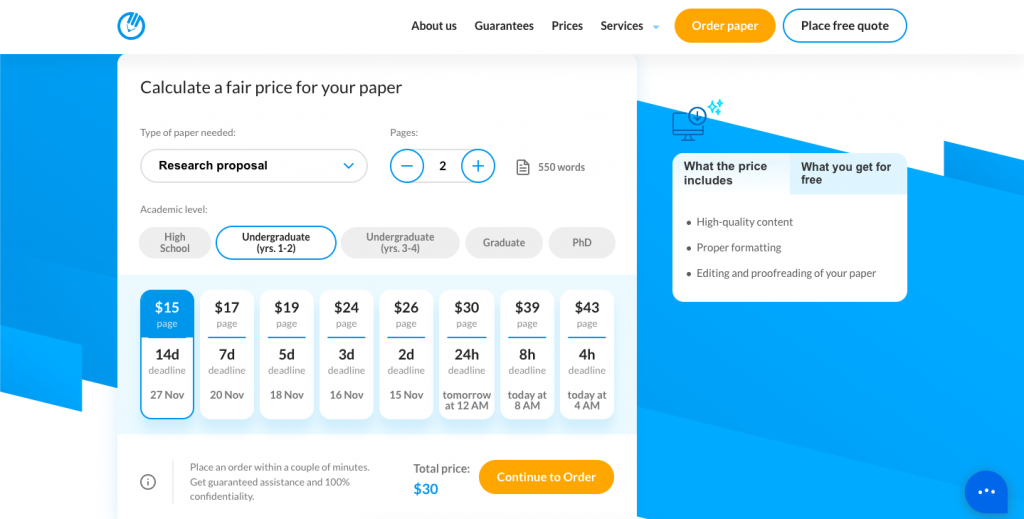 Meet the Deadline
My first order was a 2-page nursing assignment. Because of cost, I paid for a 14 days' deadline which attracted a $30 fee. The second paper was an urgent one, as I wanted to test their commitment to timeliness. It was a 2-page paper on English literature, Shakespearean to be specific. I indicated a 4 hour deadline and they charged me $86. That was a steep price to pay for 2 pages, but I understood why it was so pricey. They delivered both papers on time. Surprisingly, they completed and submitted the nursing order I expected back in days, if not weeks, in a record 9 hours. That was more than amazing.
However, in a review I found on SiteJabber, a client stated that their work was late. It came after several messages to the writer who claimed they had fallen ill. The company resolved the issue and gave the customer a free pass in their subsequent order.
Writers' Competence
AI has completely revolutionized essay writing. Many students find it easier using the programs to write their papers. But this hasn't gone unnoticed. Texts have become generic, flat, and busty. The two papers I received from SmartWritingService writers were unique and sounded natural. AI has helped in many ways, but I still prefer the human touch. I'm convinced that companies that create papers from scratch will be here for a much longer time.
Customer Support
When you see even disgruntled customers praising the customer service team, then you should know they're top-notch. They were always available and answered my questions in minutes. They were also friendly and professional.
Discounts and Features
As a return customer, I enjoyed a discount on my paper. I also received a coupon for smart essay writing service to use with my next purchase. Like me, all customers who make repeat purchases are liable for some special discounts. All you need to do is login with your credentials to claim it.
Guarantees
Just like other essay writing services, the company lists several guarantees, but it's hard to know if they fulfill all of them. They include:
✅ 100% originality and zero plagiarism
✅ Guaranteed on-time delivery
✅ Skilled writers with master's/PhD degrees
✅ Your privacy is our priority
✅ Swift response to your inquiries"
I've seen a few reviews talking about order lateness and poor quality, which may make me question some of the guarantees. Yet I've not seen even a single claim of plagiarism or poor customer service. Thus, those are the only guarantees I can defend. The variables make smartwritingservice.com legit.
Pros and Cons
Pros

Cons

They provide value for money.
They provide original materials written from scratch.
They have professional and highly reputable customer service that's available 24/7.
Their website is safe and simple to navigate.

Using top level writers attracts additional fees.
Orders with shorter deadlines can be very expensive.
Price Review
The company charges fair prices from its quality level. When you get a top-notch paper, the price may not matter so much. However, with prices starting at $10, SmartWritingService is certainly affordable.
Service Comparison
| | | | |
| --- | --- | --- | --- |
| | SmartWritingService | CopyCrafter | Bid4Papers |
| Pricing | 👍 | | |
| Quality | 👍 | | |
| Deadlines | | 👍 | |
| Services | 👍 | | |
| Writers | | | 👍 |
| Website safety | 👍 | | |
| Confidentiality | 👍 | | |
Who Is this Service For?
You've probably heard of the saying, a jerk of all trades but a master of none? The company provides all types of services and excels at almost all of them. SmartWritingService essay writers have defied the saying, turning out to be experts in all trades. Their service is for high school to PhD level students in all disciplines and fields. Here, students in technical fields are well covered.
Worth the Money
There's no debate here. The company provides value for money. It might seem that they charge more for their services, but the quality you get in return is amazing, sparing you a lot of stress working with incompetent companies and writers.
Online Reputation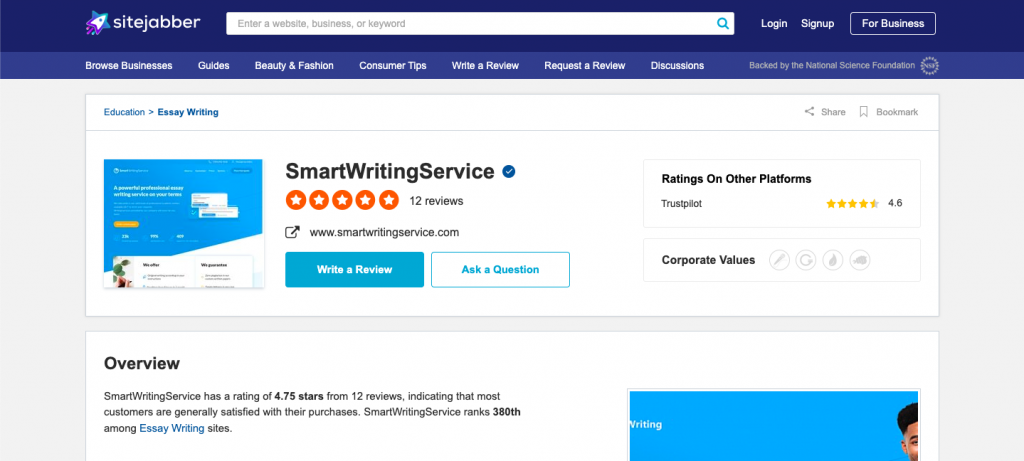 The company has a largely positive presence online. It has 12 reviews on Sitejabber with an average score of 4.75/5.0. While the rating is great, I'm concerned that a company that has been in the industry for over 10 years, has such few reviews. It also has an average score of 4.6/5.0 on TrustPilot. Even though I'm impressed with these high numbers, the limited number of smartwritingservice.com reviews bother me.
What Users Say
The few reviews I accessed can't provide a complete picture of the company and its operations. However, a few things stood out. For instance, many users highlighted service quality and a professional service staff as the company's main strengths. Others also praised its pricing strategy with promo codes and coupons that lowered costs even further. A negative review repeated by two clients, which I didn't experience, was lateness.
Order Process
Ordering from the company was quite simple. Once I created an account with my email, I was able to gain smart writing service login. One name was just enough. It took me less than 3 minutes to complete the ordering process, which included uploading materials. I was especially impressed with the responsiveness of the website.
Writers
My part ended after I paid for the work. The company chose a writer on my behalf. I was initially uneasy. However, given the quality of paper I got, it was the best option. They saved me time and fulfilled my demands.
Payment
The payment process was seamless. While I used my VISA card, I realized there were several options such as Mastercard, American Express, Discover, etc. You can always choose what suits you.
Verdict
This was one of the simplest sites to rate in my review career. There wasn't anything so negative online it would make them think twice about it. The complaints were normal ones, highlighting the company's commitment to quality. And with its quick turnaround time and amazing support staff, it's surely a service to consider. I conclude my review of smartwritingservice.com by giving it an 8/10 score.
| | |
| --- | --- |
| Service Criteria | Score |
| Types of Services | 10 |
| Paper Quality | 9 |
| Meet the Deadline | 8 |
| Writers' Competence | 9 |
| Pricing | 8.5 |
| Customer Support | 9 |
| Payment Process | 9 |
| Guarantees | 7 |
| SCORE | 8 |
FAQs
Is SmartWritingService Legit?
Yes. The company is legit and provides legal services to its customers around the world. There's overwhelming evidence that they've assisted many students pass their exams and master their course contents. As far as I'm concerned, they're trustworthy.
Is copy SmartWritingService Reliable?
Yes. The company has been in business for over 10 years. Within that time, they've assisted over 23,000 students to cross the graduation line, registering a 99% satisfaction rating. If that's not reliable, I don't know what is.
Is SmartWritingService a Good Service?
Yes. While this question may have relative responses, the company meets some basic requirements to be considered good. For instance, it delivers most of its orders on time, has a higher quality rating, has some of the best writers in the industry, and provides original materials only.
Is SmartWritingService Scam?
No. There's absolutely no evidence that SmartWritingService is a scam. It doesn't engage in any illegal businesses or cheating. It's a real business that's duly registered and run professionally. In fact, the company has no interest in keeping your money unfairly. If you don't like the work you get from them, they're always willing and ready to issue a full or partial refund.