Essay Lab Review Overview 2023: Legit, Safe or Scam?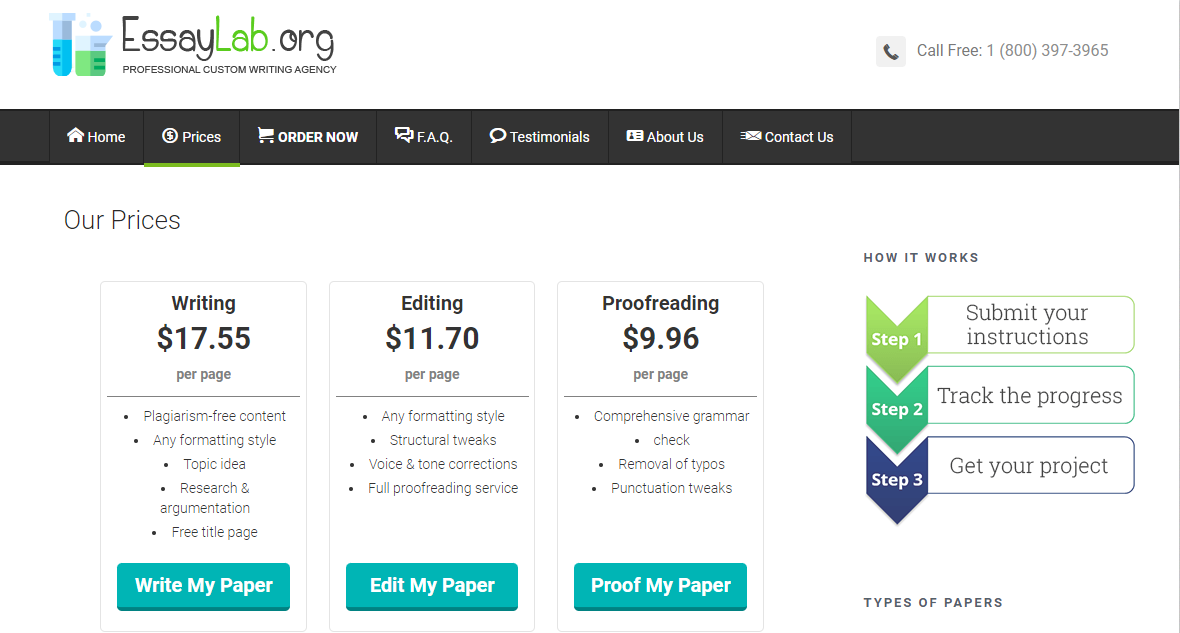 Essay Lab has the potential to become one of the popular and reputable online homework help sites if its writers improve their services. Since the platform is still new in the market, it's uncertain whether it can meet everyone's expectations; several customers have complained about the website's inability to deliver assignments on time, proving it's not a perfect fit yet. Our Essaylab.org review won't be positive because of some negative experiences and feedback from its clients, mainly related to the quality of services and customer support. Nonetheless, let's see what the company has to offer.
Services
Like other online essay writing services, Essaylab.org allows you to order various academic papers, including reports, speeches, essays, research and term papers, book, movie and article reviews, biographies, and presentations. Besides providing undergraduate assignments, the writers can handle Master's and Ph.D. homework. So, if you have a thesis, dissertation, academic research, or any other challenging project to complete faster, you should consider asking for assistance from Essaylab. In addition, you can
get programming assignment help
from this platform at affordable prices. Also read about how to
get help with programming assignment.
Prices
The Essaylab review wouldn't be completed without the information about their prices. We must admit, they are affordable enough: you can choose from five deadlines, and the price for your paper will depend on its urgency. Plus, they have seven academic levels to choose from. Find yours to learn how much EssayLab services would cost you:
High School ($16.50 – $30.80 per page);
College Freshman ($18.95 – $33.35 per page);
College Sophomore ($20.70 – $35.10 per page);
College Junior ($22.45 – $36.85 per page);
College Senior ($24.25 – $38.65 per page);
Master's ($27.00 – $41.40 per page);
PhD ($29.80 – $44.20 per page).
The deadlines to choose from are 3-23 hours, 1-day deadline, 3 days deadline, 7-8 days, and 15+ days. As you can see, such a policy is not very comfortable for customers who need their order within 10 days, for example, they would have to pay for 7 days deadline which is a more expensive alternative.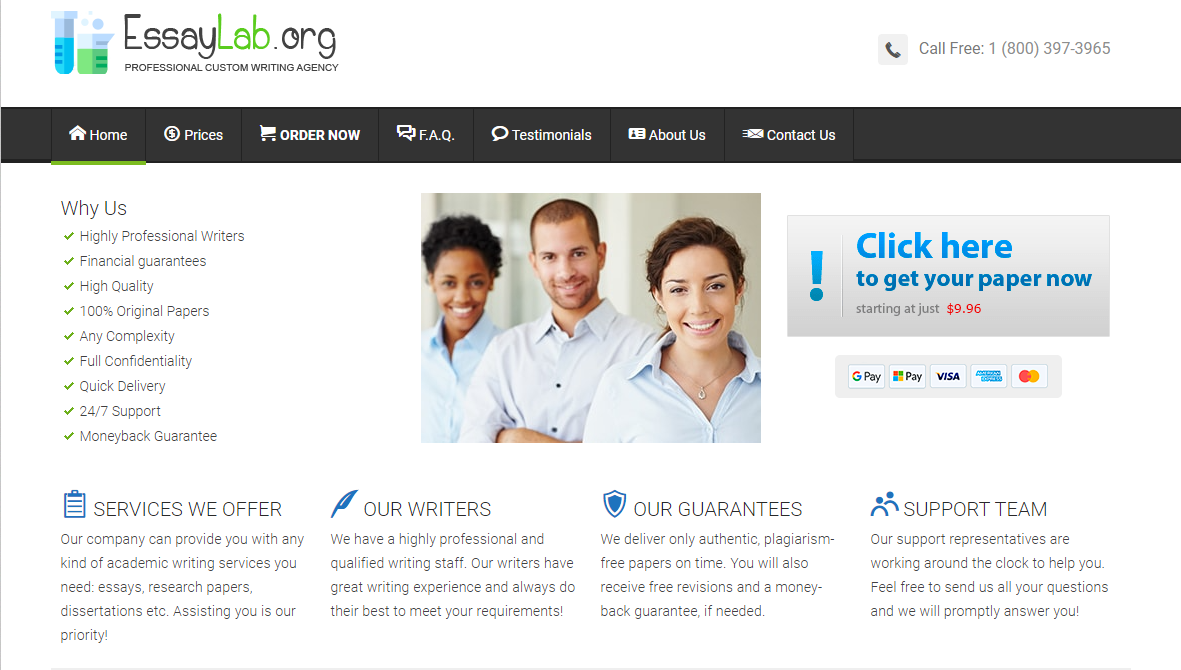 So, it wouldn't go amiss for Essaylab.org to improve its pricing policy, let customers choose a deadline, and provide a specific price for it.
Discounts
There's no useful information about discount features on the Essaylab website. So, don't anticipate any discounted rates, whether you're a first-time or returning customer. However, you can get a free title and bibliography page, table of contents, and revision.
Customer Support
As we've already mentioned, Essaylab.org can't call their customer support reliable enough. There is not a free number to call them, but they have online chat to write and ask all your questions. We tried to contact them, but the feedback was not as fast as we expected; so, get ready to wait a bit if you still want to reach them. So, why are they special? Although Essaylab.org is a new service in the writing industry, it can help you understand different paper structures and the right approach to complete your assignments. The site is particularly reliable for high school students and other scholars new to academic writing because it offers basic tips and guidelines to help them build a solid foundation for writing skills. Therefore, this website can be described as an excellent source of resources and knowledge for beginners Despite its ability to provide relevant information to improve learners' confidence and ability to handle different types of papers, Essaylab should improve its delivery approach and contact features to compete favorably with other services in the market.
Is EssayLab legit?
Yes, we can confirm that EssayLab.org is a perfectly legit service in the sense that:
It provides contact details for clients to get customer support.
The website clearly explains how the service works.
You can find the company's physical address on the website.
It provides a money-back guarantee.
There are plenty of testimonials about this service.
Does EssayLab scam its customers?
Here's where things get tricky. We can't say that EssayLab.org scams its customers because it does provide a money-back guarantee. However, it doesn't explain how it works. The lack of clear rules gives the company all the power in deciding which cases warrant compensation and which don't.
Is EssayLab reliable?
Overall, we would say that this service is pretty decent, but there are two reasons why we can't call it perfectly reliable:
The customer service is slow. Operators take a long time to respond, and the website doesn't provide any toll-free phone numbers.
This service offers a money-back guarantee but doesn't provide a detailed explanation of how this policy works.
TL;DR Version of Essay Lab Review:

You can review more information on our blog and choose a custom writing service to satisfy your needs.
Essaylab.org is one of the custom essay writing services in our review. It is a new homework help site where students can cooperate with online writers to get all kinds of academic papers at affordable rates. Read this review to decide if it's worth spending your time and financial resources on Essaylab.org.