WriteMyPapers Review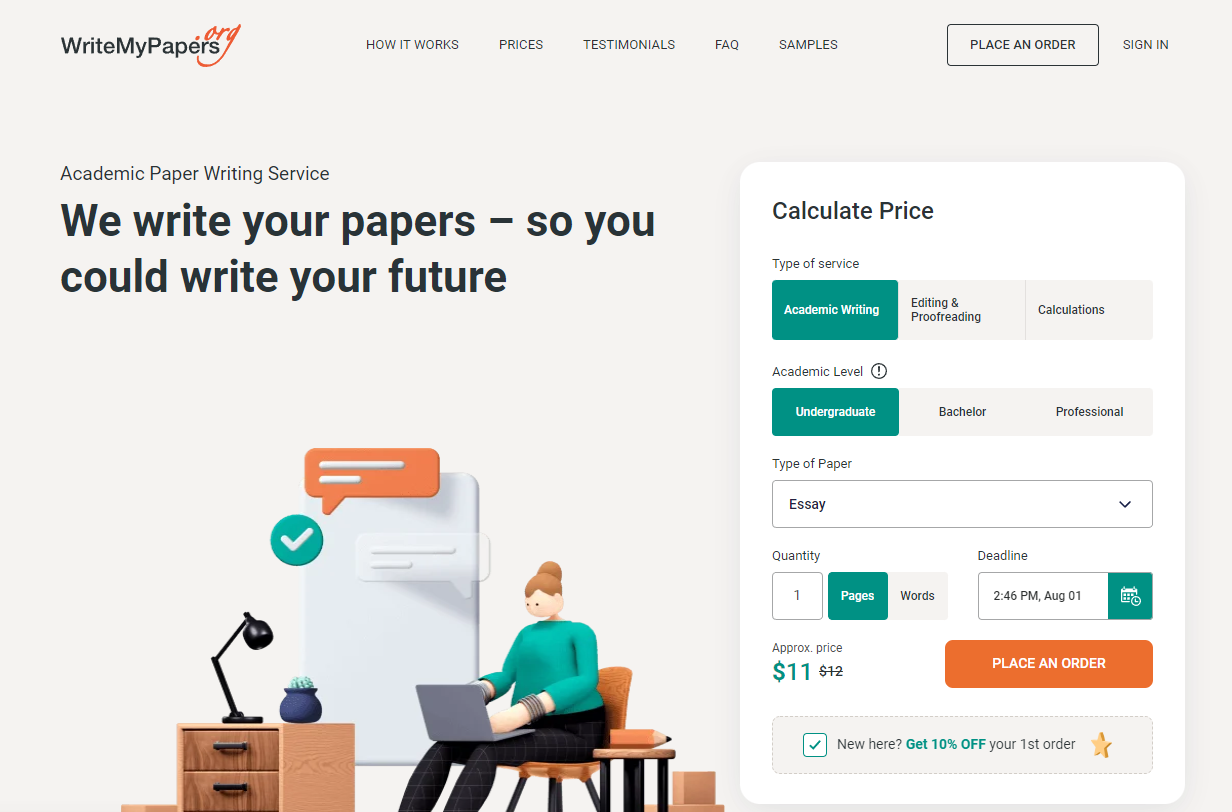 The services offered at WriteMyPapers.org are standard. At the moment, the company claims it has 121134 approved works written by over 1000 writers. These works have not received feedback, but new customers have a free inquiry form to ask for more specific details.
Impressions of usability
The WriteMyPapers website looks professional but too similar to its competitors' websites. While it is minimalistic, it has more information than the average writing service alternative. For example, it lists areas of expertise. This includes popular niches such as computer science and history. It also lists rare niches such as accounting and astronomy. However, the quality of the final results is more in the hands of the writer than the platform.
Prices
Prices start at $11.99 per page. This makes
WriteMyPapers
one of the cheapest options at the moment. Since most other services charge twice as much, it's worth having a look at what customers receive for the money. However, these prices are only available with a long, 14-day delivery time. The price considerably increases with a more reasonable 2-4 day delivery. As a result, in reality, WriteMyPapers.org is not cheaper than its rivals.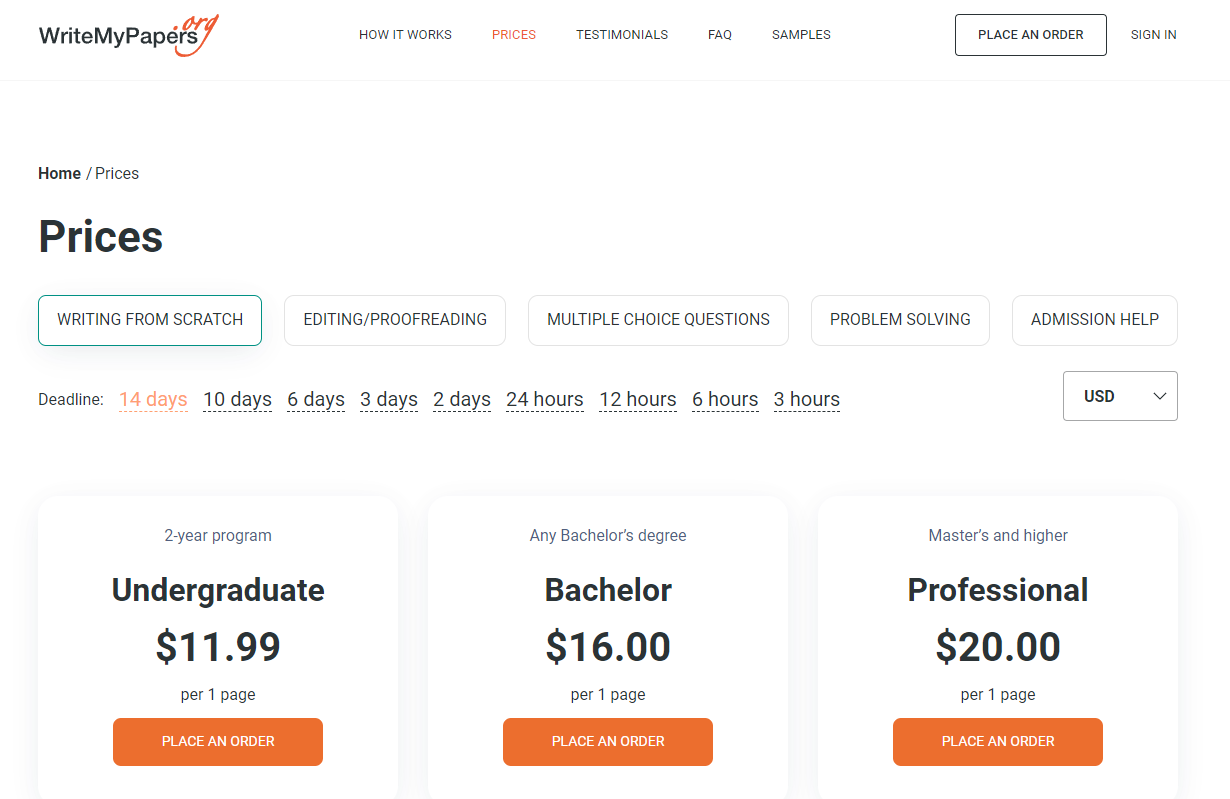 Customer support
Its customer support is on point. Since it is an international service, it also offers various contact methods. This is why US and Australian customers have dedicated local lines to get on the phone with a customer representative. Useful for a quick quote, the service has localized a lot of WriteMyPapers services. Clients also have dedicated email addresses for support and
writing feedback
. These specialized categories play their role in getting a quick response, as customer representatives know exactly what they have to deal with. However, there's no transparency about the people behind WriteMyPapers.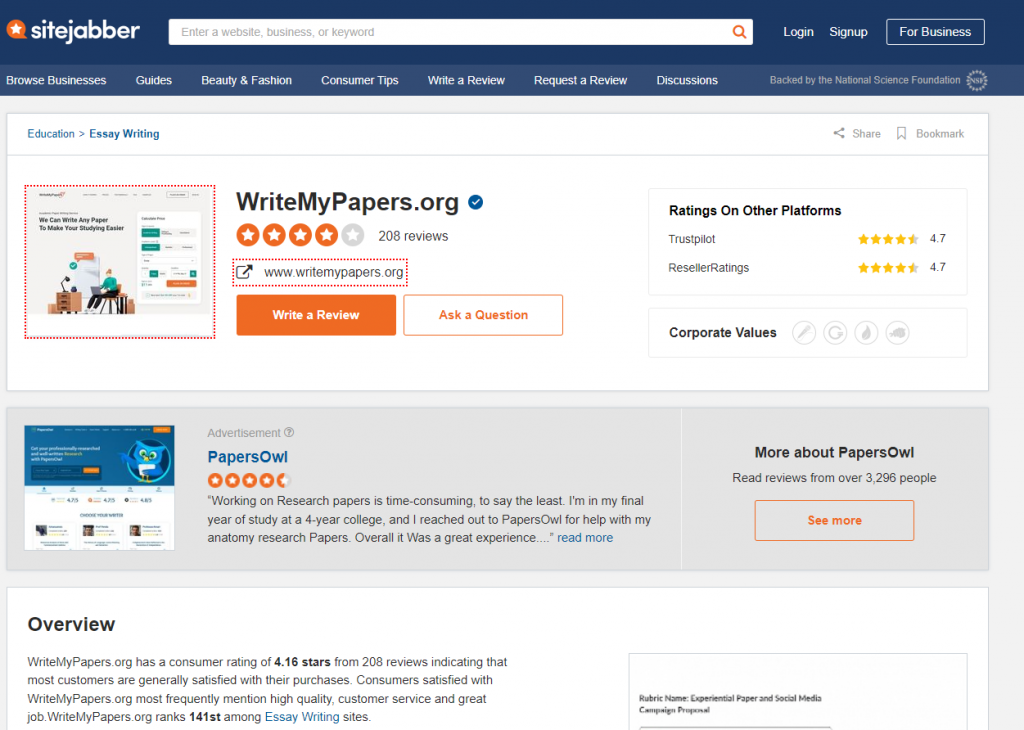 What services WriteMyPapers offers
WriteMyPapers covers most writing needs. Article writing, course writing, speech writing, and assignment writing are popular services clients can choose from. WriteMyPapers offers such types of services:
Admission essay help
Dissertation writing
Homework writing
Online classes
Term Paper writing
Tutoring
Interestingly, WriteMyPapers also offers writing tips, which is a helpful service with the idea that customers can learn how to write better. However, this service dubiously charges the same for actual writing. Of course, a few writing services are missing. This includes a research paper and Ph.D. writing. While these services are hard to be written completely, they can at least be partially offered with certain chapters such as summaries or literature reviews.
Features, promo codes, discounts
With every new customer, pricing and loyalty programs are important. A WriteMyPapers discount code is available for most new customers. It varies between 7% and 10%. However, the discount is limited to longer delivery times. Other types of discounts are also available. Those placing orders worth more than $500 get a 5% discount. This minimum order for this discount is higher than with alternative essay-writing services. The same applies to orders above $1000 which has a 10% discount. However, these two discounts are hard to come by for new users. Looking for something else? Check out these
website that writes papers for you
.
What did we order?
An order was placed for a history coursework writing assignment. The idea of the 3-page essay was to look closer at WWII's casualties. The paper itself was short and it only needed to summarize what is easily available in terms of information.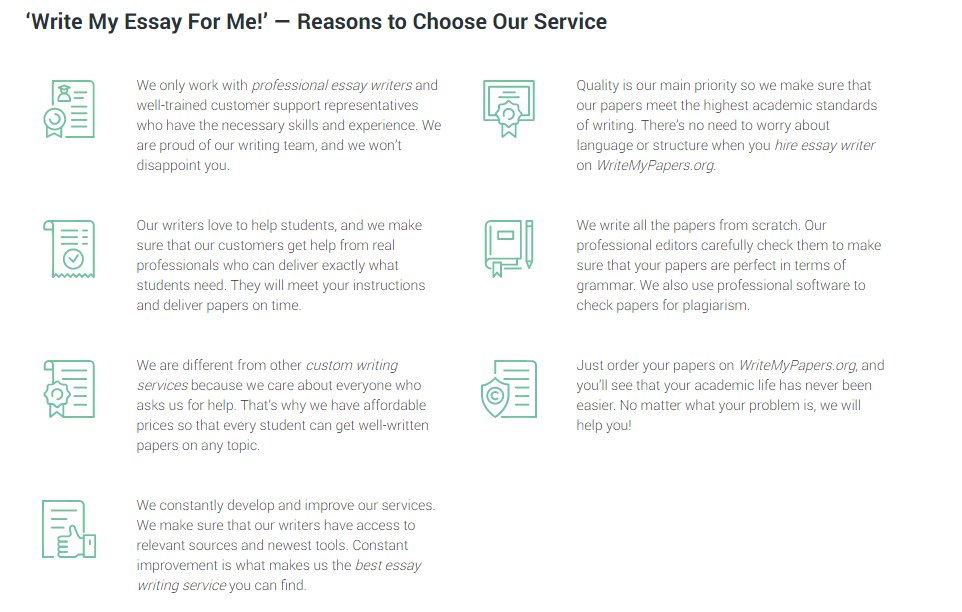 What we received, quality of the paper
The quality of the paper is generally poor. The work is original which may seem a big step forward when it comes to building trust. However, the delivered paper was not written in academic language. It is similar to what can be currently found online in WWII forums and blogs. This is why the final work needed rewriting. From a grammatical point of view, the paper was not on point. Small errors and a few major grammatical errors were made. Even checking the text with online grammar tools showed issues to worry about. The cited sources of the paper could have been more numerous as well.
Is the company reliable?
WriteMyPapers.org is almost a legit service. It can cover many types of writing up to the postgraduate level. But, it does so with poor results. Those who are on a budget get some of the lowest rates at $11.99 per page. This is coupled with low-quality results. Even more, those rushing to get work done will struggle with the fees, which are similar or more expensive than what's asked for at the moment by competitors. Localization is another strong point for WriteMyPapers. International students can get a quote over the phone through a local phone number. While they have to pay more for quickly delivered essays or academic writing, customers can get an idea of how much they will pay for such short notice. The same spot-on services are not seen in the company's money-back guarantee policies.
Verdict
The services on offer are
not high quality
, in general. The more topic-specific the work is, the more difficult it is to find reliable results. As with similar services, academic writing offers the most problems since it requires a greater knowledge of English and proper grammar. But unlike many other services, WriteMyPaper doesn't offer support for Ph.D. writing, even if its writers hold higher degrees. This is indeed troublesome. Only a few testimonials show all other types of writing are delivered by a good standard.
TL;DR Version of WriteMyPapers Review:

WriteMyPapers.org is a low-cost writing service. It offers text-writing services in architecture, English, medicine, statistics, and other fields. But, the company encourages students not to present the final work as their own but rather to gain some inspiration from it. This raises questions of authenticity.