TopEssayWriting Review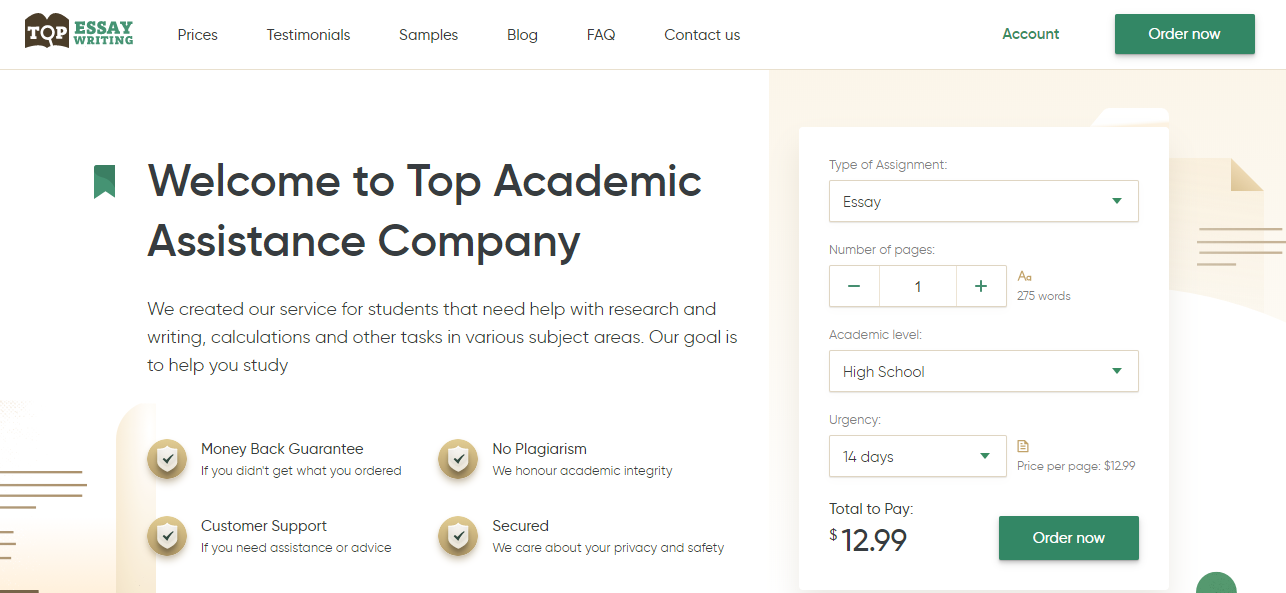 Website impressions
TopEssayWriting has transparent policies when it comes to pricing which is available even before signing up. The website is clear and simple. It includes a sample area as well as a FAQ area where most questions get answered quickly before placing your first order.
Prices
Prices vary according to the delivery time and the length of the project. A simple page delivered within 14 days costs $12.99. This increases to $39.99 with a 6-hour delivery. There's no 4-hour option that competing writing services offer. One of the differentiating factors in pricing is the ability to pay in foreign currencies. Apart from dollars, customers can also pay in the following currencies.
Euros
British Pound
Canadian Dollar
Australian Dollar
Differentiated prices are also in place according to the academic level. There are 7 academic levels, influencing writing style and pricing.
High school
Freshman
Sophomore
Junior
Senior
Master's
Doctoral
Customer support
Customer support is responsive. The platform has a toll-free number that customers can call to clarify certain details. Live chat is also implemented on the website even if it's not 24/7. TopEssayWriting is also present on Facebook and Twitter where it may also respond to inquiries. However, there's barely any social media activity on these accounts.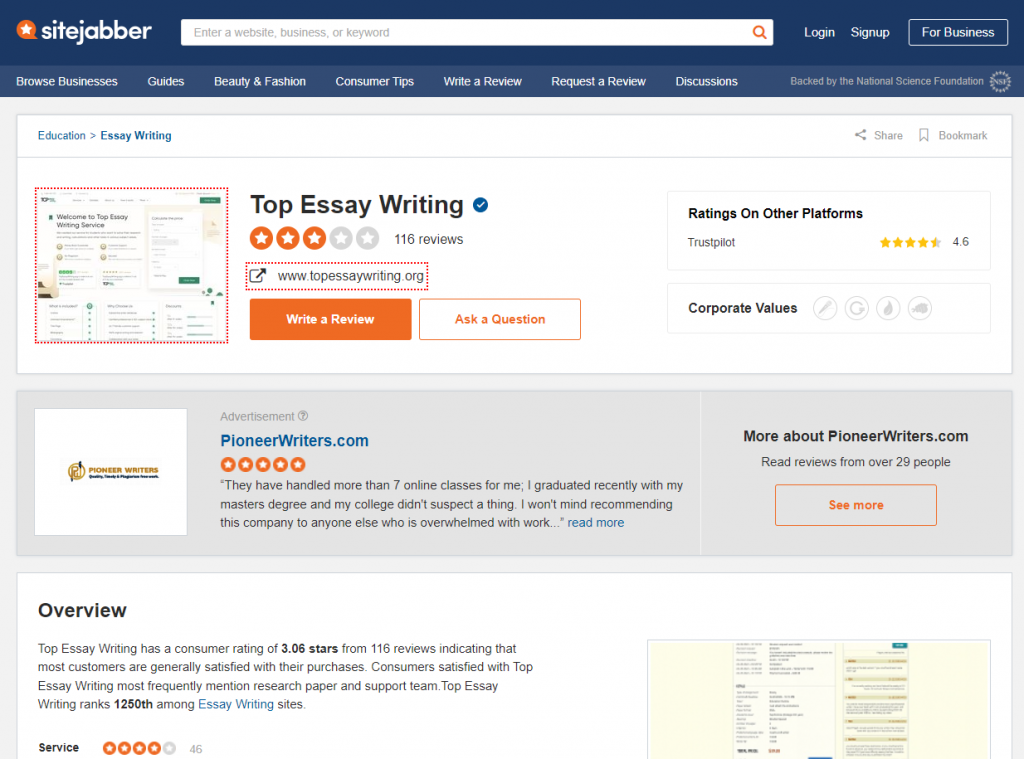 TopEssayWriting reviews
Reviews
are not positive towards TopEssayWriting. It seems not all papers are delivered on time. One customer even recalls missing a due date for a paper that TopEssayWriting finished a day late. The company failed to issue a refund, stating it was out of their control. This speaks volumes about the type of planning students should have if they want to place an order with TopEssayWriting.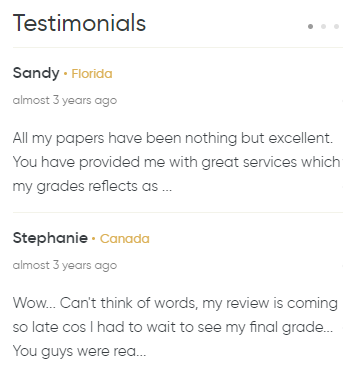 What services the company offers
It offers a limited number of services. Regular essays, admission essays, coursework, and research papers are among the popular services. Confusing services include essays and reaction papers which students even discuss in their reviews. Promo codes and what they promise Lifetime discounts are available in certain conditions. 5% discounts apply to customers who've already placed 5 orders with TopEssayWriting. 10% discounts are offered to those who've placed 10 orders. 15% discounts are offered to those who've placed 15 orders on TopEssayWriting. Specific discounts are offered throughout the year. One of the discounts that popped-up on the day of the review is a coupon for a 13% discount for the first order. This means that instead of paying $12.99 for a page delivered within 14 days, students pay $11.33. This is not a significant discount by any standard.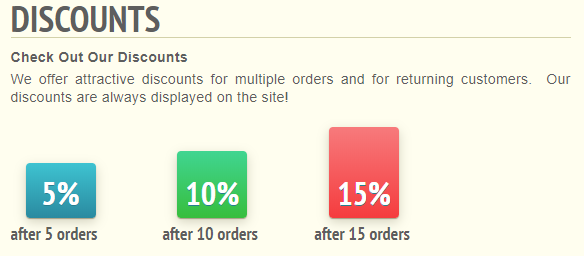 What we ordered
We placed an order for a one-page essay at the high school level. Delivered within a few days, the essay needed multiple revisions. The first revision was for free but a second payment was asked for the second revision. Even then, the text needed a bit of editing to flow better. This is proof that reviews that state
this company is fraudulent seem closer to reality
. One student even wrote the company threatened to announce his work was plagiarized if the money was not wired in time to make extra revisions.
Why the delivered essay is of poor quality
The quality of the paper is lacking in both the information and style of writing. While it does use English, it is far from being acceptable at the high school level. To take the work seriously, proper information and heading titles need to be provided in advance to ensure that the writers stick to the point. The issue of plagiarism arose as well. Simply searching through student forums is enough to find those who've found their work elsewhere. Some papers are slightly different from the original while others are the same. As far as general work quality goes, one student even recalls getting Ds on 15 papers ordered from TopEssayWriting.
Is it all a scam?
TopEssayWriting can be a scam. It seems that without proper communication, the quality of work suffers tremendously that it can't even be used to get a passing grade. On the other hand, TopEssayWriting needs to be held responsible if writers are not willing to put in the work. The company needs to issue refunds where their due, which is not happening at the moment.
Verdict
Most of its essays are poor. There are too many stories tied to the name of the company and students are starting to look elsewhere. For the high school level, it seems some essays could be acceptable. However, those who've already enrolled in their first year of university should look elsewhere. Even with lifetime discount policies, it's not worth the risk since essays are also starting to be delivered late. Need a high-quality assignment? Pick a company from this "
best assignment writing service
" post.
TopEssayWriting offers fairly-priced writing services. The main strengths of the company include the ability to pay in foreign currencies and localization with the style of writing. Discounts are offered to returning customers and live chat options are included in the platform. Our tests have resulted in an average-quality paper that should not be used by students and which needs multiple revisions. TopEssayWriting boasts of a large pool of writers. However, customers don't know the number of writers behind the service. Having a limited number of services is also troublesome. Students who want to order all of their work in one place might find this frustrating and it might even drive them away.