EssayWriter Overview 2023: Services, Tips, Samples
EssayWriter Highlights
Lots of students often ask for EssayWriter org reviews. That's why we've prepared this review to help you understand the company, its services, online reputation, and other aspects that may influence the quality of your assignments and satisfaction.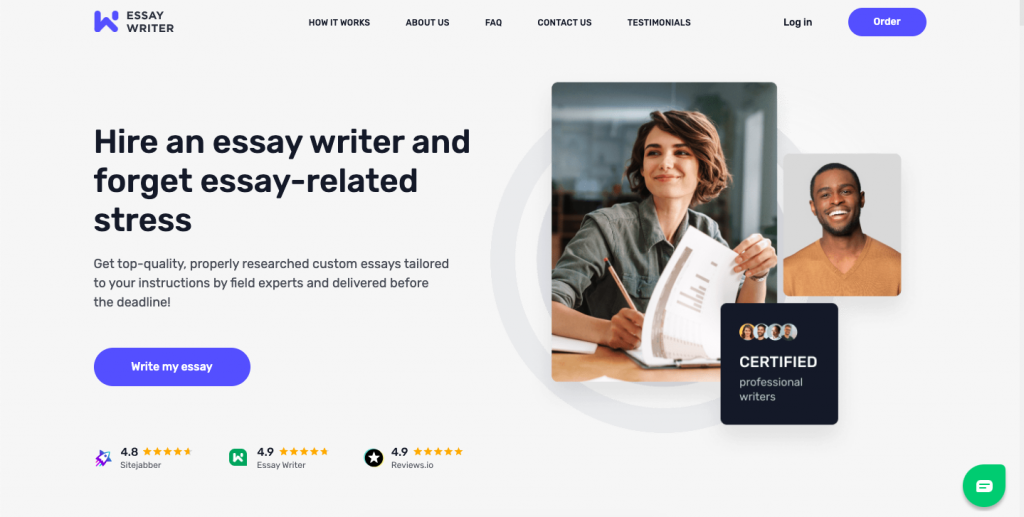 First Impression
Although EssayWriter claims to have a user-friendly interface, I personally didn't find the website appealing and easy to use. Besides being overcrowded with lots of information about the company's writers, unlike most assignment help sites, it doesn't have a consistent color scheme, thus making the design less attractive.
Students can access the website using their personal computers and mobile phones, although the latter may not be very effective; the wording is very small and various sections are squeezed on the home screen. Unfortunately, you can't tell if the website is trustworthy by just looking at the user interface.
Essay Writer Review
EssayWriter promises to cater to every student's needs. From our review, we've established that the company offers diversified homework assistance and guidelines to students in high school and those pursuing college, undergraduate studies, Master's, and Doctor of philosophy. The site can help you complete your essays, research papers, and calculations.
How Does this Service Work
Having researched about Essaywriter.org, I was able to place an order, and the online calculator made the process fast and straightforward. You can easily tell how much your assignment will cost by simply specifying the type of paper, work level, the required length or number of pages, and the work's urgency. It only took a few minutes to send a "Do my paper request" using my mobile phone, although you can still use a personal computer, which may even be faster.
Types of Services
Like other paper writing services, EssayWriter essay assistance is designed to enable students handle challenging assignments. The site can help you with the following types of papers:
| | |
| --- | --- |
| Essays | This category comprises admission essays, creative writing assignments, and compositions covering various topics. |
| Research papers | These comprise extensive studies on diverse subjects, analysis, and presenting the findings. |
| Dissertations, Proposals, and Theses | The writers can take you throughput the research right from writing the outline, draft, proposal to your final presentation. |
| Editing services | The service comprises proofreading, formatting, and checking for plagiarism. |
| Course work | The website can help you tackle any other academic task as long as you provide the right details. |
From a personal experience, I realized that just like the name suggests, this platform mainly focuses on essays. However, unlike most websites, it specializes in other technical areas including Science, Technology, Engineering, and Mathematics (STEM) subjects and statistics.
Paper Quality
EssayWriter promises its clients quality papers within their deadlines, which most individuals will likely doubt until they have a personal experience. I tried placing an order out of curiosity and I can confidently say, the quality is top-notch. From my analysis, the website deserves 9/10 stars on the quality of its papers.
When I compared this website's quality with other sites, I realized that it offers unique materials, meaning, you get value for your money. It's very rare to find grammatical errors, poor sentence structures, and wrong punctuation in your papers. The texts are also less likely to lack consistency, especially those that require more pages and extensive research.
Meet the Deadline
Essaywriter's assistants can write and deliver your assignments on time if you place an order early. If you have an urgent task, it would be best to follow up with your writer, otherwise, you might not like the results. For instance, it took 12 hours to deliver my 2-page essay. However, according to our Essaywriter.org review and testimonials from individuals who've used the site, the writers have never disappointed them. Some even delivered papers before their due dates. According to our review
Writers' Competence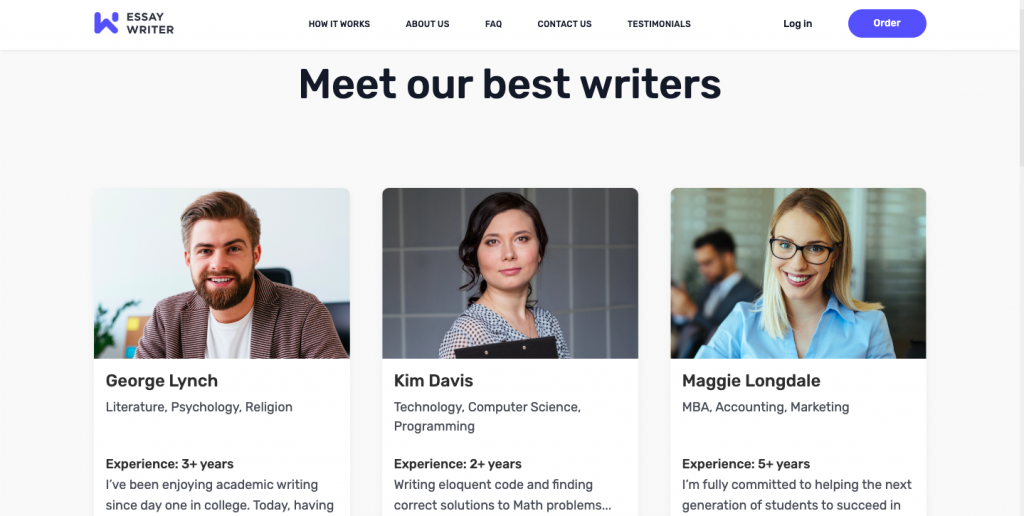 Despite having a negative opinion about the website, I changed my mind after receiving my trial paper. From my review, I have established that EssayWriter writers are professional since what I got was beyond my expectations. I can attest that the experts maintain a consistent writing style and structure. Although, the website has hundreds of writers, you can barely differentiate their papers; no wonder each writer must undergo a strict writing test before joining the team.
Customer Support
EssayWriter customer service is just top-notch; the representatives are always ready to respond to your concerns and requests 24/7. I also realized that what differentiates this site from most of its competitors is the fact that customers have a unique opportunity to interact with support staff who only take several minutes to respond to their queries. If you need instant help, you can use the live chat.
Discounts and Features
I was quick to notice that EssayWriter offers free bibliography and reference pages, making it an affordable option for individuals operating with tight budgets. In addition, those who choose this service enjoy discount offers ranging between 5% to 15%. What's more, there are incredible offers for new customers and you can also use Essaywriter.org discount code or coupon codes to get cheaper services.
Guarantees
Having analyzed EssayWriter.org website, I found that it has various guarantees. You'll come across statements like "Satisfaction guarantee." Of course, this is subjective, and you can only ascertain if that's indeed the case by checking Reddit and Sitejabber reviews for evidence. However, I can attest that you are assured 100% confidentiality, Fast turnaround, and original content.
Pros and Cons
I have analyzed the most critical factors, advantages, and shortcomings of choosing this service based on my personal experience and online reviews. Take a look:
| | |
| --- | --- |
| Diversity | EssayWriter.org can help you with essays, research, and technical assignments. It offers help in almost every academic task. |
| Price | Although this website isn't one of the cheapest in the market, you'll definitely like the final deliverable. However, you can use a promo code to enjoy cheaper prices. |
| Quality | The company fulfills its promise by delivering well-written papers. Furthermore Essay Writer plagiarism score is always very low. |
| Customer Support | I realized the website has some of the most professional customer support representatives |
| Delivery time | EssayWriter's experts are strict on time, just as it's indicated in the website. |
Price Review
After comparing this website's pricing with other homework help sites, I realized that it is not a cheap service; the prices are above average, although worth every penny. A standard high school essay with 14 days deadline costs at least $9.00 while dissertations and other complex tasks start from $13.00.
Service Comparison
Before choosing an essay writing service to handle your papers, I recommend you to compare its services, quality of assignments, pricing, and other factors to ensure you cooperate with the most reliable one. Here is a brief comparison of EssayWriter and similar websites in the market:
| | | | |
| --- | --- | --- | --- |
| | EssayWriter.org | Academized.com | EssayPro |
| Quality of papers | Top-Notch papers | Standard quality | Low quality work |
| Affordability | Slightly above the average market price | Average prices | Average market price |
| Diversity | Offers assistance in essays, research, and technical assignments | Provides help with essays and research papers | Mainly focuses on essays |
| Customer Support | Available 24/7 | Available 24/7 | Support team may not always be responsive |
| Reliability | Highly reliable | Highly reliable | Less reliable |
Compared to Academized.com and EssayPro, EssayWriter.org is more reliable. After testing the site's versatility and how it operates, I can boldly say it's helpful for every student. If you don't know how to tackle your homework, this is your ideal solution.
Who Is this Service For?
From my observation, EssayWriter.org mostly specializes in essay writing services. However, I would highly recommend it for proposals and dissertations, which need maximum attention, extensive research, and English proficiency.
Worth the Money
EssayWriter.org writing help is worth your money and time. You are assured of quality papers anytime. However, you should provide clear instructions and enough time for research.
Online Reputation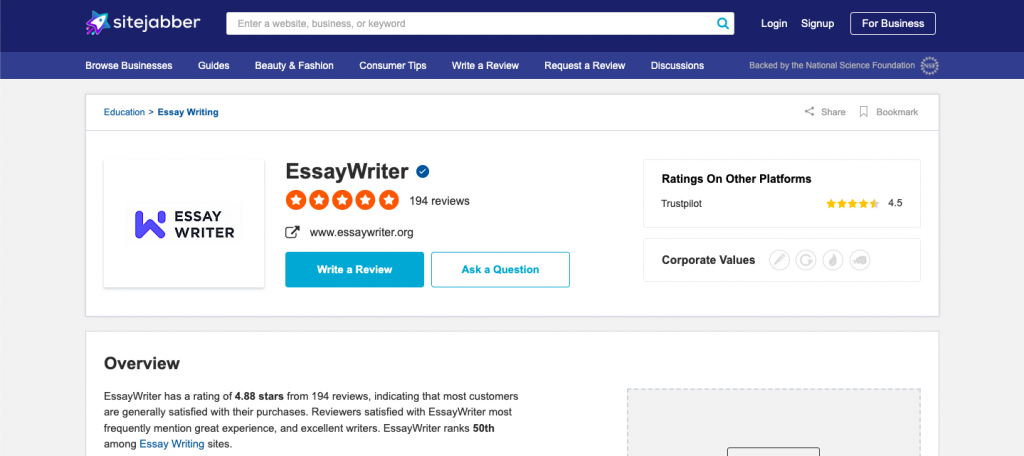 I am sure by now you are wondering, "Is EssayWriter reliable?" The website's online reputation and a brief narrative of my experience can help you answer that question.
EssayWriter has numerous online reviews, each promising homework assistance of the highest quality. However, that raises a major concern, "Can all the reviews be positive?" So, how can you confirm if the claims are true?" It's pretty simple; online review platforms like Reddit or Sitejabber can help you clear your doubts.
At first, I didn't know much about this essay writing site and whether it is a legal site but after using it, I discovered interesting facts about its services and quality of papers; you're assured of top-notch work if you get a competent and experienced writer. Although PHD and Master's assignments are given more attention than high school tasks, the outcome is still above average. At this point, I am not certain if some writers are incompetent or they just opt to handle some papers with minimal attention.
What Users Say
After placing an order on this website, I realized that the writers are professional and keen on instructions, a significant factor influencing its reputation in the market. Some individuals claim that although the company promises you exceptional quality, you might have to request several revisions to get a satisfactory paper. However, from my research I've established that such instances are very rare. I also noticed Essaywriters rating of 8/10 is satisfactory due to numerous reviews from Trustpilot and other trustworthy sites.
Order Process
Essay Writer is one of the few homework help sites with a simple and straight forward ordering process. From a personal experience, I have established that placing an order only takes less than 5 minutes. That's pretty encouraging right? You are onlyrequired to create a profile, login, specify the type of work, subject, and other paper details including the deadline and number of pages. At this point, you'll be able to tell the task's cost before proceeding with the payment.
The good thing about this platform is that, you can get more information about your assignment's cost by reviewing the online price calculator. In addition, you are free to add more information or instructions pertaining to your assignment or clarify its requirements; this is a unique way to maintain steady communication with your assistance.
Writers
If you ask for my thoughts and opinion about Essaywriter experts, I'll confidently say, "They are the best." The experts do everything within their means to satisfy customers. The best part is that you can choose a specific assistant for your paper after completing the order form. However, you'll have to part with additional $4.73 and $9.45 if you want advanced services from a top or premium writer respectively, although the quality is worth the sacrifice.
Payment
From my research, I've established that EssayWriter.org cares about its customers as it takes every measure to protect their personal information. Besides using safe payment methods, this company allows you to explore different options including, American Express, Discover, Visa, and the most common one, MasterCard. I was also able to explore Google Pay and I must say, it's faster and more secure.
Verdict
Undoubtedly, EssayWriter.org is the real plug for students looking forward to making their school life less stressful. I bet anyone wondering, "Is using homework help sites cheating?" can clear their doubts once they try out this company. I personally used to think that it's illegal to ask for essay assistance online but after using this platform, my perception changed; your life won't be the same if you choose a trustworthy website.
EssayWriter.org is a reliable platform for all your assignments. From my research and Essaywriter.org reviews, I have established that even though the rates are higher, the quality of services match the pricing, our overal rating for this service is 9/10 stars.
| | |
| --- | --- |
| Service Criteria | Score |
| Types of Services | 9 |
| Paper Quality | 9 |
| Meet the Deadline | 9 |
| Writers' Competence | 9 |
| Pricing | 9 |
| Customer Support | 10 |
| Payment Process | 9 |
| Guarantees | 8 |
| SCORE | 9 |
FAQs
Is EssayWriter Legit?
Yes, EssayWriter is a legit company. Based on the length of its existence in the online writing industry, I can boldly say that the website is legitimate. Any genuine service provider strives to ensure clients get nothing but the best services; that's one of this site's motivations.
Is EssayWriter Reliable?
Yes, EssayWriter has been offering homework assistance to students for the longest time. That is shows it is indeed a reliable company.
How Good is Essay Writer Paper Writing?
Considering my experience, I can say EssayWriter.org is a good homework help site. The writers are customer-oriented and produce quality work.
Is Essaywriter.org Scam?
No, saying EssayWriter is a scam will be misleading. From my review, I relaized it is worth the risk. The assignment that I ordered was delivered on time and my writer adhered to all the instructions.