EssayWriter Review Overview 2023: Legit, Safe or Scam?
Essaywriter.org is a relatively new service on the market: they have been working since 2010, and their writers are ready to complete all common types of academic papers for you. The first impression of the Essaywriter website might be a bit controversial, as it's not user-friendly enough to understand all details of their work. That's why our Essaywriter.org review can help you navigate them and decide whether it's worth trying.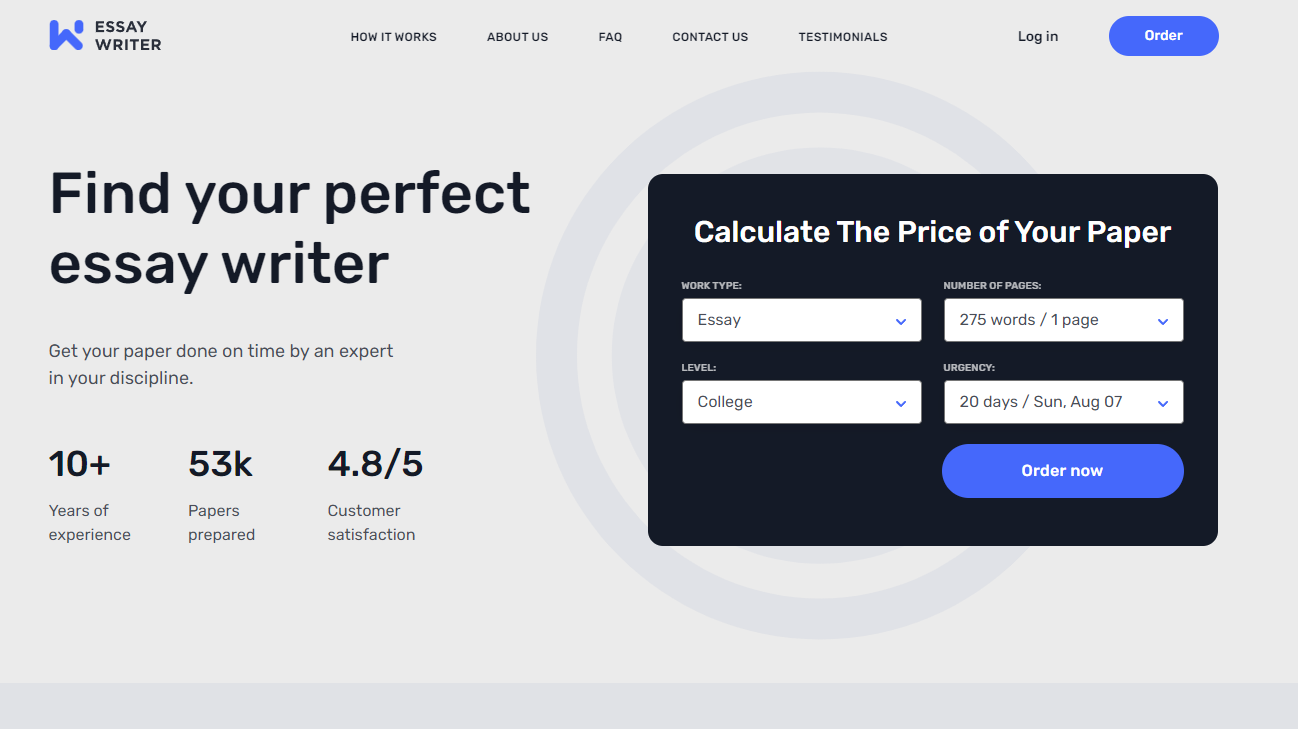 You may also be interested in
college essay writing service reviews
.
EssayWriter.org Services
As well as many of their competitors on the market, Essaywriter.org and its professional writers are ready to help you with:
all types of essays
coursework
term papers
reports
dissertations
personal statements
Plus, their experts in all academic subjects will help you with research and editing. Their custom writing services are claimed to be provided by qualified professionals who are native speakers. Essaywriter company guarantees high standards and plagiarism-free assignments.
Prices
The homepage of Essaywriter.org gives you detailed information concerning how exactly their prices are formed. The price for your order will depend on several factors: an assignment type and level (High School, College, Undergraduate, Master, Doctoral), a number of pages, urgency. Let's compare their prices for two different assignments to understand their
price policy
better:
If you need a college paper and you are ready to wait for 14 days, get ready to pay $15.90 per page. If you need the same paper within 12 hours, you will have to pay $32.95 per page in this case.
If you order a Ph.D. thesis, it will cost you $24.90 per page. To get the same Ph.D. thesis within 12 hours, be ready to pay $40.95 per page.
Discounts and Features
Following the example of other custom essay writing services, the Essaywriter.org team offers different
features
and discounts to attract clients and make them regular customers of their company. After registering at their website, every user gets credits to his balance every time he places an order and pays for it.
How does it work actually?
You register at the website and place your first order.
After paying for this order, you get a 10% discount and 10% of your order cost to your credit balance.
Every time you return and make new orders you get 5% of each order's price to your balance.
You can use these credits to pay for your next orders.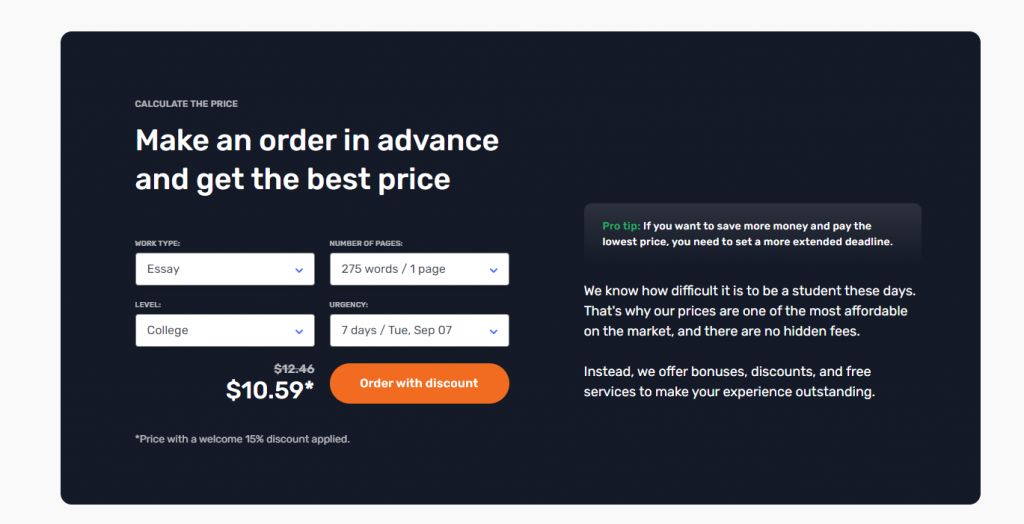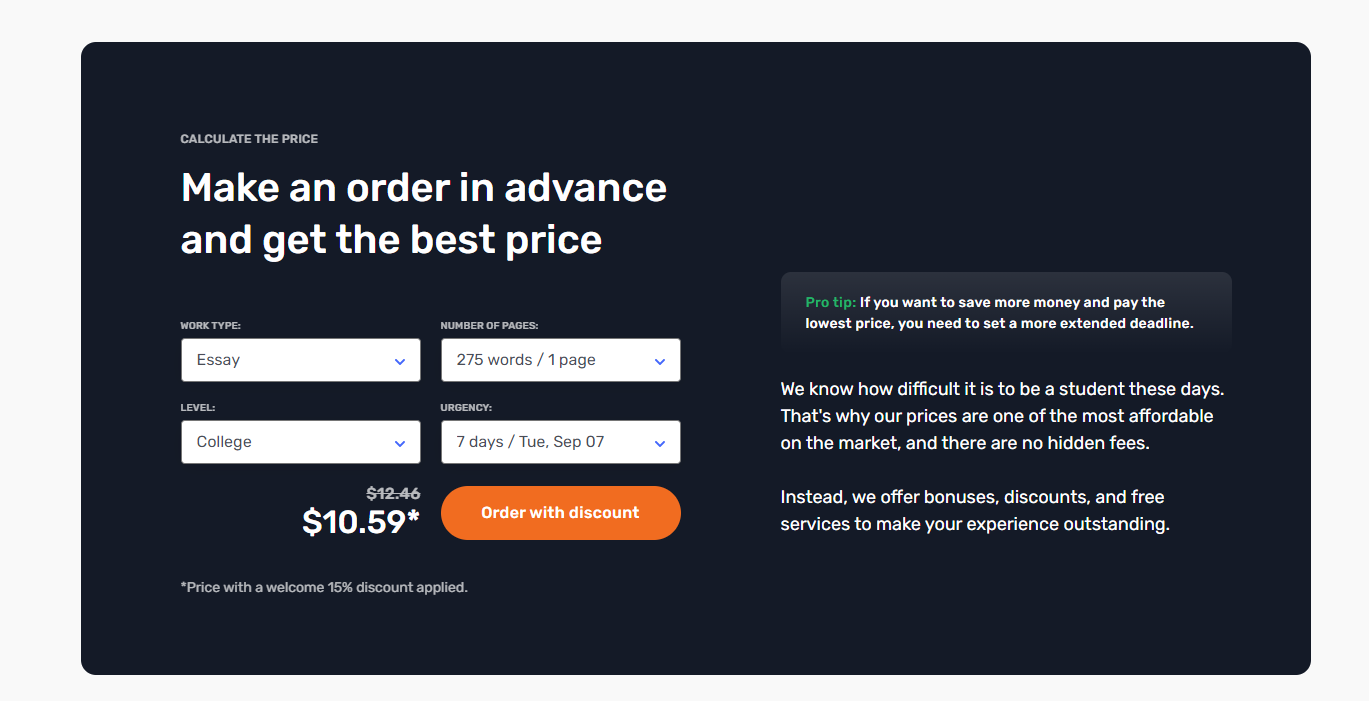 This is a so-called Loyalty Program of Essaywriter.org. Moreover, they offer other types of discounts. For example, if you tell them the date of your birth while registering, they will congratulate you and offer a generous discount. If you recommend their services to your friends, you get 5% off their order price to your credit balance. Holiday discounts have a place to be here as well.
Support
Even if you do not consider the Essaywriter website super user-friendly, their customer support team is always ready to help you. They are available in live chat and by phone, and you can contact them every time you have questions. Some users say it's difficult to get them online, but we were lucky to contact them via live chat. So, check it in practice to see who is right.
Contacts:
Call:
1(877)530 0801
Fax:
1-888-884-0218
Email:
support(at)essaywriter(dot)org
Is EssayWriter Legit?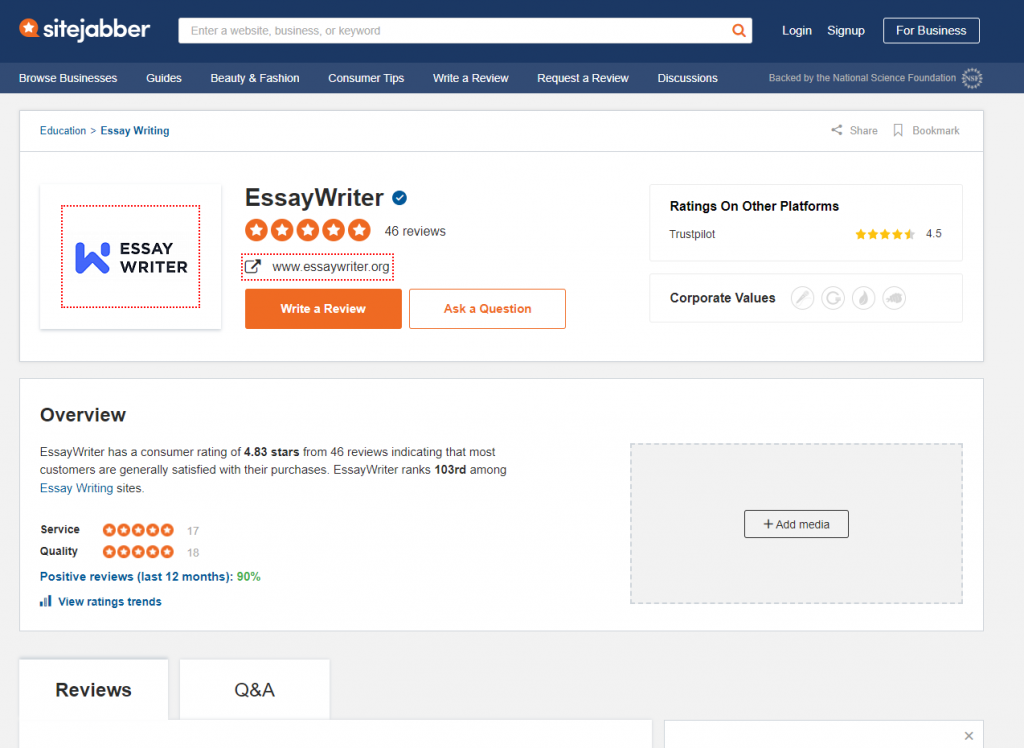 Essaywriter is a bidding business, so it is neither fake nor unlawful. The services of this company are just as secure and legitimate as any other on the internet. It isn't the best writing paper company; however, the organization promises delivery if you hire one of their specialists when it comes to dependability. Unlike other services of its kind, it does not assign a writer to
a customer
and does not even review your order. Writers on the internet do, and they bid at a fee they believe is reasonable for their skills. They also don't appear to use an affiliate site, indicating that essaywriter.org is legitimate. Nevertheless, the service's rating gets lowered due to poor quality and a refund problem. Seemingly, the writing business at essaywriter.org will charge you for any paper. You are not entitled to compensation if you do not believe it is excellent or detect plagiarism in it. Clients are only given a refund if they really do not get a document. That does not imply that the company is fake. There are no essaywriter.org discounts, but you could still order an essay at any price you like and pay just that amount for the service. There have been no reports of added charges or other types of deception.
Is EssayWriter.org Safe?
Because this is such a low-cost service, there is a lot of comments on the internet. It's alluring to be able to set your own price every time you want to order a paper. That will be determined by your ability as well as your financial constraints. According to various remarks, many people have been cheated due to trusting the writers' profiles. In addition, the subject of essaywriter.org plagiarism appears in far too many client testimonials on the internet. You must be extremely cautious while selecting their writers, as it is commonly known that they do not conduct as extensive a background check as they state on their site.
Conclusion
We've tried to provide all necessary information in our Essaywriter.org review. This custom writing company is quite good: their writers are professionals, they provide services of high quality, and they are always ready to help you reach your academic goals. Though their prices might seem high for some students, the discount system is attractive enough to try this service and become their regular customer.
TL;DR Version of EssayWriter Review:
One more essay writing service review we recommend you to pay attention to is Essaywriter.org review: students who look for a professional essay writer to help them deal with college assignments will learn some interesting details about this custom writing service for sure.