EssayHave.com Review [Score: 6.9/10]
Compare with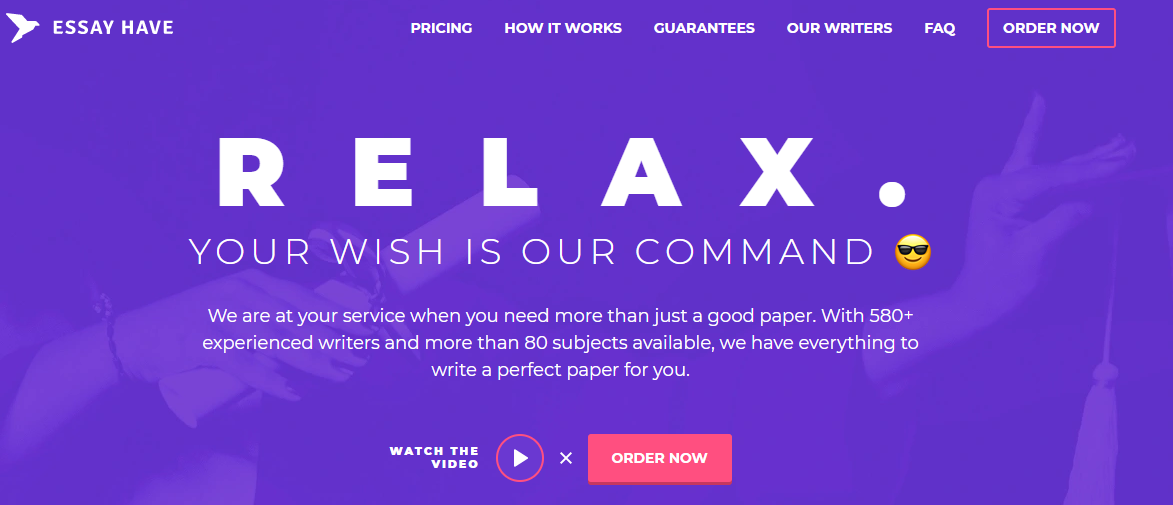 First impression: a lack of transparency
The website looks modern with attention-grabbing aesthetics. It features all the writing services offered by the platform and it also displays positive customer reviews. On the official website, there are no negative reviews. Together with hiding team members, this leads to a lack of transparency and customer trust. Most customers who left some type of feedback focus on the responsiveness and cost-efficiency EssayHave offers. But, there's little point in saving money when the final results are unsatisfactory.
EssayHave's Price
Prices start at $15 for the high school level and $17 per page at the undergraduate level. These prices are higher than some alternatives but they are the norm for 14-day deliveries. Having texts available earlier also means customers have to pay more. For example, high school students can have 1-page essays done within 4 hours for $37. Graduates can have one page of writing done for $63 within 4 hours. From the maximum price perspective, EssayHave is not the most expensive essay writing service, but it's still out of reach for many students.

Support through live chat, email, and calls are available at EssayHave. But, clients need to fit within working hours for the live chat. Those who want to use the feature need to abide by the Monday-to-Friday schedule from 8 AM to 8 PM UTC. The same contact schedule applies to those who want to get EssayHave on the phone. From this perspective, it's not a true 24/7 service for 2 of its 3 contact methods.
What services the company offers
Most types of writing for high school and university are covered by EssayHave. This includes homework, assignments, and book reviews. Rare types of writing offered by EssayHave includes the following:
Business plans
Blog posts
Critical thinking
Discussion essays
Personal reflections
Poems
Journal articles
At first, it might seem difficult to believe any writing service can specialize in such a diverse portfolio. However, most students don't order these types of writing. However, having the ability to put poems together or to write up journal articles can only be seen as a plus for EssayHave.
Special offers and discounts
Apart from composing rare types of assignments, EssayHave also has a few other interesting offerings. New customers get their first page free of charge when using a coupon code. However, this is not a good indication of the quality of works students can expect. The free page is written by a particular writer. There's no actual guarantee all other assignments are going to be written by the same writer. While it simplifies the process for new users with a shorter learning curve, it might also not be the best method of establishing quality marks for future writing.
What we ordered

As there's a wide range of services, a business plan was ordered from EssayHave. Due to business restrictions, the plan was only a few pages long, so the time limit was within 14 days. The business plan was delivered on time and it was an original idea. However, there were no questions asked for the business plan which would have made it a customized solution. Instead, the business plan can be applied to any other business within the niche. This is why students who want to learn how to start their businesses need to strategize on their own. As a presentation, the business plan needed some personal details to get a good mark in college.
What we received, quality of the paper
The quality of the writing was not on point with what is used in the corporate world. There were grammatical errors that are normal for non-native speakers. As a matter of testing the services, revisions were requested and approved but delivered late. However, there was no initial confirmation of the timeline for these revisions. They ended up being delivered a few days later than expected. This is the reason students are advised to take at least 20 days to place an order for a written business plan.
Is EssayHave a scam?
EssayHave is not a legit service. It is inexact and expensive. New customers get a free first page to test out the service. However, for it to be relevant, it should be placed within the writing style of interest and with the same writer. This is not possible to set through the customer account which means EssayHave is limiting for its high prices.
Final verdict
With prices that reach $63 per page, students expect top-quality writing from EssayHave. However, this is not the case. Most students benefit from simple and more reliable alternatives which come with a lower financial risk. It is also not recommended to place large orders upfront, as it increases the risks students take. Instead, all major writing tasks should be split into parts, which minimizes the cost and risks. Those looking for Ph.D.-level writers should also look for more specialized writing services.
EssayHave is a service where the platform chooses a writer for a client. All clients do is post their task and EssayHave assigns it to a writer. As a result, there's no direct communication with the writer, as the platform acts as an intermediary. It's no wonder the results are far from perfect. With a wide range of services, EssayHave offers writing services delivered in various timeframes. When it comes to transparency, EssayHave is lacking some depth, as the Team tab of the website doesn't list any team members.