EssayHave Review
The first impression
Though the website at first site looks modern and attractive, one has to dig a bit deep to know more about it. A cursory glance will show us that the site offers all the possible writing services. It also features a few customer reviews that are positive. No negative reviews can be found on the main website. However, team member information is not available and this may create some apprehensions in some people's minds. But on the whole, there are reasons to believe that EssayHave.com is a good option especially for those who are ready to pay the price for quality essay writing, researching, and other such assignments.
EssayHave's price tag
It comes with a starting price tag of $15 per page for high school. For undergraduate-level, the price is $17. Though the price may be a bit higher, this is the norm for all those sites that offer deliveries within 14 days. If students have texts they have to pay more. High school students can hope to get a page of essays completed for $37 in four hours. If one looks at the maximum price range, EssayHave seems to be a decent deal. Graduate writing facility can help students to have their one-page essays delivered to them within four hours for a price tag of $63. There are many other essay service providers who offer their services at higher rates. However, they still continue to be out of reach for many students. They have decent support through email, live chat, and also through telephonic calls. Live chat facilities are available only during working hours. The UTC timing from 8 am to 8 pm applies from Monday to Friday for the helpline services. Though they may not be available on chat support round the clock, on the whole, it is quite obvious that the support services provided by them are of the best quality.
The services offered by EssayHave
The service provider (EssayHave) offers a bouquet of services for university and high school students. They include assignments, book reviews, homework, and other such things that students look out for. In some rare cases, they also offer blog post writing services, business plans, discussion essays, personal reflections, critical thinking, poems, and finally journal articles. Initially, we may not believe that any good writing service company can offer so many different types of services. However, the service provider seems to have all the above capabilities though not all students may need each one of the services that they have on offer. Special skills and special human resources for difficult writing tasks go to prove that they are quite versatile and ready to offer what the customers may require at any given point in time.
Discount & Special offers
While offering special and difficult types of writing services, like the
best online proofreading service
, there are a few more reasons why EssayHave could be a good choice. They offer some attractive price discounts and offers. For example, new customers are not charged for the first page but for this to happen, they have to use the coupon code. Some students may initially be skeptical about this because they believe quality could be impacted. They may be under the impression that the free page may not always be written by experts. However, on a closer look at the discount offers many students and prospective customers believe that they do not compromise on quality. The first page that is given free to them is a good first-time offer.
Customer experience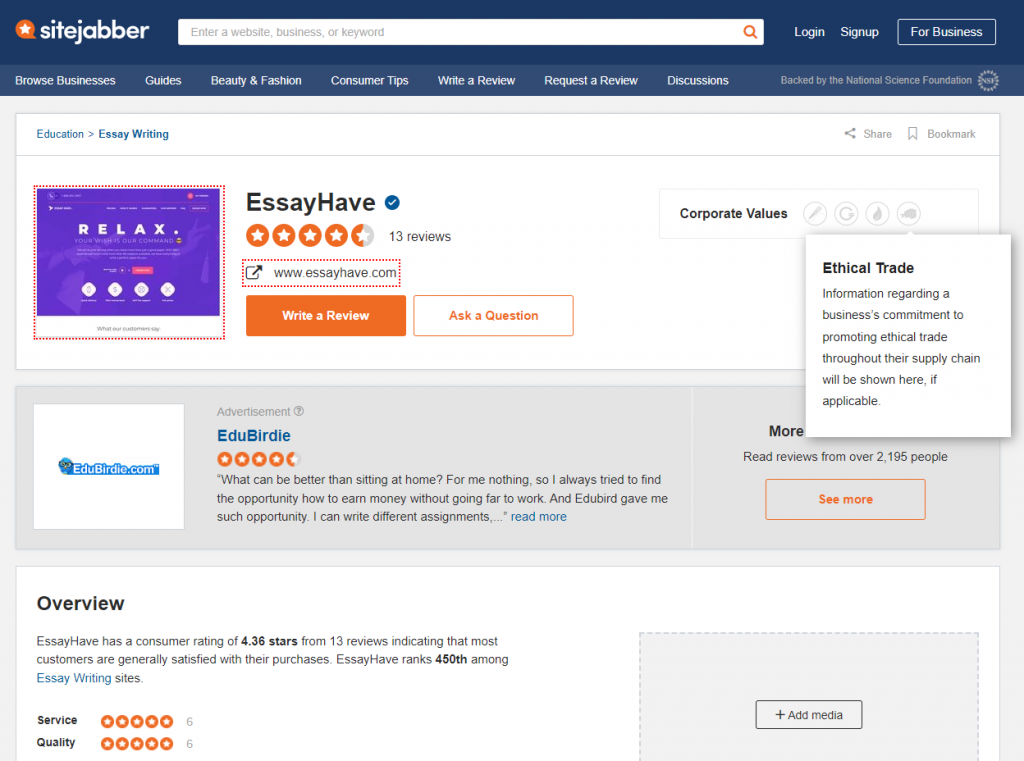 There was a student who ordered a business plan. The plan was only a few pages long and hence the time limit was well within 14 days. The plan was delivered to the student on time and the idea was original. The business plan could be used as a template for many other businesses apart from the one that the student may have asked. Some bit of strengthening on the plans may be required by students who want to start something of their own. On the whole, the
experience
was good and the college gave the student good marks for the business plan.
Quality of paper
The quality of writing was good but a few students are of the opinion that things could have been better. There were rare instances of grammatical mistakes and these may not be acceptable in a corporate world. Revisions to the works are required once in a while and this is common with all such service providers and EssayHave.com is also no exception to this common practice. Some delays and time overruns have been reported. This again is quite within the normal limits. However, students may be better off taking 20 days as the outer limit instead of 14 days so that they are not found on the wrong side at the eleventh hour.
Is this a scam?
This is very much a legitimate service and there are hardly any things that could be considered dubious or not in line with ethical and good market practices. Customers get a first page free offer and this is welcome by most of the new students who are keen on trying EssayHave.com. This first-page free offer from EssayHave.com offer is also in line with other service providers' offers. On the whole, their services are highly impressive and they have a wide range of services to offers which perhaps may set them apart from many other such service providers in the market. There are hardly any reasons to believe that EssayHave is a scam. They have been around for some time now and they have a decent number of satisfied customers and most of them are higher school students and also quite a few undergraduate students. They have also been quite prompt as far as timelines are concerned. The price range is a bit high and there are many students who are ready to pay the price because of the quality that is offered to them.
The Final Word
When somebody pays $63 per page, it is quite obvious that they would expect the best value for money. Though some students rather prefer to go in for lower-cost options they know that they will not be able to offer the kind of quality that is offered by other low-priced options that are available in the market. Students who are into Ph.D. services can also find the services of EssayHave.com extremely satisfactory provided they are able to break their assignment requirements into smaller lots instead of bulk ones.