MasterPapers Review
In this article, we examine MasterPapers.com. This company claims to be a "top-ranked essay writing service" that has been in business since 2004 and receives over 600 paper requests daily. But despite high demand, many students still doubt whether it is a legit website. If you're one of them, let us explain its advantages and drawbacks to you. We've carefully analyzed the company's site, its services, and what the customers have to say about it. Our MasterPapers review will give you all the information you need.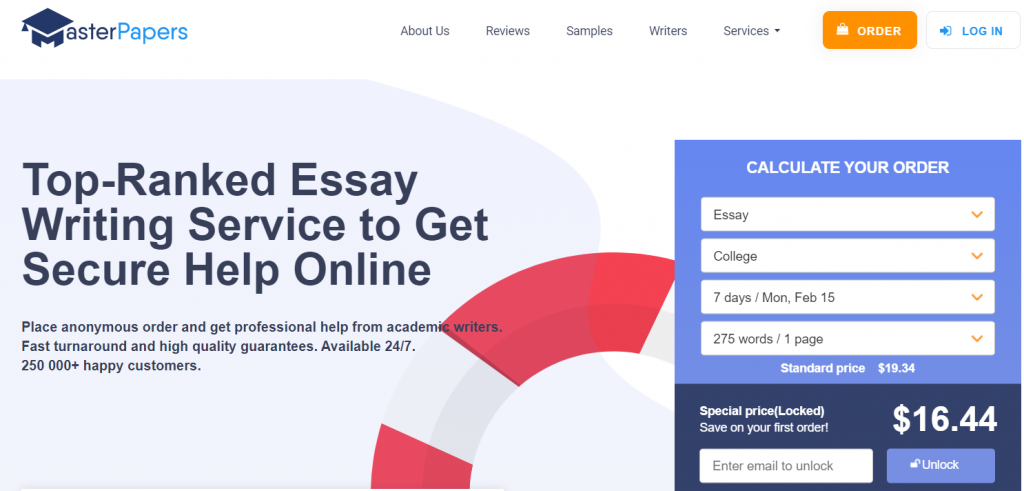 What MasterPapers offers
The website has an elegant layout, making it easy to navigate. A calculator at the top of the homepage allows you to quickly check the estimated price of your paper. It also offers you a 15% discount on your first order and shows how much you will save on it. That's a pretty good way to attract price-conscious customers if you ask us. In order to access the offer and get the promo code, you need to provide an email address. MasterPapers guarantees 100% privacy while placing an order, zero plagiarism, timely delivery, and reliability. We've come to expect these things from essay writing services, but this company definitely takes privacy to a whole new level, something we'll discuss in more detail later. There's also a money-back guarantee and free revisions within the first two weeks after delivery. The range of services is broad, and the most popular ones include college essays, research papers, dissertations, and a
top essay editing service
. Apart from that, MasterPapers also completes requests for CVs, PowerPoint presentations, math problems, multiple-choice questions, and so much more. Ordering your paper is easy. According to the website, the shortest deadline you can request is 3 hours, but the order form allows you to ask that they finish your task within 1-2 hours, keeping in mind that you may need to give the writer some extra time to complete your paper.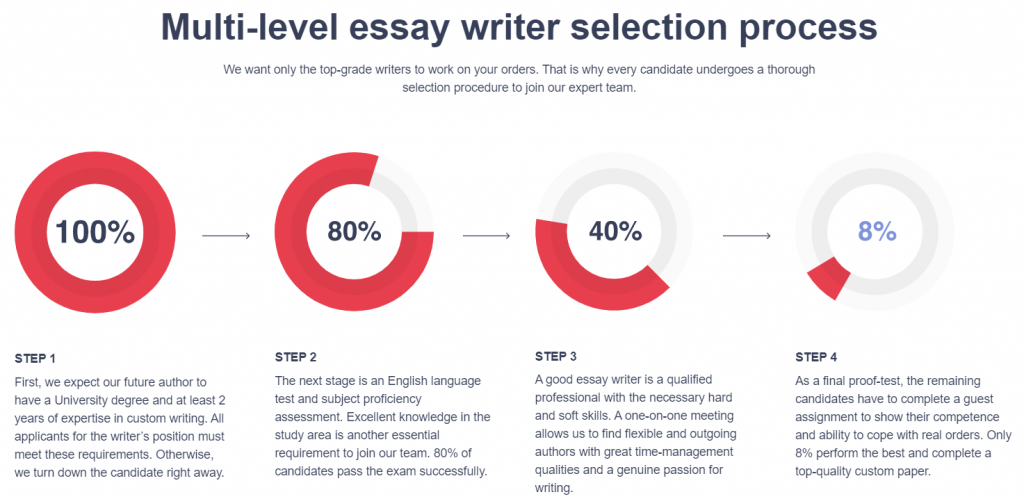 Remember that tasks with more pages will take longer and that the minimum deadline for a dissertation, for example, is 5 days. You can choose a writer from three categories: The best available expert, a Top-10 writer in your discipline, or a Premium writer. If you want to get an idea of what quality to expect from this company, you can download a sample paper from the website. Unfortunately, there are only five samples, so there's not much to choose from. MasterPapers provides you 24/7 communication with their support team as well as a direct chat with the writer. Customers can track the progress of their orders from their personal accounts.
Master Papers values your privacy
As we've mentioned earlier, MasterPapers goes above and beyond when it comes to privacy. It allows customers to place orders anonymously and claims not to sell their personal information to third parties. This is a huge benefit for those who want to protect their identity. The service also doesn't use personal names and doesn't ask for any personal details. The only information it requires is the paper instructions themselves and a few contact details. All communication and transmitted files are encrypted, meaning that outside parties cannot read the exchanges between you and MasterPapers. Furthermore, the company will delete your paper thirty days after the delivery, so you don't have to worry about someone finding it on the internet. Now, when it comes to payment, things get a bit trickier. MasterPapers works with reliable payment processors such as Visa and MasterCard, but we would like to point out something that the company neglects to mention. Payment cards are traceable and do not provide the same level of anonymity promised by the company. Therefore, buying papers online with your credit card always involves certain risks.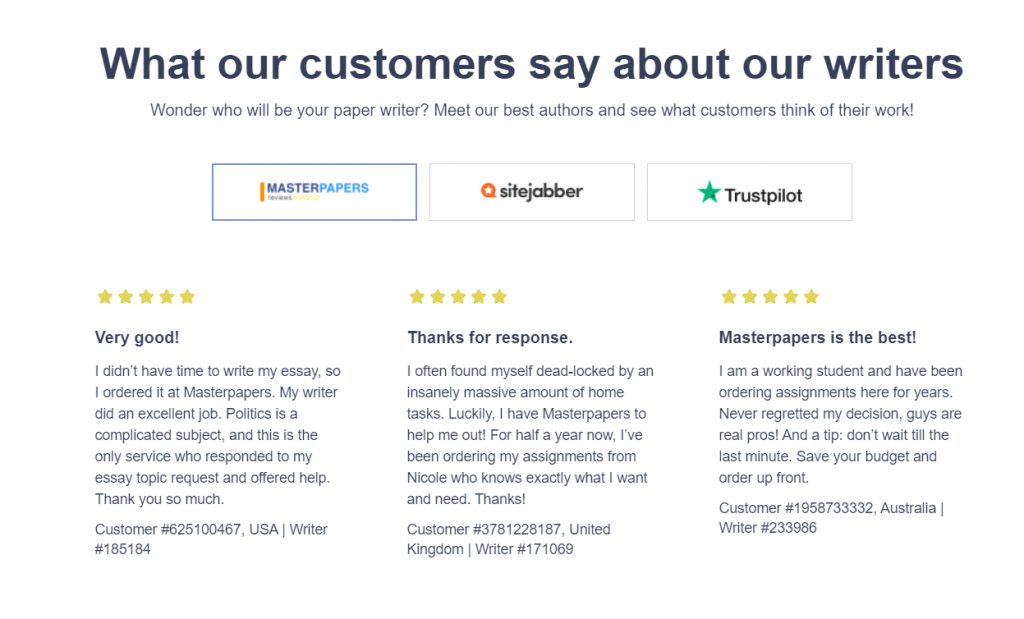 Top-notch writers
MasterPapers claims to have a team of over 600 people and takes great pride in its writers. The selection process for this position is quite meticulous. The company only accepts applicants with a university degree and at least 2 years of experience in custom writing. Then, it tests their knowledge of the English language, assesses their proficiency in various subjects, invites them to a one-on-one meeting, and gives them a test assignment to complete. Many applicants fail to make it through this process, and only 8% of them get to write for MasterPapers, the website claims.
What customers say
Based on the customer reviews we've examined, MasterPapers gets pretty decent ratings. Their clients like that the service is fast and simple, and that they can communicate with the writer. At the same time, there have been several complaints about the quality of the papers. Now, we admit that testimonials can often be subjective. In some cases, a customer simply doesn't like the writer's style. But in this case, the complaints are about frequent spelling and grammar mistakes, as well as the writers including false information. This is unacceptable for a writing service, especially one like MasterPapers that claims to have a Quality Assurance Team checking every paper before it is delivered.
Is Masterpapers Legit?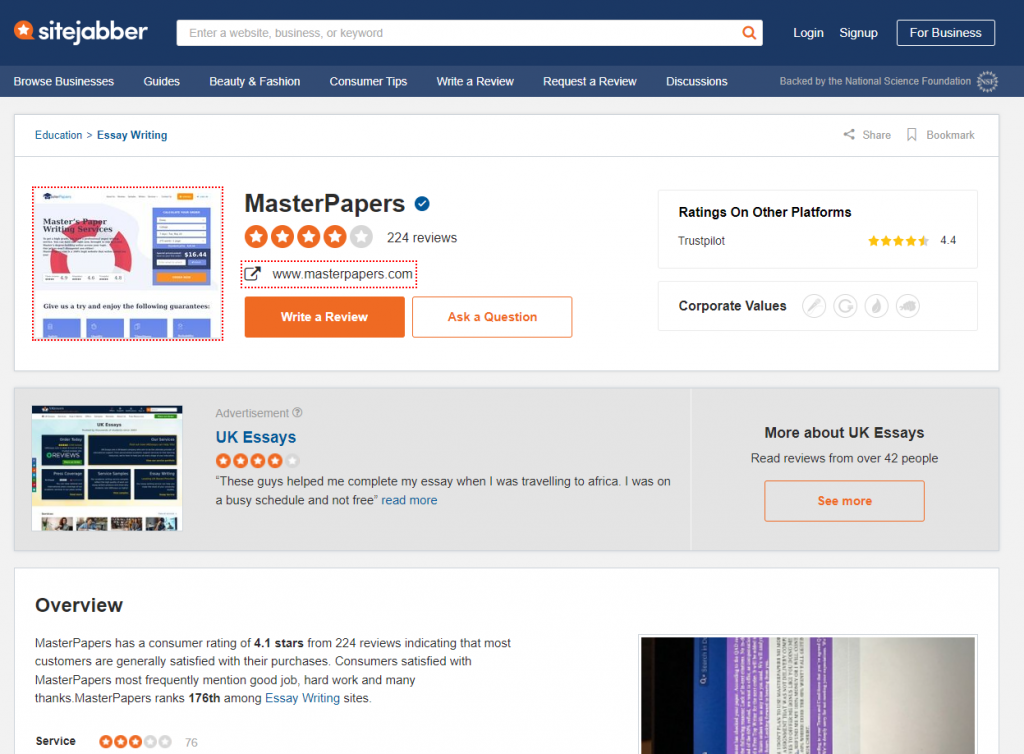 MasterPapers has a great rating on the net, which is 4.47 stars and has more than 200
reviews
that indicate that almost all the people consuming their services were satisfied with them. This makes the writing service legit. The professional team is always there to assist you. All the experience that they have over the years has made them stand in the 62nd position among all the writing websites. They deliver any kind of assignment and deliver the best. Hence you can be sure when you purchase their services. You will get value for your money.
Masterpapers Writers: Are They Reliable?
It is quite reliable as it is one of those websites that have been providing essay writing services for a long time. It has been more than seventeen years since MasterPapers has been working in the industry of academic writing. The motive of everyone working with the platform is to make the academic life of students easy for them. All the writers that they have are quite experienced and have a lot of knowledge. They have writers from various fields that can deliver assignments, essays, and research papers to students is it any subject. There are more than 600 writers, authors, proofreaders, and editors who are all handpicked and are available all day. Their privacy policy states that your data is safe and protected which is true.
Is Master Papers A Scam?
No MasterPapers is not a scam. A lot of people have consumed its services and rely on it for any kind of academic writing help they require. All the ratings, recommendations, and reviews on the internet are proof that they provide their users with the best kind of services available. You won't regret choosing them for completing your research papers, essays, or articles. You can go online and check the reviews yourself.
The final verdict
We conclude that MasterPapers is a good website for ordering papers, but you need to be aware of the underlying risks. Although you get the added benefit of extra confidentiality, you still need to be careful about making a payment. There is no reason to suspect that MasterPapers is a scam, but there are definitely some problems with quality assurance. We advise the company to pay closer attention to this issue. Based on this analysis, we're giving MasterPapers an 8 out of 10.