Best Custom Writing Reviews Overview 2023: Legit, Safe or Scam?
essay editing websites
. We placed an order to test out the process, it's quality of writing, and the pros and the cons of the platform. Unlike many would expect, not all the writing is done by English-native speakers. The essay-writing platform offers a step-by-step process for placing an order to receive a text. Furthermore, it offers a loyalty program which means most students should be more likely to return for further assignments. Before seeing the results of the writing test, here's what to expect.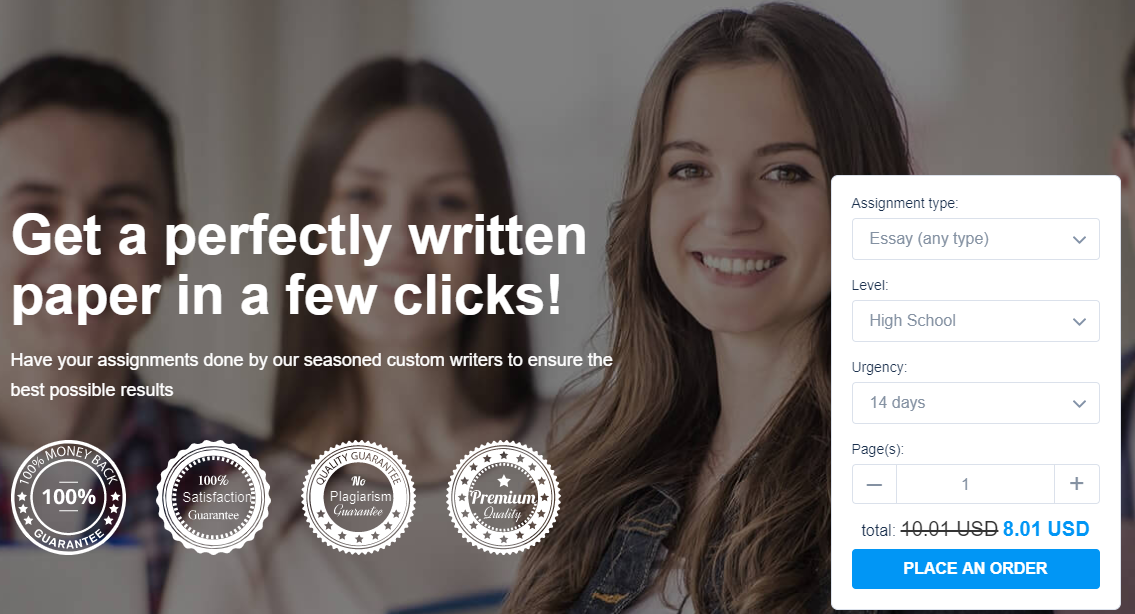 BestCustomWriting impressions and why it's doubtful
Its website is minimalistic with defined categories and areas. Once customers sign up for the service, they can start logging into their customer accounts where things get even simpler. The homepage shows all the major writing types on offer and a few positive reviews, which is expected from a writing provider.
Prices
Starting at $8.01 per page, BestCustomWriting offers one of the cheapest rates on the market. However, this is also where many
BestCustomWriting reviews
share their negative experiences. For such low rates, it seems the platform can't ensure a native English speaker is going to deliver the final text. As a result, grammatical and syntactical issues abound and many essays are unusable. A fair rate is offered with the 3-day delivery option. It costs $20.76 to have one page of text delivered within 3 days. It is also where customers can hope to see fewer grammatical errors. However, even with these rates, there's no guarantee of an errorless essay.

Customer support
Customer support is on point at BestCustomWriting only before placing an order and not with complaints. Customers can call the service to have quick answers to their queries. Online forms are also available. However, this is where the website starts to become aggressive towards potential customers who are flooded with online chat invitations as well as with discount offers. While it's great to see an online presence, the hard sell and aggressive style of pop-up offers is what many clients complain about in their reviews. Unfortunately, this is no different today. Even if discounts and offers change, they still aggressively pop-up in various sections of the website, reducing the navigation quality experience.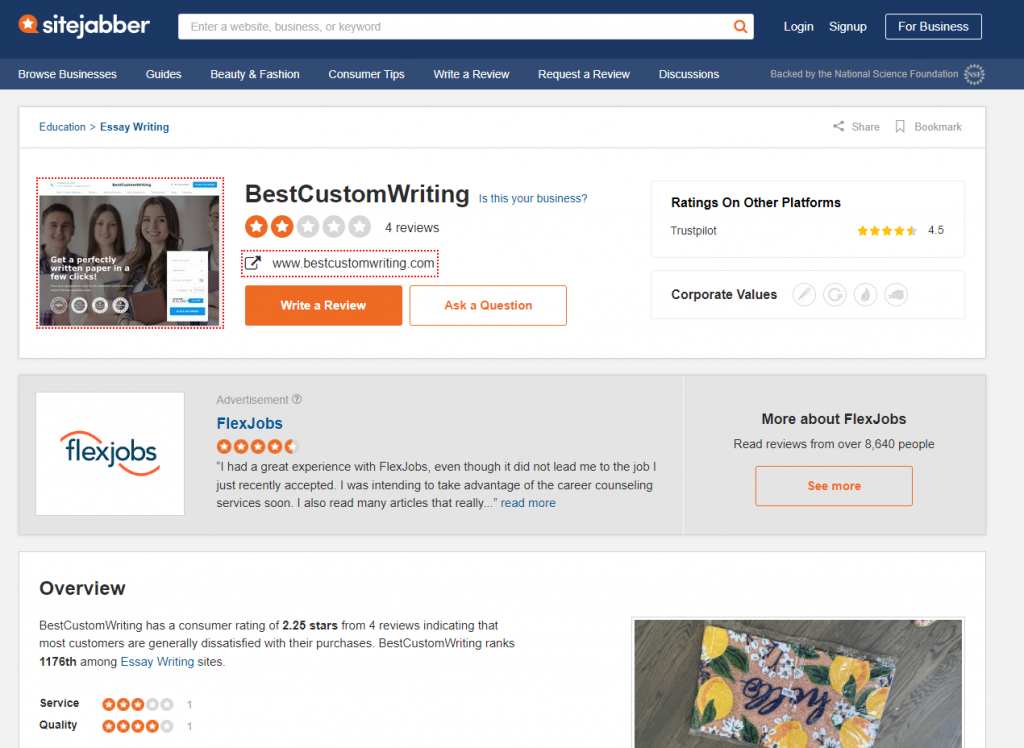 What services the company claims to offer
A long list of services is offered by BestCustomWriting. Article writing and dissertation writing are standard. These types of services are seen at most custom-writing websites. However,
customers
can also find various specialized services that put BestCustomWriting in front of the competition. Five services stand out the most:
Lab report help
5-paragraph essays
A+ papers
Deductive essays
Mathematics papers
While it's great to see these services, it's also important to keep their purpose in mind. An A+ paper might sound light a great idea, but it has little credibility in front of professors who know certain students are far from the perfect grade.
Selling and marketing writing services
BestCustomWriting has plenty of other notable services. It also has multiple discounts that attract students who are interested in savings beyond the small fees currently in place. Discounts are applied with 5% increments. The first 5% discount is offered for writing that varies from 20 to 49 pages. An additional 10% discount opens up to those who order writing between 50 and 100 pages. The maximum discount of 15% is offered to those who order texts longer than 100 pages. Most students will never order a 100-page assignment. Additionally, customer fidelity discounts are offered. BestCustomWriting gives a 20% discount to new customers. 25% discounts are offered for a second writing task. Limited offers are also available under the Discount tab of the navigation menu. At the time of the review, a 17% discount code was offered for same-day orders. But, even with these deductions, it's rare to see returning customers.
What we ordered
With so many writing styles, it was difficult to decide what to order. One of the most difficult pieces of writing is a reflective essay. This essay needs to have a strong personal touch and this is why we tested the service with a 2-page order, which was delivered for $16.02 within 2 weeks.
What we received, quality of the paper
At first examination, it was a simple reflective piece. The good news is that it had a personal touch and the subject on math proved to be of interest to many. However, it was clear BestCustomWriting offered the contract to a freelancer with no native English skills. While the grammar was correct, the wording was off and the phrasing was wrong. Short sentences proved to be the best. Revisions were asked for but the writer did not revise the text quickly and without extra payments.
Is BestCustomWriting legit?
BestCustomWriting is certainly cheap but not legit. Students should think long and hard if they want to entrust their writing to the lowest bidder. While many are happy with this approach, it is hard to see how it would pass in academia.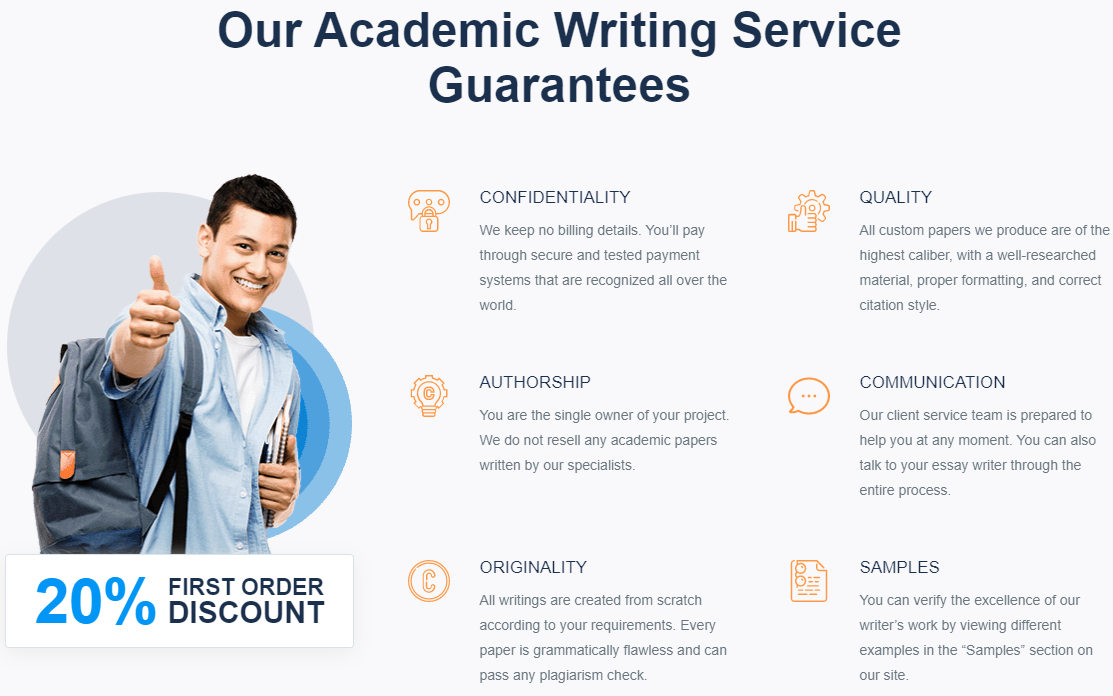 Verdict
Those who would like to get a skeleton to work on for various essays should consider a BestCustomWriting discount code to get an even more affordable rate. But, at such low prices, it's hard to expect anything that has real substance and originality. Some reviews even state spun content was used in a few essays, which explains the low rates for some types of writing such as 5-paragraph essays.
TL;DR Version of Best Custom Writing Review:

BestCustomWriting markets itself as a premium