Fresh Essays Review Overview 2023: Legit, Safe or Scam?
This Freshessays.com review is aimed at revealing all details and special features of this custom writing service for students who need help with academic writing but still have some doubts concerning what helper to choose to deal with that. Freshessays is a relatively new service ready to help young people: its free features and offered services make it attractive, but there are also some details to keep in mind before choosing Freshessays.com to write your essays.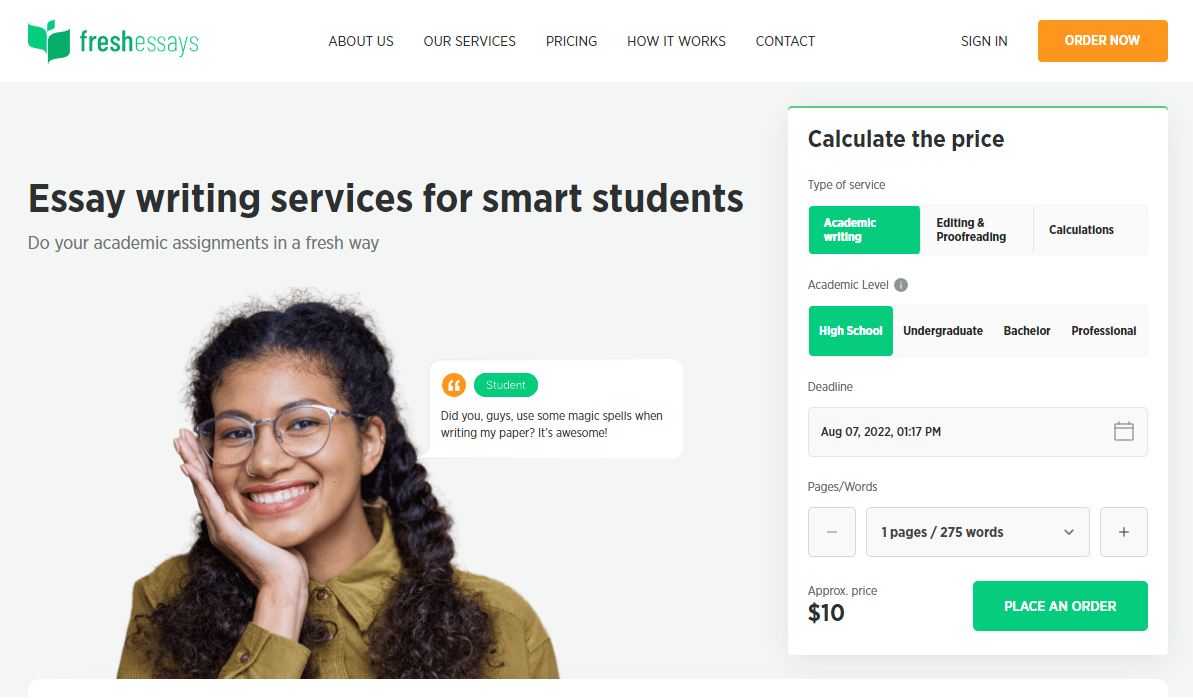 Low prices and some discount offers of Fresh Essays seem a good reason to ask their writers to help you, but are their writers professional and experienced enough to do good research and help you deal with papers of high academic level?
Their services
Choosing Freshessays.com for writing your academic papers, you are welcome to place an order on the following services:
writing (they are ready to help you deal with articles, bibliographies, case studies, dissertations, business plans, essays, reports, research papers, reviews, coursework, theses, summaries, term papers);
editing;
proofreading;
presentations (PowerPoint).
We recommend checking our list if you need someone to
get help with programming assignment
. Freshessays specialists assure they write all papers from scratch, so all essays and other works will be plagiarism-free and 100% unique. Some customers admit, Freshessay.com writers are professional enough to deal with essays and other papers for high school and undergraduate students, but when it comes to deeper research and high academic level, such as MA or Ph.D. for example, they would not recommend this service. So, it's up to you to decide; always check and make sure their skills meet your academic needs.
Their prices
As well as many other custom writing services, Freshessays.com has a standard price policy: a final price for your order will depend on the deadline and the academic level of your paper. The type of service matters, too. So, if you need to write your paper from scratch, it will cost you the following:
$23 per page – undergraduate level;
$29 per page – bachelor level;
$36 per page – professional level;
$66 per page – admission help.
As far as we've mentioned already, Freshessays are ready to help you with editing and proofreading. The prices for a 3-hour deadline are:
$25 per page – undergraduate level;
$27 per page – bachelor level;
$34 per page – professional level;
$118 per page – admission help.
This custom essay writing service helps students deal with multiple-choice questions and problem-solving. Prices differ and depend on a deadline, too:
A 6-hour deadline for multiple-choice questions will cost you $4 (undergraduate level), $4.5 (bachelor level), or $5 (professional level); a 3-hour deadline for problem solving costs $62 (undergraduate level), $68 (bachelor level), or $84 (professional level).
So, as far as you see, prices are not the lowest though quite competitive ones. However, not everything is so good and bright about Fresh Essays price policy: If you need a plagiarism report, you will have to pay an extra $10-12 for it. We do not think it's okay, but it's you who decides. You can become a VIP client for your orders to be processed before others, but it's not free, too: an extra $15 should be paid by a customer who wants to become VIP. Do you need an abstract page? Get ready to pay an extra $15 for it. With that in mind, a logical question appears: what about discounts or free features, guys?
Their free features and discounts
Two types of discounts are available for Freshessays.com customers: one-time and lifetime discounts. One-time discount: if the final sum of your order is more than $500 you will get a 5% discount; a 10% discount will wait for you if you pay more than $1000 for your order. Life-time discount: you get a 5% discount for your first order, a 10% discount after placing your 10th order, and a 15% discount after your 25th order. Freshessay website offers some free features to their customers. They include an outline, title page, reference page, formatting, and free revisions. You can also check some free samples of their writers' work to understand if this service's specialists have enough knowledge and skills to deal with your academic papers.
Their customer support team
As you get in touch with the support operators, be ready to spend a while communicating with this team. Support specialists do not answer quickly in live chat, and it will take even more time if you have a problem that needs to be resolved. In such cases, we do not recommend that you leave your email address and then just wait for support operators to figure out your issue. People can easily forget about your request if it is not urgent. If you need to contact support services on Freshessays.com, it would be best to make a phone call or remain in an online chat conversation until you get what you need. In many cases, support operators seem to vanish after a problem is reported. Unfortunately, you cannot just rely on these people if something goes wrong with your order, even though that is the purpose of their role.
Legit, Good, or Scam?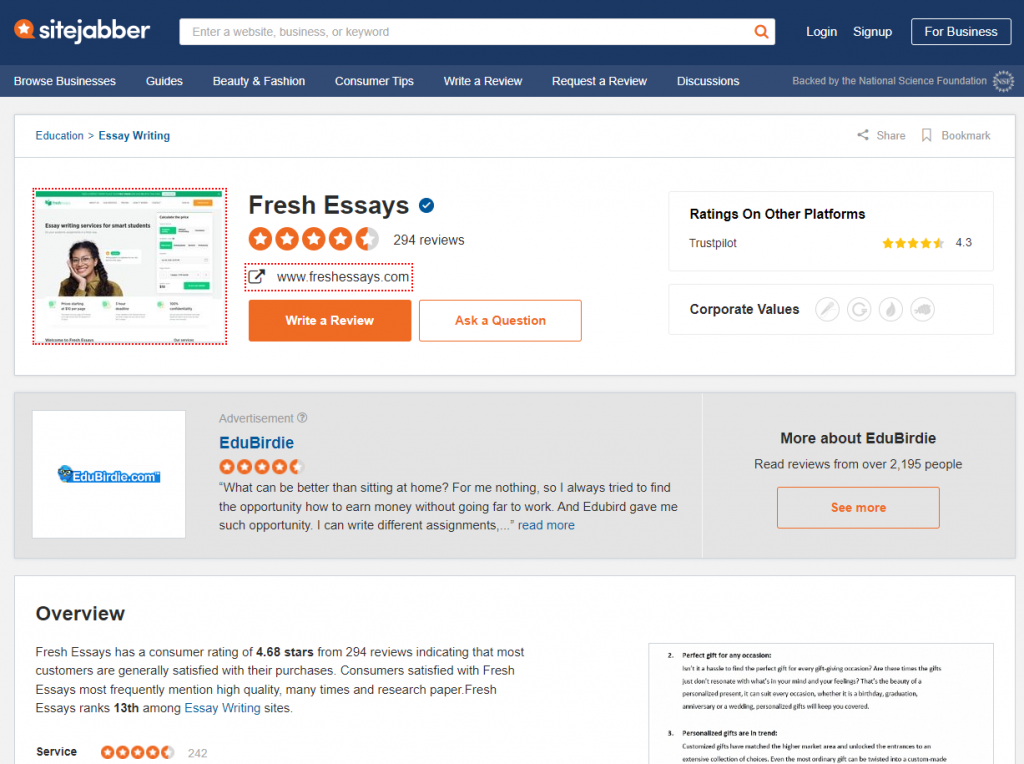 When you are the kind of person who expects the best, you can rest assured that though freshessays.com is not a scam, it will not offer you a supreme quality experience. But if you are in a hurry and need to get a paper done at the last minute, the company will provide a service that is average and reliable. Your paper will be done according to your requirements in most cases. But some students who have professors with strict guidelines regarding the word count of the papers find that sometimes the papers do not comply with the full word count, which means there are not enough words in the paper to satisfy the requirements of the professor This can cause the students to receive a lower grade on the papers. Some students find that the writers write highly professionally and provide fast service. Other students have noticed that sometimes the company is late in delivering the papers with no explanation and no discount for the service being provided in such an unexpected fashion. But in most cases, the writers will do their best to provide the kind of papers that the students need. Though this is true, it seems that not all writers have the kind of academic polished writing style that is required for the academic world. Sometimes it can be a hassle to communicate with the company due to some of the representatives being rushed and sometimes not answering the concerns and
questions of the students
in a manner that is clear. There are instances where it seems that English is not the first language of some of the writers, which can contribute to making the writing seem a bit awkward in the papers. But there are some writers who have acceptable writing skills, which means that you will have the chance in many instances to get a paper that is readable and that will earn average grades.
In conclusion
Unfortunately, we cannot recommend Freshessays.com as a high-quality college writing service. Though the prices look good, clients can become disappointed with their writers and support team. According to their website, you can order various papers, from essays to dissertations, but you will get a good quality paper only according to the standards of a high school or undergraduate program. As for MA or Ph.D. level papers, be prepared to place numerous revisions to get a decent quality. Also, most features on this website involve a fee. If you need someone to write an excellent essay and do it fast, you certainly will have to pay extra for it. Another customer disappointment is communication with the support team. You have to wait to receive email responses from support operators. Another issue is that you need to understand different accents when you call for support. There are some positive testimonials on Freshessays.com. Still, no one will guarantee that these are from verified customers. Moreover, the variety of services does not save the situation if the quality of writing is bad. All in all, Freshessays.com might be a fine service for high school essays, but in any other case, the company lags behind its competitors.
TL;DR Version of FreshEssays Review:

Besides this Freshessay.com review, you will find many other independent and detailed
 reviews
on our blog. Check all their pros and cons to choose the best one.